Entertainment
A fascinating documentary
Karan Bali's An American in Madras is a well-researched documentary on filmmaker Ellis R. Dungan, directed 11 successful feature films in Tamil, one in Telugu, without knowing a word of either language
Shoma A. Chatterji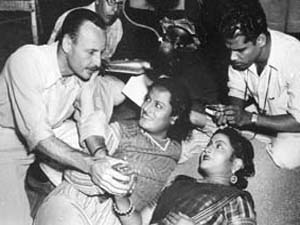 American filmmaker Ellis R. Dungan made 11 Tamil, one Telugu and one Hindi (partially dubbed) in South India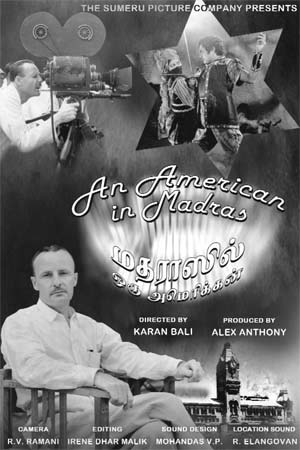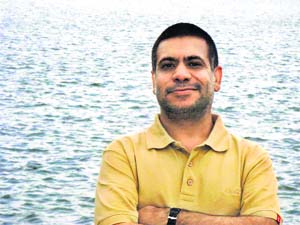 Karan Bali (above) has designed the graphics against the backdrop of ancient parchment paper to underscore the archival quality of its subject
Few Indians, including film buffs across the country, know that once upon a time, there was a full-blooded American, who made blockbuster films in South India. He came for a short while but stayed on for 15 years and directed 11 successful feature films in Tamil, one in Telugu, without knowing a word of either language. Karan Bali, an FTII alumnus in editing, who is also co-founder and content-in-charge of Upperstall.com, a website on Indian cinema, recently made a well-researched documentary on this gentleman and aptly named the film An American in Madras.
Ellis Roderick Dungan was not the only man from abroad to land in India and make Indian films. Franz Osten from Germany directed films under the Bombay Talkies banner. Paul Zils, another German was a pioneer of the documentary film in India. So what makes Ellis R. Dungan, as he was more popularly known, so distinct?
"The very fact that he had made 11 Tamil, one Telugu and one Hindi (partially dubbed) in the South was mind-boggling," says Bali. Dungan directed one of early Tamil cinema superstar M.K. Thyagaraja Bhagawathar (MKT)'s biggest hit that ran for a year, Ambikapathy (1937) and Carnatic vocalist M.S. Subbulakshmi's most celebrated films Sakuntalai (1940) and Meera (1945 in Tamil and 47 in Hindi).
Karan Bali, who began researching his film in 2008, scanned scholars, historians, filmmakers, even C.M. Muthu, a make-up man who worked with Dungan when he was 14, to talk about the filmmaker. Rare clips from the making of his films — Sathi Leelavathi, Seemanthani, Two Brothers, which he edited himself, and from Dungan's films Ambikapathy, Sakuntalai, Meera, also made in Hindi later, Ponmudi and Manthiri Kumari are so lucid and clear that these appear to have been shot and developed yesterday.
Noted Tamil film historian S. Theodore Baskaran, who gave Bali a lead to Dungan's autobiography co-written with Barbara Smik, A Guide to Adventure, published in 2001, the year Dungan died, In Mumbai, fellow filmmaker Shivendra Singh Dungarpur wangled a copy of the book. Bali got access to it. "A Guide to Adventure filled me up on the gaps in Dungan's life and in particular, his Indian years. And what a life it was! He came to India when wealthy Indian student at USC, M.L. Tandon, invited him and another student, Michael Omalev, to India as his parents were building a studio for him to make films. Dungan was still to complete his last semester at USC, when he and Omalev set sail for India. They set foot in Bombay on February 25, 1935, intending to stay for about six months to a year, only to find that Tandon's production plans had collapsed. However, Tandon was directing a Tamil film Bhakt Nandanar, which he was to shoot in Calcutta. So Dungan and Omalev subsequently joined Tandon in Calcutta, and even did some second unit photography for the film."
An American in Madras, while essaying the life of an American still photographer and filmmaker, evolves into a moving celluloid statement on the creative challenges this man took. Bali has designed the graphics against the backdrop of what looks like ancient parchment paper to underscore the archival quality of its subject.
"He gave Indian folk traditions and rituals a western perspective," says Uma Vangal, a filmmaker and film scholar. "He tried to take away the theatricality that was a characteristic feature of old Tamil films," says Theodore Baskaran. Film actor and film historian Mohan V. Raman says that the colour of his skin and the "Hollywood" tag gave him an edge in the industry helping him overcome blocks.
The film underscores Dungan's technical innovations. The 'Dungan track' and the 'Dungan trolley' were his inventions and these names carried over for more than a decade after he left India. He converted the carrier of his Dodge car to a platform so he could mount the camera on it and take moving shots! He had the script translated into English, divided into two halves, one side for the dialogue and the other for action and he would use that to break that down into shots and then shoot only after proper planning, extensive rehearsals and blocking of scenes. In Meera, regarded by Dungan himself as his finest film, he got a bust of its star, M.S. Subbulakshmi made, and he and cinematographer Jiten Banerjee did elaborate lighting tests on it to device a lighting scheme for her to look ethereal in the film. And she does look ethereal in the film!
"I have kept the documentary, about 80 minutes long, simple and classical, its structure linear." And this turns the film into an exciting journey back to the past.