Structural engineering
Build a sturdy future
"The first principle of architectural beauty is that the essential lines of a construction be determined by a perfect appropriateness to its use". So said Gustave Eiffel while talking about the Eiffel Tower. Little did he realise then that he was laying the foundation of a specialised branch of engineering that would play a significant role in the progress of mankind.
smart strategy: how to get noticed at work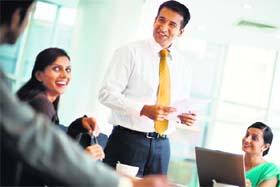 The visibility factor
Have your talent, potential and resourcefulness on the job gone unnoticed while those of others have been rewarded? Have others of equal experience risen on the corporate ladder much faster than you? If the answer to these questions is in the affirmative then it means that you have probably not mastered the fine art of increasing your visibility at the workplace.
field in focus: media & entertainment
Spinning magic of voice & words
These are regular ads for vacancies for RJs, and there are many more from where these came! Radio is back on the scene in India, and while this may come as a surprise to many: radio still has a very large audience. Despite the vast expansion of TV, radio plays a critical role in disseminating information and spreading awareness, in urban and rural India.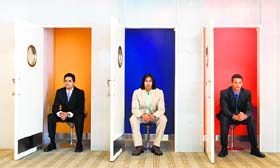 Ace that interview
The mere mention of the word 'interview'is enough to make a person apprehensive and nervous, and if it happens to be a job interview then the scale of anxiety is much higher. So if you have a job interview lined up sometime soon, remember that thorough preparation is the perfect antidote for nervousness.



first person
New paradigms of management education
The rapidly changing business scenario makes it imperative for management education to also evolve, adapt and restructure its focus to deliver professionals who are competent to fit into the new and changing business set ups.

Dr Padmakumar Nair, Director, LM Thapar School of Management, Dera Bassi
COLLEGES&CONTESTS
F1 car designed
Students from the Faculty of Engineering & Technology (FET) of Manav Rachna International University (MRIU) have developed a Formula 1 Racing Car- MRV3 — a first of its kind eco-friendly vehicle with a mileage of 123km/litre. The urban diesel car will compete at the Shell Eco Marathon to be held in Manila, Philippines on February 6, 2014.
course chat
Training course on Bitcoin
Koenig Solutions Ltd., global leaders in offshore IT Training, announced the launch of a course on 'Bitcoin', the digital currency based on an open source peer to peer software. Latest rage in the online world, Bitcoin is the new financial language of netizens who prefer paying online for goods and services.
course cruising
Games Design and Art course
UK-based University of Southampton's Winchester School of Art (WSA) is now accepting applications for its new BA (Hons) Games Design & Art programme, starting in September 2014.
on boards physics
10 commandments for physics
Physics as a subject requires not only building of concepts but also their regular application in the form of numerical and derivations to be able to attempt the paper with full confidence. For scoring high marks in the subject, following points should be remembered well.
cubicle trends
CEOs likely to get bigger pay hike
Indian companies are likely to give more than 10 per cent pay hike to their top executives this year amid hopes of revival in economic growth and business prospects, says a study.
Happiness@work
Gems of ancient wisdom
Go wild
While we — day in and day out — plan our future, let's not forget the other children of Mother Earth. The well-being of flora and fauna is vital for our future. Modern-day firms take care of this aspect under the corporate social responsibility programme.
Which are the courses available in population studies?
Is lateral entry allowed in BArch course?
Right language!