M A I N N E W S
Take milk adulteration seriously, SC tells states
R Sedhuraman
Legal Correspondent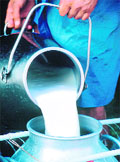 New Delhi, January 30
The Supreme Court today asked the states to give up their lenient attitude towards those responsible for adulteration of milk and milk products with hazardous synthetic substances as the issue involved the health of the entire population.
Lamenting that most of the states were prosecuting the offenders under laws merely meant for imposition of penalties, a Bench comprising Justices KS Radhakrishnan and Vikramajit Sen wanted to know as to why they were reluctant to enact tougher laws providing for life term for the offenders on the lines of the provisions in West Bengal and Orissa.
The Bench noted that though UP also had a law for awarding life sentence, no accused had been booked under this provision so far.
The court rejected the affidavits filed by Punjab, Haryana, UP and other states, observing that they had not given adequate details on the nature of substances used for adulterating milk, method of prosecution and number of convictions.
It directed all states to file detailed affidavits within three weeks, covering all aspects of adulteration, the number of samples collected during raids, cases initiated and percentage of conviction.
Punjab's AAG Ajay Bansal said 3,369 samples were tested in the state in three years (2011-13), of which 785 samples were found to be "sub-standard or adulterated."
However, only 18 samples contained synthetic substances. There were 24 convictions, while 184 quintals of milk products and 1,700-litre milk was destroyed on account of adulteration.
Haryana's ASG said 2,398 samples were tested during 2009-13, of which 676 were sub-standard. None of the samples collected in 2009-12 had harmful chemicals. In 2013, one sample had harmful substances. There were 752 prosecutions, of which 58 resulted in conviction, while trial was on in 487 cases.
Appearing for the Delhi Government, ASG Mohan Jain said none of the samples collected from Mother Dairy failed the quality test.
Be strict with offenders
The SC said most states were prosecuting offenders under laws meant for imposition of penalties
It wanted to know why states were reluctant to enacting tougher laws that includes sentencing offenders to life term