M A I N N E W S
US downgrades India's aviation safety ranking
Vibha Sharma
Tribune News Service


What it means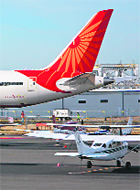 US Federal Aviation Administration's category 2 ranking puts India below Pakistan in terms of safety


It implies the safety measures adopted by India's aviation regulator, the DGCA, are not enough to effectively monitor the safety performance of Indian carriers


Travellers may have to bear the brunt as Indian planes will be put through more safety checks on the US soil — pti
Move 'disappointing'
It is disappointing and surprising because we are 95 per cent compliant. The report has not taken into account our latest efforts in the direction
Ajit Singh, civil aviation minister
New Delhi, January 31
The US Federal Aviation Administration (FAA) today downgraded India's aviation safety ranking to category 2, putting it below Pakistan and on a par with countries such as Zimbabwe and Bangladesh.
The FAA's reassessment of India's aviation regulator —the Director General of Civil Aviation (DGCA) — under the International Aviation Safety Assessment (IASA) programme was conveyed to DGCA new chief Prabhat Kumar this afternoon. Civil Aviation Minister Ajit Singh termed the decision "disappointing and surprising".
"It is disappointing and surprising because we are 95 per cent compliant. The report has not taken into account our latest efforts in the direction," he said, while ranking India's aviation safety record much above the global average.
The only side-effect of this downgrade was that Indian carriers would not be able to add new flights to the US, he said. Experts termed the development as "failure of the DGCA to comply with international safety standards". It will have negative implications on Indian carriers - state-owned Air India and private operator Jet Airways - flying into the US, they said.
The decision meant the DGCA did not meet the norms of International Civil Aviation Organisation standards on parameters such as technical expertise, trained personnel and inspection procedures.