Riding high on 'spiritual' connect
Geetu Vaid
Several Tier II and Tier III destinations with a religious connect are attracting buyers and developers and the real estate scene is blooming there
The dark clouds of slowdown that have been hovering over the real estate sector in India have cast a gloomy shadow over most urban centres. The Tier II and Tier III cities that were being projected as the growth centres of the future a couple of years back have also suffered a massive slump and most of the developers, who had planned projects in the smaller centres, have put these on the back burner.
However, in the midst of this grim scenario in the Tier II and III cities, the cities with a religious connect are the only ones that seem to have withstood the headwinds of slowdown. "There is no major slump in the demand in religious towns. In fact, on the contrary there is an annual increase of 15-17 per cent for such properties", says R.K Arora, CMD, Supertech, whose group has big-ticket commercial projects coming up in Haridwar.
No wonder then that temple towns and religious cities like Haridwar, Rishikesh, Mathura-Vrindavan, Ajmer-Pushkar, Dwarka, Varanasi, Allahabad, Shirdi etc have seen a steady influx of developers and new projects over the past few months. End users looking for a second home as well as investors looking for rental returns and capital appreciation are driving the demand here.
The growth drivers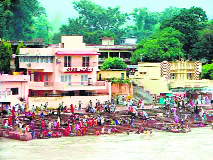 Commenting on the factors that are responsible for this steady demand Navneet Bhadla, Director, Brys Group says, "With the rising affluence when people look for a second home they normally opt for a holiday home, and in the Indian context these holy places are the best bet for a holiday home as it serves many purposes, ranging from the need for a holiday home to the potential that these places offer in terms of rental yields".
"Contrary to the notion that youngsters are turning away from religion, the reality is that the noise, tension and insecurity of jobs in cities are pushing them towards these destinations that promise to bring inner peace. They may not take sanyas and live permanently at these places, but they do like to visit occasionally. Those who are financially well-off like to buy a flat or place to stay which could alternatively work as investment option too", says Kunal Banerji, Group Advisor, Shri Infratech
Moreover, the appreciation potential in these places is also very high as compared to that in other cities where the market is already saturated.
"The developers also have the added advantage of low capital stakes due to less investment in land and better sales and that too by genuine buyers", adds Bhadla. This is one of major reasons why many established developers have either forayed into these cities or are planning to do so soon, adds Bhadla.
"Besides the local builders several big players are also active in these religious centres in order to cash in on the demand from those looking for a second home close to a religious centre. Sales volumes are good here. For example in Haridwar and Rishikesh many people from Delhi, Punjab, Gujarat and Rajasthan are buying ready-for-use property so the demand is good", says Sudarshan Negi, a Dehradun-based property consultant who also deals with property in Haridwar and Rishikesh.
Platter of options
Variety and range are the other factors that have kept the real estate market buoyant in these centres. With demand controlling the supply here, the developers are offering products to suit every pocket. So there are villas and cottages for the affluent, and studio apartments and serviced apartment for those with a limited budget.
"The price range that buyers look at while purchasing property ranges in these cities ranges between ~2500 per sq ft. to a higher range of ~4000 per sq ft approximately", says Neeraj Gulati, Managing Director, Assotech Realty.
Talking about the buyer profile in Haridwar Sushant Muttreja MD Cosmic Group, says, "People from Delhi, Punjab and UP and locals working in indistrial units comprise 75 per cent of the investors here and the rest are NRIs". The demand for affordable properties that assure good rental returns is more here. "The prices are lower here which makes these holy destinations a much sought after buy", adds Arora. Many developers are offering assured rental returns also to the buyers. According to Ravi Saund, COO, CHD Developers Ltd, his company is offering time-share options for its properties in Haridwar.
Those with deep pockets also have a lot to choose from in the form of furnished cottages and villas. Cosmic Group's 'The City of Romance' at Narender Nagar near Rishikesh is one such project that offers cottages, villas, presidential suits and studio apartments with seven-star facilities like theme restaurants, discotheque, spa and naturopathy therapy center, yoga and meditation caves, swimming pool and gymnasium , club and lot more.
Project watch
Haridwar and Rishikesh have emerged as major realty hubs for end users as well as investors. Among some of the main projects here are :
Among the oldest projects is the AEZ Group's Aloha Rishikesh in Tapovan Village along the Badrinath highway. It was launched in 2005 and possessions have been given to a majority of buyers. Spread over five acres, this project has approximately 200 one and two-BHK units. The original cost of the units was from Rs 24 lakh onwards and according to property consultants operating in the area the resale price now is anywhere between Rs 65 to Rs75 lakh. A resort is also coming up within the project.
CHD Developers Ltd has a project — Sri Gayarti Lok Apartments in Haridwar with the Shivalik mountain range on one side and Ganges on the other. The project has been approved by the Haridwar Development Authority and is located on the Delhi-Haridwar National Highway (NH-58).
The Cosmic Group recently launched its township project — City of Romance in Rishikesh. It is located at an altitude of 4,500 ft and is 25 km from the spiritual city, on the Rishikesh Tehri-Gangotri-Yamnotri–NH-94. On offer are British style villas of 7,456 sq ft area in G+ 2 floors.
The work is also in progress at Antriksh Developers' 25-acre project — NRI City in Haridwar. On offer are 300 plots and 700 flats located in the SIDCUL complex that houses major companies such as Hindustan Lever, Mahindra, ITC, Havells and the Hero Group. On offer are plots of sizes 120 sq yd to 180 sq yd, priced at ~3,425 per sq ft.
Unnati Fortune Group is currently in the process of acquiring land in Haridwar and awaits a few approvals. Its project is spread across 60-70 acres and mainly has 1BHK units of 650 sq ft priced at Rs 24 lakh.
Anil Mithas, CMD, Unnati Fortune Group says, "It has been observed that people with religious mindset prefer affordable units in Haridwar but those with the sense of adventure and style prefer luxury units in Rishikesh. We are planning to launch around 120 villas spread across 12 acres priced at Rs 1.5 crore there. This will be launched within a year".
The commersial property scene here too has huge potential. "The kind of brands coming to this region are attracting a lot of people from areas like Roorkee and Saharanpur, which has given a boost to the commercial market in Haridwar", says Arora of Supertech. The Supertech Group has a commercial projects like Pentagon Mall and hotels like Hyphen and 5-star Radisson Blu in SIDCUL, for which it has a tie up with Carlson Hotels Worldwide.
Mathura-Vrindavan is another such destination which has seen realty boom over the past few years. the Shri Group has a large number of projects coming up in the twin cities. These include SHRI Radha Vintage, New Mathura; SHRI Radha Florence, Vrindavan; SHRI Radha Valley, Mathura; SHRI Radha NRI Greens, Vrindavan etc. CHD Developers, Karmayogi group and Pushpanjali Constructions are some of the other major players in this market. NRIs and people from Delhi are the main investors in this area. Prices too are affordable in comparison to those in Delhi-NCR. A ready-to-move in 2BHK flat (1,100 sq ft) is available for around Rs 24 lakh and furnished studio apartments.
Shirdi is another such destination. This spiritual epicenter of the saint Sri Sai Baba attracts lakhs of devotees each month and the demand for second homes is growing here. Assotech Realty recently launched serviced residences — Sandal Suites at Shirdi. With an investment of Rs 100 crore, the project is spread over 2.5 acres and will consist of 142 suites.
Thus, with a steady supply and sustained demand, the realty scene in these religious centres is likely to remain upbeat in the near future as Shravan Govil CEO, REPL sums it up, "These towns offer good value preposition since real estate prices are much lower then the major metro cities thus attracting the buyers. These homes make the investors connect with the religious towns even stronger besides working out as an investment solution."