M A I N N E W S
Omar has his way as J&K Cabinet approves new admn units
Tribune News Service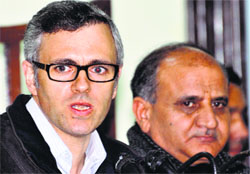 CM Omar Abdullah with his deputy Tara Chand in Jammu on Saturday. Tribune photo
Jammu, February 1
The Jammu and Kashmir Cabinet today approved the setting up of 659 new administrative units (NAUs) in the state. Terming the approval of the recommendations of the Cabinet Sub-Committee (CSC) on the creation of new administrative units by the state Cabinet as a historic decision, Jammu and Kashmir Chief Minister Omar Abdullah said the process would bring governance to the people's doorstep.
He said the report recommended 46 sub-divisions, 135 tehsils, 177 community development blocks and 301 niabats in the state. He, however, didn't specify when these units will come into being because of financial and other implications.
"A lot of hard work was done first by the Bloeria Committee. It was taken forward by the Mushtaq Ganai Committee. After that, it was felt that some areas had been left out. So, the CSC, under the chairmanship of Deputy Chief Minister Tara Chand along with six other ministers — three each from the National Conference and Congress — reached out to the people and prepared a report which was approved by the Cabinet today," said Omar Abdullah in a post-Cabinet meeting press conference at his official residence here today. This was his first press conference after a Cabinet meeting.
A week ago, he had made it plain to the Congress members of the CSC that he would not brook any delay in the submission of the report beyond January 31 and had also threatened to quit if he was not obliged on the issue.
When the Cabinet meeting got under way at 2.15 pm today, the CSC submitted its report and it was approved by the state Cabinet.
"After approving the CSC report on the creation of NAUs, the Cabinet has directed the Finance and Planning Departments to speed up the process of implementing it so that governance reaches the people," Omar said.
"Patwar halqas will be created on a par with panchayat halqas for which the Finance Department has been issued directions to speed up the process," Omar said.
46 sub-divisions
46 sub-divisions, 135 tehsils, 177 community development blocks and 301 niabats will be created
Finance and Revenue Departments told to prepare road map for implementation