Manhattan: City in Sky
Shrinking urban spaces call for futuristic architecture. A look at the Manhattan model and the Indian urban cityscape
Rajnish Wattas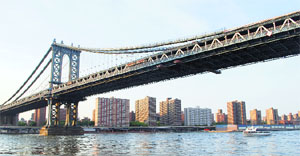 IF you are visiting Manhattan — coming from a low, horizontal city like Chandigarh — looking out from your 35th floor window, there is only one word "awesome"! Le Corbusier, too, arriving by a ship in 1935 for the first time, saw New York as a "mystic city rising up in the mist". It suggested the "strength" and "power of modern times."
Brooklyn Bridge, completed in 1883, connects the boroughs of Manhattan and Brooklyn by spanning the East River.

---
ArtS
'Art &Soul
A river in flow
There is much to learn from institutes like Jnana-Pravaha in Benaras, which are dedicated to the study of Indian cultural traditions. Here the emphasis is entirely on nurturing talent and promoting excellence
B.N. Goswami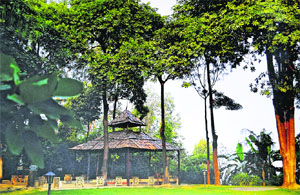 AT Benares, on a quiet day, and if you see her from a slight distance, the Ganga seems hardly to be moving. So enormous is her expanse and so steady its flow that you are almost beguiled into thinking that the waters are still. Close to the bank, of course, there is agitation, and when an occasional boat pushes its way forward, ripples form and rings keep spreading on the surface. But see her in the wee hours of the morning, or when dusk sets in, and you sense little else than serene calm.

Broad Brush
---
fitness
GOOD HEALTH
Fad is not fit
Fad diets are idiosyncratic and promote only short-term weight loss. These diets can only cause side-effects and health problems in the long run
Mickey Mehta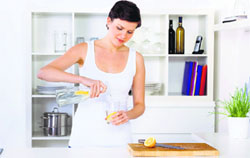 Weight loss today has become a mandate for most of us. But reasons for losing weight and working towards it vary to huge extents. Nearly 75 per cent of population wishes to lose weight for social acceptance. A very small and negligible percentage of people, seriously attempt weight loss as a compulsion for a disease-free future.

The lemonade diet is a crash diet where no solid food is allowed while dieting

Warm up for a healthy heart
Cold temperatures can lead to an almost 53 per cent rise in the risk of heart attacks. So keep yourself insulated against winter chills
Dr Pradeep Nambiar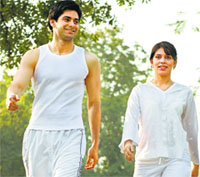 THE heart is the most vital organ of our body and must be taken care of all year round. However, winter is a season that calls for special attention. Cold temperatures can lead to an almost 53 per cent rise in the risk of heart attacks. A dip in mercury levels not only increases blood pressure but also causes the level of certain proteins to shoot up which can lead to blood clots. As the weather gets colder, your heart needs to start working harder to maintain optimal levels of body heat.

Regular exercise is good for heart
---
society
Globe trotter Sanders
Around the world on their dream machine
For them 2>4. They firmly believe that two wheels move the soul. On their bikes, they blaze a trail wherever they go
Mona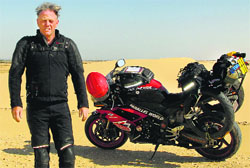 YOU have to inspire yourself first before you inspire others. This is what fuels Nick Sanders, the man, who has taken his mean machines for a spin around the world like no other. Touted as the most experienced solo rider, the "biker boy" has astonishingly circumnavigated the globe seven times. A true adventurer and a gear junkie, Nick is in the driver's seat wherever he goes. "Thirty-three years on the move. At times, I begin to ask myself 'what's there left to do' or 'who really cares.'
---
travel
Winter wows in India's Lake District
Unmindful of the dipping temperature, the lake resort of Nainital brims with merrymakers and tourists even in winters
Tanushree Podder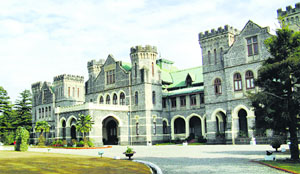 ATRIP to Nainital during January and the reactions pour in, "Are you crazy? You'll freeze. People go to hill stations in summers not in winters." But the lovely hills of Kumaon beckoned for a wintry holiday. Nainital, the popular lake resort, is nestled in the Kumaon hills of Uttarakhand. The adjoining hills are verdant with pine forests with fantastic views of the valley beneath.

A view of the Raj Bhavan at Nainital

Globetrotting
---
EntertainmenT
The new horror story
An upscaling of the soft-porn horror flicks in Bollywood with big banners has seen established filmmakers and stars entering this genre
Shoma A. Chatterji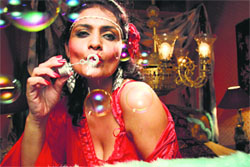 Ashim Ahluwalia's Miss Lovely opens a can of worms revealing the underbelly of an 'underground factory' in filmmaking that began in the late 1970s and is still going on under a new guise. This was a world distanced from mainstream Bollywood boasting big banners, significant songs and music, an impressive starcast and a good release. But there were two groups of producers operating in this business.
Bollywood has recently seen a spurt in the number of horror films. Stills from Miss Lovely
The reluctant romantic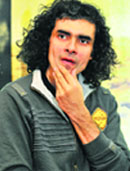 Filmmaker Imtiaz Ali, whose latest film Highway deals with relationships, claims to be anything but a diehard romantic
Nonika Singh
Attired in ripped jeans and a military green jacket with Highway emblazoned on it, he might as well be epitomising the spirit of his forthcoming film. But filmmaker Imtiaz Ali, whose latest directorial venture Highway, is all set to release in February is anything but an attention-seeker.
Imtiaz Ali