Manhattan: City in Sky
Shrinking urban spaces call for futuristic architecture. A look at the Manhattan model and the Indian urban cityscape
Rajnish Wattas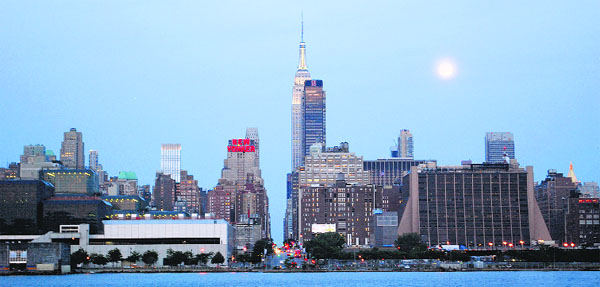 Sunset over the Manhattan skyline
IF you are visiting Manhattan — coming from a low, horizontal city like Chandigarh — looking out from your 35th floor window, there is only one word "awesome"! Le Corbusier, too, arriving by a ship in 1935 for the first time, saw New York as a "mystic city rising up in the mist". It suggested the "strength" and "power of modern times."
Perhaps, the best way to take in the soaring skyline of Manhattan is to view it from the famous Empire State building or take a boat cruise around the island. It's an enigmatic vertical habitation, which combines bizarre, laissez faire skyline with warm, intimate vibrant life on the streets.
The 1930s was an era of competing highrise buildings sprouting up all over Manhattan island ( one of the five boroughs of New York City ), each trying to outdo the other in going higher, seeking attention by its unique signature-top design and eclectic classical, neo-classical style. In this race for the being the tallest, the Empire State Building, an 102-storey Art Deco design, 1250-feet high was finished in 1931. It was the world's tallest building for a record 42 years. The 1,048-feet-high Chrysler Building with its distinctive cathedral-like spire, built in 1930 was the close second. The impetus for the clustering of skyscrapers in Manhattan was the solid bedrock geology of the island, that allowed building foundations to be sunk more securely.
Manhattan is the financial and cultural centre of the United States and one of top financial capitals of the world, with an estimated GDP of over $1.2 trillion. It is home to the famous Wall Street that inspired many Hollywood films like the Wall Street and the current Oscar nominee Wolf of Wall Street. As you walk down the fabled, narrow street, skyscrapers reaching for the sky on both sides like, "Grand Canyons of stone and steel" — there is an adrenaline-charged energy. Bankers, stockbrokers, investment experts strut about briskly in their dark suits. Amidst the human carnival of racing, hurried people — eating, texting, chatting on their iPhones — one can still hear gentle peals of church bells from an old stone cathedral, sandwiched between the towering blocks, perhaps reminding New Yorkers to tarry a while!
As dusk falls and the sky turns golden-pinkish hue, some early lights — especially of the pinnacles of the skyscrapers, are the first ones to go ablaze. Soon, the entire skyline is a grand sweep of a razzmatazz, phantasmagoria of seductively lit billboards. The Times Square, called "The Crossroads of the World," is the brightly illuminated pedestrian hub of the Broadway theatre district, visited by 50 million annual visitors.
The magic of Manhattan is as much below at the street level as it's up in the sky. The streets are lively with museums, cultural hubs, shops, stores — most of them predominantly restaurants and eating places, that give you the choice of global cuisines — including the ubiquitous food carts, that offer hot, sizzling food at low prices under hygienic conditions. As if to make up for lack of greenery, the three-mile-long Central Park runs through the heart of Manhattan, and every other shop is a florist place with fragrant blooms spilling over to the sidewalks.
Manhattan grid & the vertical city
As the port of New York in the early 19th century became a global trade hub, to make its development more regulated, a grid plan that defined its skyline, was approved in 1811. The grid has 12 primary north-south avenues roughly parallel to the shore of the Hudson River and 155 orthogonal cross streets in a regular right-angled grid. Manhattan is one of the most pedestrian-friendly, compact cities. The sidewalks are very wide, almost 20 to 30 feet, and the meticulous signage, detailing and road engineering enables comfortable crossings over busy streets, supported by strict traffic enforcement. The other reasons are efficient public transportation system comprising the underground Subway (built in 1904), non-polluting buses at frequent intervals and heli-taxis. Manhattan has even introduced dedicated cycle tracks and bus lanes on its streets. A big network of bridges — the iconic Brooklyn Bridge built in 1883 — and underground tunnels across the East River and the Hudson Bay ensures excellent connectivity with the adjoining boroughs.
Mixed landuse and commercial highrise developments are regulated by myriad urban bye-laws such as: setbacks, sky exposure plane to provide light and air at street level, and incentives like increase in FSI ( Floor Space Index ) for skyscrapers that create public plazas on the ground level. An innovative regulation called "air rights" that enables low-rise buildings (specially heritage structures) that do not wish to go vertical, to transfer them to an adjoining property. Manhattan has always evoked strong views, both admiring and critical. Lewis Mumford, 20th century's eminent critic, historian, city planner, said, "New York is the perfect model of city, not the model of a perfect city." Le Corbusier's views about New York changed after rejections from American tycoons for his projects, in spite of hard-sell by his ardent admirer Marguerite Tjader Harris. He later called it a city of "incredible brutality and savagery". The iconic architect Rem Koolhaas, counters that the grid's two-dimensional form created "undreamed-of freedom for three-dimensional anarchy."
India's urban crisis
Interestingly, about two-thirds of American population lives on 3 per cent of its land mass, that is cities, as compared to India's 30 per cent urban population. Edward Glaser, in Triumph of the City states that, "Job creation clusters as cities become hubs of innovation, energy and entrepreneurship... Cities draw their strength from confluence of ideas." According to a McKinsey report on India's urbanisation, 590 million people generating 70 per cent of India's employment will live in cities by 2030, requiring 700 to 900 million sq.mts. of additional space or a new Chicago every year! We need to review urban forms in metros and tier-II cities expeditiously. Paradoxically, India's financial capital Mumbai has a very low FSI (Floor Space Index) of 2, barring limited areas with 4 to 5. In comparison, Manhattan has an FSI of 10, but no limits to height. No wonder, the 59.46 sq.km, compactly spaced island, with a residential population of 1.6 million, 26,908 persons per sq.km., serves approximately 4 million visitors on a typical weekday! In comparison, Chandigarh merely accommodates a density of 9,252 persons per sq km. But as Chandigarh is a unique case of international Modern Architectural Heritage value, upholding the cherished ideal of an utopian Garden City, its low density and horizontal spread ( maximum FSI 2 ) need to be viewed separately. We must stop looking at verticality purely as an "evil enterprise". The lesson to be learned is that reinventing closely spaced, denser, pedestrianised lively vertical or midrise cities, ensuring sustainability — may be the emerging skyline for future Indian cities. The nation must fulfil the aspirational migrant's right to a home in the city.
Rising Indian cities
Combating rising urbanisation, the Indian cities are mostly growing as sprawling, horizontal suburbs of big cities, with clusters of haphazard, chaotic midrise colonies created by builders, without requisite supporting infrastructures. These is visible even in the rings of satellite towns of Mohali, Mullanpur, Zirakpur and Panchkula encircling Chandigarh, in violation of its periphery controls.
Although the FSIs & maximum permissible heights are being raised, albeit, without supporting civic services. Greater Mohali Development Authority ( GMADA) bye-laws allow FSI of 1.75 in case of residential plots, and for Commercial Chunk Sites FSI of 3.0. Panchkula too permits maximum FSI of 2.5 with maximum height of 30mts. However, for IT Park, you can go higher, subject to special permissions. Gurgaon and Noida in the NCR region of Delhi too have now enhanced FSI's mostly 2.5 & for IT Parks more liberally with some riders. In Chennai, for multi-storeyed buildings the FSI permissible ranges from 2 to 2.75, and in the IT sector can be as high as 4.125. The Bangalore Development Authority's Master Plan - 2015, permissible FSI ranges from 1.5 to 3.25 for residential and commercial land use zones. Mumbai in bits and parts is going the skyscraper way very conspicuously. Pockets of highrise buildings going upto 50 stories in a privately integrated township Hiranandini Gardens ( backdrop for Slumdog Millionaire ) and 833-feet high Imperial Towers in Tardeo are the new vertical icons.



(1) A tourist posing with the statue of the Wall Street Bull., (2) New York Stock Exchange at Wall Street, (3)
Brooklyn Bridge, completed in 1883, connects the boroughs of Manhattan and Brooklyn by spanning the East River. (4)Razzmatazz of the advertising billboards at Times Square.
— The writer is former Principal, Chandigarh College of Architecture & co-author of "Trees of Chandigarh & Sukhna — Sublime Lake of Chandigarh