M A I N N E W S
Ashutosh's body in 'freezer'
Tribune News Service
Nurmahal, February 3
Six days after Divya Jyoti Jagriti Sansthan (DJJS) dera head Ashutosh Maharaj was said to be "clinically dead," dera representatives on Monday said his body lay in a freezer - a portable mortuary.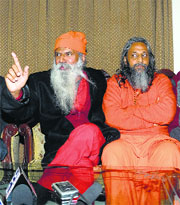 Nurmahal dera representatives address the media on Tuesday.
DJJS's Sadhwi Jaya Bharti said till yesterday, the dera head was "lying in the bed". "About 4 pm yesterday, some changes were noticed in his skin (it became greenish). The body was then shifted to a freezer," she said.
The Sadhwi spoke to the media accompanied by half-a-dozen senior dera representatives, including Chandigarh-based physician, Dr Harpal, who has examined Ashutosh since he slipped into "a deep transcendental meditation."
Dr Harpal said, "Ashutosh is clinically dead. Last Tuesday night when I reached dera, a team of doctors from Satgur Partap Singh Apollo Hospital, Ludhiana, was already there. After several check-ups, including an ECG test, the team, too, concluded that Ashutosh is clinically dead."
Sources said a local villager had brought the portable mortuary. "The mortuary brought from Bhootnath temple was not used and returned today. The dera arranged the freezer, apprehending that the body might start decaying, and that the body needed to be preserved."
The dera representatives "disowned" Puran Singh, who has filed a PIL in the Punjab and Haryana High Court today.

'Ex-driver' moves HC
Tribune News Service
Chandigarh, February 3
In a fresh twist to the controversy over the health of Ashutosh Maharaj, his "former driver" today moved the Punjab and Haryana High Court alleging the spiritual leader was being detained illegally as five of his followers had "turned greedy".
In his petition, Puran Singh has sought the release of "Mahesh Kumar Jha alias Ashutosh Ji Maharaj" from "illegal, unlawful and forcible detention."
He has also sought directions for the appointment of a warrant officer to raid the dera or any other place where the detainee was kept and produce him before the high court.
Justice MMS Bedi issued notice to the Punjab Advocate-General for February 5 "regarding status pertaining to Mahesh Kumar Jha alias Ashutosh Ji Maharaj".
Justice Bedi also issued notice to the sect's five followers for February 11.
The status report by the Punjab government is likely to clear the air over the spiritual head's health following reports that doctors have declared the godman "clinically dead". The sect management insists that the dera head had gone into 'samadhi'.
The petitioner described himself as the godman's former driver and a well wisher. Puran Singh has said the detainee has to his credit about Rs 100 crore in cash and property worth Rs 1,000 crore. "The respondents, living in the dera along with the detainee, have turned greedy and have illegally confined the detainee in a room with a view to usurp the dera property".
He said the dera head was kept in seclusion and was prevented from talking to the media. No one was allowed to enter the room, he said.