ENTERTAINMENT

FOOD TALK

CONSUMERS BEWARE!

FITNESS MANTRA

GOOD MOTORING

LIFE'S LESSONS

MUSIC ZONE

FRUIT FACTS

WEBSIDE HUMOUR

CROSSWORD

WEEKLY HOROSCOPE
EARLIER FEATURE

CHANNEL SURFER

ULTA-PULTA

TELEVISION

GLOBOSCOPE

GARDEN LIFE

NATURE

FASHION

BRIDGE
"Patriarchy is just five per cent of human history"
Gloria Steinem says for the first time in human history, women do not constitute half the human race
Vandana Shukla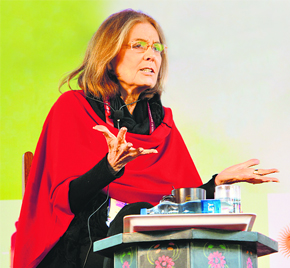 When Gloria Steinem says, "Worldwide there is a daughter deficit and son surplus," the world listens. Especially in India, where the daughter deficit has touched dangerous proportions. Steinem, 79, recognised as feminism's most influential voice, is not new to India. Aged 22, she came to India to escape marriage. Instead, she found herself involved with Vinoba Bhave's Bhoodan movement and with M N Roy's Radical Humanists, for which she worked as a volunteer in Tamil Nadu's riot-affected areas, travelling in third–class compartments of the Indian Railways.

Gloria Steinem, the writer-activist, who participated in the Jaipur Literature Festival, traced the evolution of feminism in her lecture

---
Arts
Music zone
Saurabh & Gaurav
A triumphant comeback
Sharon Jones & the Dap Kings—Give the People What They Want (Daptone)
Originally recorded and due out last year, their fifth effort, Give the People What They Want and related tours were put on hold to allow Jones to undergo treatment for cancer. Having made sufficient and speedy recovery, she has returned as the group's vocal powerhouse, backed by the brilliant Dap Kings, and it feels like nothing less than a jubilant return to form. Jones' Aretha Franklin scream and Mavis Staples rasp take turns at being equally stunning, while the Dap Kings are as inventive as ever.
---
Fitness
Good health
Food for the brain
Dr Anjali Mukerjee
Examinations are all about anxiety and hard work. A healthy and balanced diet can help in boosting concentration
Examinations not only put to test our ability to understand a subject but also our ability to retain what we study and be able to recall and put it down again. Examinations are all about tension, anxiety and grueling hard work. They are also about concentration, focus and good health. The intense mental activity that you go through when preparing for and taking an examination requires a high level of mental fitness. The human brain is remarkably responsive to what we eat.
Health Capsules
Asthma risk to preemies higher
Premature babies are more likely to develop childhood asthma than those born at full term, says a new research. A worldwide study of more than 1.5 million children found that the risk of developing asthma, or asthma-like symptoms, after a preterm birth is higher than previously thought. In addition, the risks of developing asthmatic symptoms are the same for preschool and school-age children, indicating that children born prematurely do not outgrow the risk, a release by the University of Edinburgh said. Asthma affects some 8 per cent of children born at full term, while this rises to 14 per cent in babies born prematurely defined as at least three weeks early.
---
Entertainment
The power of pink
Saibal Chatterjee
Gulaab Gang, screenwriter Soumik Sen's directorial debut, defies many established norms of mainstream filmmaking
Screenwriter Soumik Sen's directorial debut, Gulaab Gang, is a calculated leap away from his comfort zone. Sen has scripted several city-centric films since he debuted in 2006 with Anthony Kaun Hai. Gulaab Gang, produced by Anubhav Sinha's Benaras Mediaworks, is unlike anything that he has conjured up before.
A classy act
M L Dhawan
The performances of Vidya Balan, who was recently honoured with Padma Shri, are a rare treat
A century of Indian cinema throws up many names and faces who have contributed to making it a glorious cinematic experience. One name that shines through is that of Vidya Balan, who has been awarded the Padma Shri for her contribution to the development of Hindi cinema.
---
Society
Read-to-Eat: The delightful world of food blogs
Azera Rahman
There is something warm and reassuring about a home-cooked meal. No matter how much one enjoys eating out, sampling and savouring different cuisines on offer, after a while, it's familiar aromas of one's own kitchen that gets the taste buds going. Today, a growing tribe of home-makers and stay-at-home moms are capturing this magic created in domestic kitchens and presenting it in wonderfully descriptive food blogs that are whipping up quite a gastronomic storm in the virtual world.
Soul talk
Increased use of social media
Pew Research Centre has put forth the results of an Internet Project that points out that 73 per cent adults now use social media networking of some sort. Facebook leads in the platforms that they use for networking online in terms of number of users. At the same time 42 per cent of online users have taken to using many different social media sites.
---
Travel
Valley of diversity
Hugh & Colleen Gantzer
Rajgir valley, near Patna, was the capital of the powerful Magadha empire before it was shifted to Patliputra
We felt it as soon as we entered the valley: this was a very special place. Bihar's legendary Rajgir valley was dotted across a green bowl, cupped by wooded hills. Searching for its epic past, we wove our way through clip-clopping tongas and the busy lanes of the bazaar, till we came to the scrubby, sub-montane lands spreading to the foot of the encircling hills.