Read-to-Eat: The delightful world of food blogs
Azera Rahman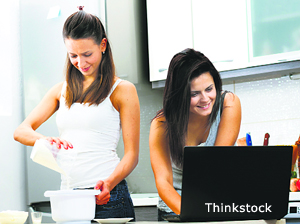 There is something warm and reassuring about a home-cooked meal. No matter how much one enjoys eating out, sampling and savouring different cuisines on offer, after a while, itís familiar aromas of oneís own kitchen that gets the taste buds going. Today, a growing tribe of home-makers and stay-at-home moms are capturing this magic created in domestic kitchens and presenting it in wonderfully descriptive food blogs that are whipping up quite a gastronomic storm in the virtual world. Be it women who are constantly on the lookout for cooking up interesting recipes for the family or time-strapped professionals, who find it tough to make a home-cooked meal Ė but nonetheless crave for such fare Ė these online diaries have a big reader base.
Chennai-based Sanjeeta K. is a mother of two, who, in her own words, was never tech-savvy or a gadget junkie. Although her love for anything related to food remained the one constant in her life, higher studies and later work somehow always took precedence over passion. Yet, she never stopped jotting down recipes from magazines, buying cookbooks or trying out new preparations.
"After almost ten years of stagnation in life after my marriage, I wanted to seek out new paths while working from the comfort of my home. That is when Lite Bite happened, in 2009," says the 40-plus popular food blogger (www.litebite.in).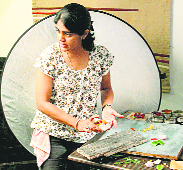 Sanjeeta K uses her blog to focus on healthy food

Food for Sanjeeta is "nostalgic, comforting" and something that helps her establish a "connect with people". In fact, it was her quest for "healthy cooking, egg-free baking and sharing the stories behind the food I cook" that inspired her to take up food blogging with a vengeance.
Whether it is the amateur or the professional, some of their most beloved kitchen creations find a resonance in childhood and in what their mothers and grandmothers cooked for them. Sanjeeta is no exception. "Some of our family favourites are those that I learnt from my mother, like baby potato pops, flax seed crackers and groundnut stuffed brinjal curry. I have cooked these over and over again, and have introduced new twists to suit changing tastes. For instance, momís minty baby potato pops now get a curry leaves or spinach coating, and the brinjal is stuffed with sesame seeds," she elaborates.
Quite surprisingly, what her family enjoys the most, however, is the traditional daal dhokli from Rajasthan. "This is one recipe that keeps my children occupied from its inception to completion. They call it "Rajasthani pasta" and love to create their own shapes of dhokli, be it flowers or cricket balls and bats!" Sanjeeta shares with a smile.
A similar passion for food and the desire to collate traditional recipes of her native community, the Pallakad Iyers, was what hooked Goa-based stay-at-home mom, Aparna Balasubramanian, on to food blogging six years back. As time went by, her blog evolved to include a variety of traditional Indian and modern recipes from across the world.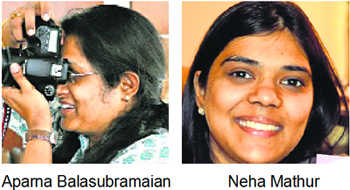 "I write a vegetarian (ovo-lacto, vegetarians who consume dairy and egg products) blog and the recipes reflect what I cook at home and the stuff my family enjoys eating. I have recipes that are traditional and new age, collected from magazines and cookbooks, as well as some that have been shared by friends and that have been with the family for a long time," says Aparna, whose 14-year-old daughter chose her blogís name, www.mydiversekitchen.com.
Admitting that she never set out to achieve anything with her blog beyond "maintaining a virtual food diary", Aparna adds that she has been overwhelmed with the response it has got. "I honestly did not think that even a hundred people would read my blog, but the feedback has been very encouraging. Itís a great feeling when people you donít know, both in India and abroad, write to say that how well a recipe turned out for them, or to simply ask for advice," she says.
One glance at the feedback section of any of these blogs reaffirms the fact that food truly connects people Ė there is everything from sharing of personal experiences related to recipes to seeking advice and even suggestions for possible changes or modification. Aarti Mathur, an advertising professional who follows food blogs, puts it this way, "With my hectic schedule and an eight-year-old to take care of at home, these food blogs are a blessing. I zero in on some healthy, delicious looking and easy-to-follow recipes every other night to put into my sonís tiffin the next morning Ė none of those ready-to-eat foods for us anymore!"
Apart from the recipes - some which are traditional, others with twists, and yet others their original creations - most bloggers offer interesting write-ups as a precursor. For instance, in her blog of authentic Pallakad Iyer recipes, Aparna has written the history behind the origin of avial (mixed vegetable in a coconut sauce), which has drawn a barrage of comments.
A steady communication with their readers is crucial in keeping a blog alive and, therefore, food bloggers spend a lot of time in responding to queries - on measurements or the option of replacing an ingredient with a locally available one - and taking up suggestions of putting online a recipe that is much in demand.
Dentist-turned-food blogger, Neha Mathur, decided to start a second blog dedicated to Indian cuisine after readers of her first blog on baked food items suggested it. "I write two blogs, one on baked items, such as cakes, cookies and breads, and another on Indian food. I started the baking blog first and it was very well received. People liked the way recipes were presented and explained. However, many of them started asking me about Indian recipes, which prompted me to write the second blog," says the mother of an eight-year-old son. Her blogs are www.myeverydaymusing.blogspot.in and www.whiskaffair.com
For most of the writers, food blogging has opened up a host of new avenues and opportunities. For instance, considering how crucial the visual aspect of food is, especially when one is trying to sell it through a picture, most bloggers have also become adept at food photography. Mumbai-based Yeshi Chaudharyís My Butter Half is like a photo blog with a step-by-step instruction to assist readers trying out new recipes. Aparna, too, has discovered the hidden lenswoman in her. "I now post food photography tutorials as well," she says. Sanjeeta has gone a step further indulging in photography as well as creative food styling, which has landed her many a commercial food styling project.
Given the popularity of the blogs, some writers have carved a credible name for themselves in the food industry and are invited to undertake restaurant and cook book reviews. Some even harbour dreams of penning their experiences and publishing books some day. Certainly some exciting times ahead for these unsung food divas. As Sanjeeta puts it in her blog: "So here is this inquisitive mommy, donning the role of a full-time cook, amateur writer, novice photographer, and fledgling food stylist, apart from being a doting wife managing two hyperactive children at home. Yes, my hands are full now and life is interesting."