Music zone
Saurabh & Gaurav
A triumphant comeback
Sharon Jones & the Dap Kings—Give the People What They Want (Daptone)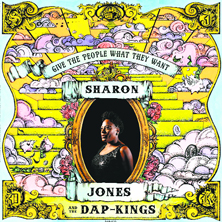 Originally recorded and due out last year, their fifth effort, Give the People What They Want and related tours were put on hold to allow Jones to undergo treatment for cancer. Having made sufficient and speedy recovery, she has returned as the group's vocal powerhouse, backed by the brilliant Dap Kings, and it feels like nothing less than a jubilant return to form. Jones' Aretha Franklin scream and Mavis Staples
rasp take turns at being equally stunning, while the Dap Kings are as inventive as ever. While the Motown influence is particularly strong on Get Up and Get Out, it's Jones' rebellious, yet mournful voice that takes centrestage. Elsewhere, Retreat! oozes a layered, lush sound, and Now I See leans Motown with its propulsive pace and chanting background vocals. The Dapettes play a significant role again on Stranger to My Happiness, which builds around a baritone saxophone groove that pops in the verses before the chorus allows Jones to unleash the rawer side of her vocal range. The highlight of the album remains the swift People Don't Get What They Deserve, a pitching sprint of a song who's tightly wound guitar lines and sharp horn bursts power its message of the injustice of inequality. Making Up And Breaking Up is a lightly shimmering track with cascading vocal harmonies, while We Get Along brings Jones's effortless tenor to the forefront of a distorted soul symphony. You have to give credit to Jones for walking the line between being a crowd pleaser and reinventing her trademark sound.
Best track: People Don't Get What They Deserve
Worst track: Long Time, Wrong Time
Eclectic, innovative and cerebral, yet totally accessible
East India Youth — Total Strife Forever (Stolen)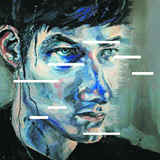 After a stint with indie-rock band, William Doyle has found a much more comfortable niche by jumping from ambient, pop and electronica to techno and post-rock in his solo outing. Doyle clearly relishes the freedom that comes from such stylistic shifts but his most refreshing attribute is his courage to experiment with which he creates music. The album opens with Glitter Recession. It's a beautiful, optimistic opening, the instruments all layered so that they never feel like they are jostling for attention but rather adding details and intricacies to make the piece more alive. Doyle cites the classical works of Shostakovich and the pioneering electronic experimentalism of Brian Eno as prime influences as well as a number of electronic techno producers like London duo Raime.

All these sounds and styles make up Total Strife Forever tied together with Doyle's sense of questing sonic adventure and immaculate musicianship. Hinterland comes off like Björk's Declare Independence re-imagined by a Phillip Glass fan while on standout track Heaven How Long, his voice raises the song onto another level entirely. Total Strife II manages to recreate the very essence of Bowie's Warszawa, while Midnight Koto revives the tradition of an oriental film set in the 1980s. The restless fusion of songwriting and experimental beats recalls Youth Lagoon and Deco Child as the more techno-inspired moments lift the album into realms of gleaming euphoria. The album is as moving as it is technically efficient, which, in the end, is what Will Doyle is all about.
Best track: Heaven How Long
worst track: Song for Granular Piano
Rating: **
A perfect balance of destruction and coherence
War Paint—War Paint
(Rough Trade)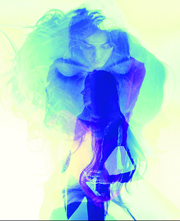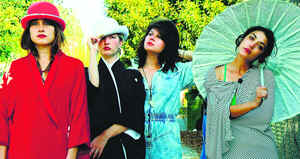 On the follow-up to their enormously hyped 2010 debut, The Fool, Los Angeles' female four piece Warpaint cast the same mysterious spell that makes their dreamy alt-rock sound enthralling and repetitive in equal parts. While the group's self-titled album might not be a huge departure from The Fool, it does show the band perfecting the auras that it has honed since forming nearly a decade ago. While Kokal's ethereal vocals and the rest of the band's harmonies provide a convincing melody to Keep It Healthy, it's really the rhythm section's groove combined with the simple guitar riff that drives the opening song. These are lush, expansive tracks, the product of months of studio time, jam sessions and sonic fine-tuning, and they're elegantly rendered by veteran production guru Mark Flood Ellis. On Feeling Alright and Love Is To Die they hone the strengths of their debut with slinky grooves married to goth-pop undertones. The power of this minimalist approach shines on tracks like Drive, which ignites after a slow build. Biggy, meanwhile, lures the listener in with an indelible distorted bassline courtesy of Jenny Lee Lindberg, but gradually transforms into a six-minute slice of dark, noisy frenzy. Teese slowly unfurls, from a folky guitar figure to a low, dreamy rumble of bass and drums to beautiful vocal harmonies over fragile keyboards. This is certainly a more confident album than The Fool, and that confidence pays off.
Best track: Keep It Healthy
worst track: Disco Very
Rating: ***
New levels of ethereal brilliance
Damien Jurado—Brothers and Sisters of the Eternal Son (Secretly Canadian)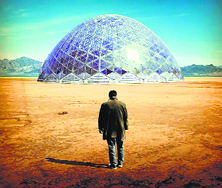 Seattle singer/songwriter Damien Jurado has released a handful of material since his emergence in 1997, with Brothers and Sisters of the Eternal Son becoming his 11th album release and his third with The Shins' multi-instrumentalist Richard Swift as the producer. The singer's delivery is more flexible than it's ever been, moving from the hushed echo-chamber whispers of Silver Malcolm to the fuzzed-out shouts of Jericho Road. Jurado doesn't shy away from his beliefs and the Biblical references are all over this collection. There's the Christ-evoking title, and on Silver Katherine Jurado sings, "I have seen Him`85 pacing through the sky" and he ends the track singing, "Roll away the stone." Jurado's jumbled vocals intersect wonderfully with his guitar strumming throughout the album. Along with the healthy doses of reverb and echo, the album transports listeners back to a bygone era. Silver Timothy is the strongest track here, and the prominent beats give it a distinct Latin feel. Metallic Cloud might sound like a mid-'90s Flaming Lips reference, but the track is in fact one of the calmest ones in the album. In some places, the album is downright groovy, and a long section of Silver Donna plays like a congregation being revived, clapping in harmony to the beat. Every track may not be as upbeat as Silver Timothy, but they all feature that energy Jurado has been experimenting with at their core.
Best track: Silver Timothy
worst track: Jericho Road
Rating: ***