M A I N N E W S
Delhi CM threatens to quit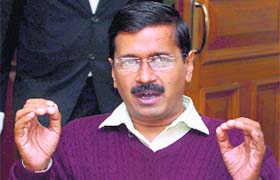 New Delhi, February 9
Delhi Chief Minister Arvind Kejriwal tonight threatened to resign if the state Assembly failed to clear the Jan Lokpal Bill. The Bill is opposed both by the Congress, which lends outside support to the AAP government, as well as the Opposition BJP.
Kejriwal said he did not have the right to stay in office if the contentious legislation did not get Assembly's approval.
The Chief Minister had yesterday said he could "go to any extent" to fight corruption. "To remove corruption from the country, I can sacrifice CM's seat a hundred times," Kejriwal said, adding the "government will fall if the Jan Lokpal and Swaraj bills are not passed". — PTI
Shrewd move: Cong
Nobody is above the law. The Chief Minister wants to run away from responsibility. He is finding an excuse. It is a shrewd tactic
Arvinder Singh Lovely, DPCC Chief