Gas pricing: Kejriwal orders FIR against RIL, Moily, Deora
Tribune News Service


Delhi CM's contention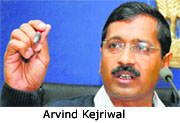 There was a collusion (over gas price hike) among the RIL and some Central ministers


The hike would cost the country a minimum of Rs 54,500 crore every year, and allow the RIL to make a profit of Rs 1.2 lakh crore


Since most of the alleged offences, including the decision to finalise the gas price hike, were committed in Delhi, the anti-graft bureau has the jurisdiction to probe the case

New Delhi, February 11
Delhi Chief Minister Arvind Kejriwal today ordered registration of an FIR against Reliance Industries Limited (RIL) chairman Mukesh Ambani, Petroleum Minister Veerappa Moily, former minister Murli Deora and former director general of Hydrocarbons VK Sibal. The move drew a sharp response from the government and the Congress.
The decision to order the probe by the Anti-Corruption Bureau (ACB) was made on a complaint by former Cabinet Secretary TSR Subramaniam, former Navy Chief Admiral RH Tahiliani, former Secretary to the Central Government EAS Sarma and Supreme Court lawyer Kamini Jaiswal.
Demanding that the Centre put on hold the decision to hike gas prices from April 1, Kejriwal told a press conference that the ACB of his government had been asked to file a criminal case under provisions of the Prevention of Corruption Act.
Kejriwal alleged collusion between the RIL and some Central ministers. "Gas price will be doubled from April 1. In case the price hike is allowed, it will make the life of common man miserable since it will have a cascading effect on transport, domestic gas and even electricity prices," he said at a press conference.
Reading out the complaint, the CM said the impact of the hike in gas price would cost the country a minimum of Rs 54,500 crore every year, and allow the RIL to make a profit of Rs 1.2 lakh crore. "The government took no action against the RIL for its deliberate drop in production and ignored the CAG report and the then Solicitor General's opinion (in May 2012) and on the contrary accepted the RIL demand for doubling the gas prices from April 1 this year. This is a clear case of causing unimaginable loss to the government exchequer," said the complaint.
Clarifying on the powers of the ACB, he said the existing laws and rules empowered it to take up the probe into complaints of corruption about alleged offences that took place within its territorial jurisdiction.
A government press note later stated since most of the alleged offences, including the most important decision to finalise the exorbitant hike in the prices of gas, had been committed in Delhi, the investigation had been referred to the ACB.
Attacking Kejriwal Petroleum Minister Veerappa Moily said, "I think, I should sympathise with his ignorance. He should know how the government functions, how these things are done," he said. The Congress cautioned against the probe "inspired by political vendetta".
Terming Kejriwal action against it as shocking, Reliance Industries today said the complaints that were used to base the action are baseless and devoid of merit or substance.
"The direction of the Delhi Government to order the registration of an FIR in relation to the decision of Union Cabinet to revise the price of gas is indeed shocking," the company said in a statement.