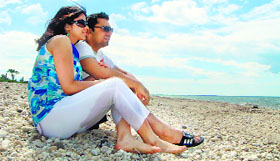 Love is in the air...
Falling in love is the easier part, what's challenging is to sustain that love for life. This Valentine's Day, we talk to couples who have weathered the storms together, scored on personal as well as professional journeys, raised kids and kept the spark of romance alive amidst all that!

Nitin Dutt and Vandana Dutt

Big on small screen
When Sakshi Tanwar reviews her career graph of the last fourteen years, she has absolutely no regrets. No qualms about not getting enough breaks in films like her male counterparts or using her popularity to switch her career.
Punjabi to the core
Even as one gets introduced to Anne Murphy, a research scholar and professor at the University of British Columbia (UCB), Canada, in the department of Asian Studies, she magnifies the significance of the past. A research scholar of Sikhism, Anne teaches Punjabi at the UCB and her fluency with the language can put many Punjabis to shame!
Fun element
The cast of upcoming Punjabi movie Ishq Brandy, in Ludhiana on Wednesday to promote the flick, was a happy bunch, quite satisfied with their efforts. The movie revolves around the life of three friends played by Roshan Prince, Binu Dhillon and Alfaaz.


Graffiti Aradhika & Sesh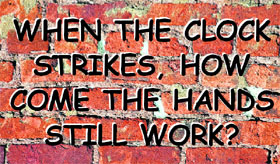 fashion funda
Less is more
The label Nivedita Saboo stands for opulence and luxury. She is known for her expertise at surface ornamentation and use of bright colours. Here she makes a forecast for the coming spring summer season.
CELEB POINT
A friend indeed!
I took that call even though the number was unfamiliar. The voice on the other side said Abhishek Bachchan wanted to talk to me. And I heard his warm, affectionate voice inviting me to his house for a party. There's something real about Abhishek. That glint in his eyes is very naughty... that smile is very friendly.
Man on a mission
Sandeep Waraich, a singer and social activist, has launched Mission Tiger to motivate young school children to develop the spirit of nationalism, patriotism, to motivate them to shun drugs and be strong, brave and graceful as a tiger and join Armed forces.
An American meal
Pizza lovers are in for a treat. Chilis, the US-based restaurant chain, which has brought to the region, authentic South- West American culinary delights, now has added a new array of lip-smacking flat bread pizzas to its menu.
Foot note
One truly understands the relevance of the quote by Coco Chanel that reads-A woman in good shoes is never ugly-as Malkiat Singh, the business development and marketing head of international shoe brand, Foxyeve, talks about the venture.
star track


Asin eyeing meaty roles


Ajay Devgn to replace Salman Khan?


New collection


Special screening


In the eye of the storm


In the company of Gunday


Alia's Berlin connection...


No mobile phone please!


Welcoming the Lakshmi


Screen bonding
chatter box


Couple chemistry


Stars on Boggie Woogie!


Wedding bells


Close ties?


Fear factor