A perfect plan?
Flexi-payment plans are a marketing strategy used by developers to attract more buyers in a slow market. But buyers should evaluate such plans and gauge the risk factors before signing on the dotted line.
Geetu vaid
The increase in the number of real estate transactions and enquiries over the past three to four months has indicated a change in the market sentiment in the residential real estate sector. Stablisation of prices and the hope of an upward movement in the realty sector in the latter half of this year is finally making the end users come out of their wait-and-watch mode. Dogged by low sales, rising inventories and cash crunch, the developers, too, are going all out to attract the buyers. Though price revisions and reduction has not been seen in the primary market, the developers all over the region seem to have become "liberal" with the easy payment plans. Almost 90 per cent of the new projects are being launched with an easy payment plan of some type. "Developers are proffering bundled offers instead of negotiating prices", says Om Ahuja, CEO – Residential Services, Jones Lang LaSalle India.
Commenting on the trend Anil Kumar Sharma, President, CREDAI NCR explains, "In today's highly competitive market, these payment plans are devised to attract customers. The developer has no choice but to offer the best return on investment to the prospective buyer. The customer, too, is highly educated and informed and studies various options available before making a deal. Overall, these plans reflect the market sentiment, economic environment and competitive options available for the customers."
"Giving buyers an option to pay in a mode that is flexible and convenient serves as an effective strategy especially in a slow market as it makes owning a home more affordable and convenient for the end user," says Anil Mithas, CMD, Unnati Fortune Group. The group is offering a 10:80:10 scheme for its recently launched project in Sector 119, Noida.
Though payment plans like the construction-linked plans have been in vogue for quite some time, it is the no-EMI or no-pre-EMI plans and possession-linked plans that are being advertised vigorously at the moment. But as a buyer one should know the pros and cons of each of these in order to avoid being fleeced or getting trapped by a developer.
Construction-linked payments
The traditional construction-linked payment plan is considered to be the most stable by experts. "As the payments are made in accordance with the progress of the construction work, the buyers have the assurance that the project is moving ahead as promised by the developer", says Nikhil Jain, CMD, Ramaprastha Group. It is a good option for buyers in a scenario where almost one fourth of projects are delayed. "In this plan the builders generally stick to the construction schedule as any delay on their part will prove to be very expensive for them," adds Umang Jindal, Director, Homeland Group. His group is offering a construction-linked plan for its recently launched premium project Homeland Heights in Mohali in which the buyers have to pay 10 per cent of the apartment price at the time of booking and the rest on the completion of different stages of construction.
Though this is a stable payment option, as a buyer you will have to ensure timely payments as any default will lead to a hefty penalty by the developer. The buyer also has to bear the burden of EMI payment in case a home loan is taken to finance the house.
This scheme can be a tricky terrain for developers too as speculators can derail their plans by stopping the payments. "It has been noticed in many projects that the buyers who come to book a property with only 10 per cent are the ones who are actually speculators. If the property doesn't appreciate within six months such speculators stop further payment and this derails a a project. So, in the flexible payment plan verification of credit reliability and credibility of the buyer is needed, something which is missing in today's property market", says Navneet Gaur, Director, Brys Group.
No-EMI option
Subvention plans or no-EMI plans are the other options being offered wherein the developers take a fixed booking amount and the rest of the sum is financed by a financial institution or a bank and the developer pays the EMI to the bank till the time of possession. This is a win-win proposition for cash-starved developers in a stagnant market as they get the required capital at lesser interest rates. However, as a buyer you should be cautious as Aman Agarwal, Director, K.V. Developers says, "It is true that subvention schemes help buyers as well as developers in a way that buyers don't feel immediate burden of huge investments and developers also get funding for their projects. However, the buyers should check the credentials of the developer in terms of delivery time as delayed possessions under such schemes put buyers at a risk". In fact, this was the reason that made RBI issue an advisory to discontinue such schemes. So, buyers should regularly follow up for project construction status and its delivery time.
Right move
There is no doubt that developers are using flexi- payment plans to lure the fence sitters to finalise deals and give a forward thrust to a lacklustre market. But there is no one perfect choice for a buyer here as each of these plans has its risks and benefits. "Home buying is such a capital-intensive investment that there can't be a one-size-fits-all solution", says Navneet Gaur.
"Choosing a suitable payment plan always depends on the financial resources of a buyer. Since the real estate sector is facing a liquidity crunch nowadays, real estate companies offering such payment plans to buyers ensure that there is inflow of funds to them while the buyer is not under a huge upfront financial burden while buying their dream homes or even for investment purpose", says Nikhil Hawelia, Managing Director, Hawelia Group.
However, with several policy changes on the anvil after the General Elections many of these plans may not be on offer for long, so if you are planning to finalise a deal for your dream home then these flexi-payment plans can be a good bet.
Possession-linked plan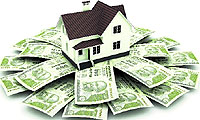 The third option is the possession-linked plan in which the buyer pays 20 or 25 per cent of the total cost at the time of booking an apartment or a plot and pays the rest of the amount on getting the possession. This plan is the one with minimal risk and liability for the buyers in case of a delay or a developer going bankrupt. This is the reason why a large number of buyers are going in for this payment plan. "In a possession-linked plan, the risk involved is limited to the initial capital of 20-25 per cent that a buyer pays to book the apartment. Buyers clearly stand to gain from a possession-linked plan as it reduces their risk and ensures that they do not have to bear the cost of funding the developer with multiple open risks", says Om Ahuja of JLL.
However, there are certain points that a buyer should consider before opting for this plan. Ahuja lists three critical safeguards that buyers must put in place brfore investing in such offers. These are:
1. Ensuring that the developer does not have two different pricing structures (i.e. one for construction-linked and another for possession-linked plans). If there are two such different pricing offers, then the developer has already built in the cost of funding that is applicable for a possession-linked plan. This effectively means that the buyer is indirectly funding the developer, and that is not an attractive scenario.
2.Establishing that the developer has all necessary approvals in place. Buyers funding the developers without approvals is like any another non-approved deposit collection scheme that can catch the eye of financial regulators like SEBI and RBI. Buyers need to use caution while investing in any project where approvals are yet to come and there is an assured-return type of structure. These are very risky structures and have high chances of default and delay in terms of payments.
3.Reading the fine print. Laypeople generally do not read those critical few lines at the end of the document before investing, but there is a huge risk of losing money by such oversight. Any condition that de-risks or absolves the developer can be perceived as a risk of losing the 20-25 per cent of the initial investment. It is, therefore, prudent for the buyer to review all points mentioned in such an agreement.