Frothy fun
Beer cafes are emerging as the new hangouts for spending a relaxed evening with friends
Jasmine Singh



Beer cafés are generally informal in approach and set-up ; and (right) The Beer Café in Vasant Kunj, New Delhi
Benjamin Franklin probably went overboard when he said "Beer is proof that God loves us and wants us to be happy." However, looking at the increase in the number of outlets that are dedicated to selling frothy, bubbly beer, it sure looks like god loves us a little extra!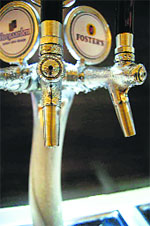 A beer tap
These places lay open an interesting and chilled world of beer open to you. Beer cafes, as these are known, are increasing becoming popular with youngsters. People are now increasingly catching up over a mug of beer. A popular concept in the West, where people spend hours hanging around the bar, soaking in the live music, enjoying their chilled beer with pita bread, the trend has picked up pace in India as well. Borrowing the name 'cafe' from the neighbourhood coffee shop, beer cafés are the new hang-out joints, ideal for spending a relaxed evening, for the fair sex as well.
Bottoms up
They are pretty much like any other café, selling beer and food to go with it. There is music and even a small dedicated place for indoor games. Beer cafés are generally informal in approach and set-up as well! This means you don't have to be uptight.
The Pint Room that has outlets in Mumbai, Bengaluru, Pune and Panchkula, is a place serving more than 40 varieties of beer from around the world. It was started by Pradeep Gidwani, who is also the man behind the launch of three most successful beer brands in India — Tuborg, Carlsberg and Foster's.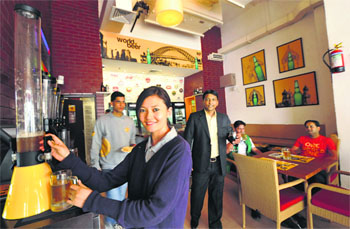 Due to their friendly environment, these places are a hit with women as well
"The idea behind setting up a place was to bring about a new beer culture in the country — as an ideal place to chill, chat and catch up," he says.
So, unlike the conventional beer/alcohol-serving places with a dark and dingy atmosphere where people drink alcohol, a beer café is bubbling with life. The Pint Room has bright and cheerful atmosphere that is full of life. The interiors are vibrant and welcoming at any time of the day or evening. It is like a typical coffee shop that boasts of a warm and friendly environment which helps calm down your nerves and senses and allows you to have conversation with soft and soothing music strains in the background. The only difference is there is a pint before you instead of a cup a coffee.
Pints, pitchers, buckets or taps, a beer café caters only to beer and at some places it is pretty much freshly brewed. Ooze, The Brauhaus (microbrewery), launched last year in Panchkula strictly follows the Bavarian of the German purity law that says no chemicals, no preservatives, no artificial colours and flavours to be added during brewing. Aaftab Singh Sidhu, a partner and brewer at Ooze, has done various brewing courses in India and abroad. He, along with another brewer Himanshu Sharma, has produced a variety of craft beers — majorly Hefeweizens, Pilsners, dunkels, English ales and Belgium Trappist. While it takes 25 days to mature any beer, it only takes minutes to gulp it down.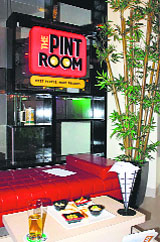 The Pint Room in Mumbai has bright interiors and cheerful atmosphere
More the merrier
Beer cafes not only serve every and any kind of beer, these also serve food that goes with the frothy drink. Fuss-free food, as it is called, something like a platter or finger-food to go with beer. The newly-opened Beer Café at Elante Mall, Chandigarh, has various outlets in Delhi as well. It is India's first PYOB (pour your own beer) chain, the only café in India with a range of 50 different varieties of beer from across 17 countries in the world. With eight outlets "pouring" and 30 more locations planned for this year, The Beer Café is poised to become the largest, fastest and most profitable alco-beverage service brand in India. Rahul Singh, the man behind The Beer Café, believes that beer cafés offer a chance to re-discover the love of beer. "Apart from special RFID activated PYOB (pour your own beer) cards, ice-cold draught beer taps and beer tanks, the café promises to provide customers a unique experience on every visit. The classy ambience and bright, eye-catchy décor ubiquitously adds to the appeal of having a PYOB experience at the café."
Beer cafes are generally present in different formats like stand-alone, inside malls, part of restaurant. Outlets also differ in terms of sizes — the smallest is 750 sq ft and the largest is 2,400 sq ft carpet area. Most of these vary between 1,000-1,300 sq ft carpet area. Gidwani says the footfall is increasing. "The Pint Room attracts a broad range of customers — men and women in almost equal proportions, people of all age groups from 25 to 75; families; we get corporate, professionals, business man," he adds.

Price-wise
Unlike the hard alcohols, beer is relatively cheaper, it doesn't dig a hole in your pocket. The price of various beer brands range from Rs 150-Rs 1,000 for a pint. To top it all since the alcohol content is less, it is not much harmful, health-wise.
Brand wagon
There are umpteen choices to look for — from the legendary Trappist ales brewed in Belgian monasteries, Japanese 'dry' beer, German wheat beers, Belgian wit beers, stouts, European lagers and ice-cold beer off frosted taps, a place selling beer will have all this and lot more.
The Beer Café' houses variety of European beers, Asian lagers, England's Marston's Pedigree, Australia's victoria bitter or Mexico range of Corona beers, Belgian beers like Stella Artois, Hoegaarden — the original Belgian wheat beer, or abbey beers like Leffe Blonde, Erdinger — one of the best known German beers, Weihenstephaner — one of the oldest beers, and Chimay, the world's best known Trappist beer, offer a heady experience to its customers.
Since these places are for genuine beer lovers, everything has to be revolving around beer only. Aaftab Sidhu who sees a regular footfall at Ooze with youngsters and people at 60 also enjoying beer, says "For beer lovers we serve beer in different glasses, so if we have four beers on tap, we will have four different glasses. People, who enjoy this drink, also know it too well. They know the taste, especially the youngsters who travel a lot and know the drink like the back of their hand."
So, if you are hitting a place that is dedicated to beer lovers, all you need to do is drop your I-mean-serious-drinking attitude, slip out from that formal jacket open the tap and let the bubbles hit the parched throat!