Farmers' unions continue dharna
Bathinda, February 15
Continuing its dharna against the state government, members of the BKU (Ekta-Ugraha) and the Punjab Khet Mazdoor Union, today announced not to retract until all their demands are met by the State Government.
For Roshni, there seems no light at the end of tunnel

Bathinda, February 15
For 12-year-old Roshni, the irony lies in her name. For her and several other young beggars on the streets of Bathinda, there may never be any light at the end of the tunnel. Roshni flashes her smile as she says that Virasat Mela is a good 'workplace' as it will remain crowded for three days and several visitors would give in to her demands and give her alms.


Sisters Nisha, Neha and Roshni at the Virasat Mela in Bathinda on Saturday. Tribune photo: Pawan Sharma

Students losing interest in science: Experts
Kapurthala, February 15
Students have lost interest in science in the recent past. The fact is evident from the trend observed by the experts that students graduate from school level to higher education in less numbers. The experts, however, suggest that to restrain this trend and motivate the students to opt science, some path breaking steps are needed.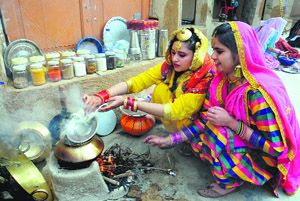 The eternal flame: Girls demonstrate a traditional kitchen with 'chulha' during the Virasat Mela in Bathinda on Saturday. Tribune photo: Pawan Sharma

Corps of Signals observes Raising Day
Bathinda, February 15
Raised in 1911, the Corps of Signals (Indian Army) embarked on the 104th year of its journey on today. The proceedings were initiated by a wreath-laying ceremony at the Amar Jawan Jyoti, in memory of the martyred Signallers, to pay homage for their supreme sacrifice.
Agri summit to fuel growth: MP
Bathinda, February 15
Member of Parliament from Bathinda, Harsimrat Kaur Badal, said the Progressive Agriculture Summit, which is being held from February 16 to 19 at Chappar Chiri in Kharar (Mohali), will fuel the agriculture growth and usher in a new era of diversified and more lucrative farming.
BANGO to protest against hike in blood unit rates on Feb 16
Bathinda, February 15
The Bathinda Association of NGOs (BANGO) will hold a hunger strike on February 16 to protest against the hike in the rate of blood units in the state. BANGO chief coordinator Ramnik Walia said it would be a token strike from 9 am to 5 pm at Fire Brigade Chowk. BANGO has been opposing the hike of Rs 1,000 per unit charged for testing blood.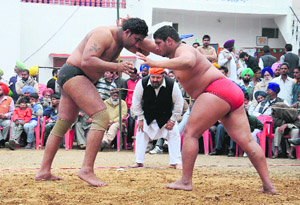 Ground beneath their feet: Wrestlers show their skills at the Virasat Mela in Bathinda on Saturday. Tribune photo: Pawan Sharma

School holds annual function
Bathinda, February 15
Prayaas International School, a special school for children from slums, recently organised 'Jagriti - The Awakening', its first annual function. With their dance, song and drama presentations, the students took the audience back to their childhood days. Chief Parliamentary Secretary Sarup Chand Singla was the chief guest at the event.
Feedback
This new mode of protest creates more problems
The continuing 'water-tank' protests (to climb atop water tanks to lodge protest) by various organisations need some introspection. The drama that follows this new mode (pseudo) of non-violent protest paralyses the district administration. Consequently, important problems that need highest order of attention stand ignored.
Singla flays AAP's style of governance
Bathinda, February 15
Delhi CM Arvind Kejriwal and his party could not distinguish between agitation and administration and they remained in the same state of mind as they were during their days of dharnas and protests, said Sunil Singla, convener of the media cell of the BJP (Punjab unit), in a press statement issued here today. He added they must understand that protest in front of camera might succeed but governance dependent on camera was bound to fail. Singla said the people of the country well understood that AAP was more interested in politics than governance. He alleged that Kejriwal ran away from the responsibility to serve the people of Delhi. TNS
Sidhu elected president unanimously
Bathinda, February 15
Rajinder Singh Sidhu was today re-elected as the president of Gurudwara Singh Sabha for the third consecutive time. All the factions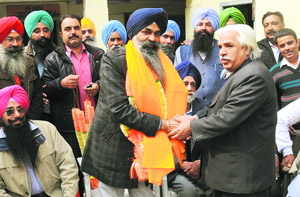 unanimously elected him in the presence of returning officer JR Khattar. Candidates fighting for the post of president, Gurmeet Singh and Baldev Singh Sidhu, withdrew their nominations in favour of Sidhu. He was felicitated in the presence of Chairman, Zila Parishad, Gurpreet Singh Maluka, SGPC member Sukhdev Singh Bahia and former Mayor Baljit Singh Birbehman. TNS

Rajinder Singh Sidhu, who was unanimously elected as president of Gurdwara Singh Sabha in Bathinda on Saturday. Tribune photo: Pawan Sharma

Ensure your name in voters' list, appeals ADC
Bathinda, February 15
The district election office has today appealed the people to check their names in the final voters' list that was published on February 6. In a statement issued here today, ADC Sonali Giri said having a voter identity card did not ensure a person's name in the voters' list. She added that voters, who had voter I-cards but did not have an entry in the voters' list, should approach the concerned election registration officer and register their query. TNS