A vivid portrait of a poet and his craft
Reviewed by Geetu Vaid

I Swallowed the Moon: The Poetry of Gulzar
by Saba Mahmood Bashir Harper Collins.
Pages 243. Rs 399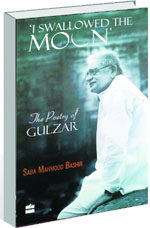 A poet is a magician who conjures images and captures emotions with his words, and the mystery of this art has baffled and intrigued many. I Swallowed the Moon, by Saba Mahmood Bashir, is an attempt to decipher and decode the craft of a poet; map the evolution and growth of this art; and trace the genesis of his thought process. Saba has chosen one of India's most revered and popular contemporary poets — Gulzar — as a subject for her doctoral thesis. And this book showcases her quest to reveal the threshold where the man and the poet within him, meet and create a mesmerising tapestry of poetry woven with words and emotions. Whether it is moulding Ghalib's words "Dil dhoondta hai phir wohi fursat ke raat din" or capturing the folk flavour with "Bidi jalaye le jigar se piya, jigar mein badi aag hai", Gulzar's pen has straddled the popular and the intellectual sensibilities very effectively.
His poetry has been a confluence of simple language, unusual connotations of imagery and depth of emotions. Saba gives a peep into his wordplay, subjects, meter and his three-line poetic form Triveni, all of which have contributed to the mass appeal of Gulzar.
Though known more for his film songs, Gulzar belongs to the tribe of Progressive poets who have used language and imagery as ammunition to fuel the fire of optimism, change and introspection. Conflicts — social, political or personal — have been a significant part of his repertoire comprising over 600 poems 500 film songs and 10 non-music albums. Through different chapters in the book Saba makes one discover Gulzar and his poetry through his own eyes. She makes the reader also become inquisitive like a student, awestruck like a fan and thorough like a critic. Communicating the thought briefly and crisply without binding it in the shackles of rhyme is the way Gulzar looks at poetry. His language and the words are ones that are floating in the air around us. And Gulzar's poems use the existing lexicon thereby connecting the poetic idiom with the times in which we live. "If your language doesn't represent the time in which it is living then what are you doing", he tells the author. His unconventional imagery that had been criticised by purists initially, reflects the poet's conscious effort to express what he actually feels about the world around him. "When I write a poem, it is like painting. I describe the dawn or sunset as if I were recreating with a brush though I am using a pen to write the words." Saba effectively brings forth the nuances that elevate his lyrics to an esoteric level.
Though academic in nature, the work is interesting as it almost flows like a smooth story. Saba has quoted from Gulzar's poems liberally to convey her point. A first-person interaction with the poet and a detailed listing of his poems and the imagery used make this book valuable for the fans of Hindustani and Urdu poetry. A must-read for all those who want to know more about Gulzar and his poetry.