'Art & Soul
'He who rode a tiger'

Jhajjar, a small state in Haryana, and the colourful style of its last Nawab come alive as one comes across some recently published paintings
B.N.Goswamy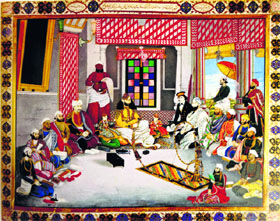 A literary evening at the court of Nawab Abdul Rahman Khan. By Ghulam Ali Khan. British Museum, London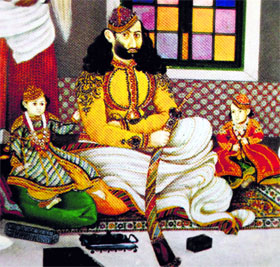 Nawab Abdul Rahman Khan seated with his two sons. Detail from a painting by Ghulam Ali Khan; dated 1852. The British Museum, London
When we were young, we used to hear a Haryanvi saying: "Arre beta, Jhajjar mein paida hua, key jaane Rohtak ki bahaar!" Meaning, of course — using the little town of Jhajjar and the much larger town of Rohtak, as points of comparison — 'what would a country bumpkin know anything about the world at large?' In other words, Jhajjar is after all, only Jhajjar; Rohtak is another world.
Suddenly, the words came back to me as I sat looking — a bit startled, I confess — at some images of paintings that were made more than a century and a half back for the then Nawab of Jhajjar. Lying west of Delhi, not more than 65 km in terms of distance, the town of Jhajjar was once the headquarters — capital, if one so likes — of the little principality of the same name. Referred to then as a 'state', Jhajjar had a long and colourful history: founded some 800 years ago by one Chhajju Jat; subject to the Muslim Sultanate of Delhi for close to four centuries; merged in a Mughal suba under Akbar; conferred by Farrukhsiyar in 1718 upon a favourite minister; repeatedly attacked by Marathas and Jats and others; turned into a headquarters by the redoubtable Irish adventurer, George Thomas; came under the control of the East India Company in 1803, which decided to create strategically located pockets of loyal feudatory powers in and around Delhi. It was part of that decision that Jhajjar was handed over to a Pathan amir, Nijabat Ali Khan, with the title of Nawab. It was Nijabat Ali's cultured son, Faiz Muhammad Khan, however, who is best remembered in Jhajjar, for he took serious interest in the development of the 'state': constructing impressive buildings, starting some local industries, building a dam close by, above all surrounding himself with poets and scholars of repute.
But the recently published paintings from Jhajjar that I referred to above come from the period of the last of the Nawabs of that estate, Abdul Rahman Khan, descendant of Faiz Muhammad Khan, who assumed power in 1845. He was to remain on that gaddi for only 12 years, since in 1857, when the Indian rebellion against the British broke out, things went completely out of hand. He threw his lot in with the last of the Mughals, Bahadur Shah Zafar, and, in the eyes of the British, had to pay for it, for he was captured, tried and executed for his role in the rebellion at the end of that year. However, for the short period that he was Nawab of Jhajjar, Abdul Rahman Khan lived in state: a life marked by leisurely pursuits and the cultivation of the arts. Hunting seems to have been a passion that he shared with his predecessors, for there exists a painting from an earlier 'reign', showing a hunting expedition in which the then Nawab had — of course — the better of the beast. But Abdul Rahman Khan did one better than that, however, for we have a painting showing him in his sprawling garden astride a tiger while five of his attendants — uncommonly tall and athletic-looking men — stand around, unarmed save one, keeping a stern eye. It is a remarkable work — dramatic in many ways and certainly highly colourful — for while one knows of other princes and rajas and nawabs maintaining menageries, seldom does one see a ruler literally riding a beast like this. The Nawab does not seem to be particularly ill-at-ease: in fact, he —wearing an elegant long kurta and tight pyjamas and a jauntily placed cap on his head — looks, like his mount, confidently straight out of the painting, at the viewer. Whether the painter reconstructed the scene, sitting in the safety and comfort of his own studio, or actually observed it, remains unknown, but there it is, this painting of a Waraich Pathan ruler, as a record. There is a long inscription at the top of the painting, naming the Nawab and using a string of lavish titles that he must have received from the Mughal overlord at some point of time.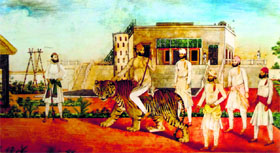 Nawab Abdul Rahman Khan of Jhajjar riding a tiger. In the late Mughal style.
Ca. 1845-1850. Collection: Cynthia Hazen Polsky, New York

Two other paintings, both signed by one of the best-known painters from a late Mughal atelier — Ghulam Ali Khan — show the Nawab in more familiar, and quieter, surroundings: one where he sits on a high chair, smoking a long and highly decorative huqqa, listening to music while the nobles of his court sit on the floor flanking him. Two musicians play on their sitars, while a percussionist plies his dholak drum. It is the Nawab himself, however, who cuts a very stylish figure: long curly hair framing his face and trailing down to his shoulders; Lakhnavi cap on head; a richly brocaded gold and orange jama; and flamboyant gherdar pyjamas that must have taken yards of fabric to make. Each of his nobles or companions around him, identified through inscribed names, some of them of aggressive aspect, also wears courtly dresses and is armed. The other painting, also showing the Nawab seated in court, is even more interesting. For there, he has his two sons, both young children, sitting gravely by his side, present at what might be called a literary soiree on a winter evening. Men of rank, including an Englishman, sit around, again each identified by name: a hakim, a maulavi, a serishta-dar, and so on. One of them has a book placed on the floor on a piece of textile, in front of him; another has, likewise, some manuscript, in front of him: poets and writers, evidently. But the most interesting figure in the scene, apart from the stylishly dressed Nawab himself, is another man seated at the lower end of the painting, just below where the carpet supporting the Nawab's elaborate huqqa: he is reading from a book and the inscription above him tells us that he is "Mian Zia Ullah, master angrezi": in other words, the Nawab's teacher of English. The painting again is by Ghulam Ali Khan who we know worked for different patrons: not attached on a permanent basis to the Jhajjar court but a roving artist, if one so likes.
This apparently is what Jhajjar and the colourful style of its last Nawab was, once. What Rohtak was like at that time we do not know.