Travel
A pot of luck

Beautiful, whimsical, ethereal — ceramics and pottery of Staffordshire have been brought together under one roof at the Wedgwood Museum at Stoke-on-Trent in England
Nivedita Choudhuri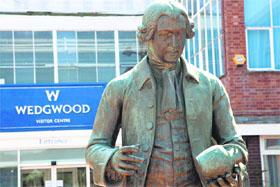 Statue of Joshiah Wedgwood (1730-1795) at the museum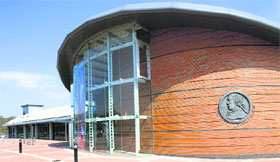 An outside view of the Wedgwood Museum
Stoke-on-Trent shot into the limelight a few years ago as the birthplace of singer-songwriter, occasional actor and member of the celebrated pop group Take That, Robbie Williams. But the town first achieved fame at least 200 years before Williams' birth when Josiah Wedgwood started to convert his dazzling designs into mass-produced ceramics and the town in the county of Staffordshire became the hub of the pottery industry in England.
The Staffordshire Potteries is the generic term given to the industrial area encompassing the six towns of Tunstall, Burslem, Hanley, Stoke, Fenton and Longton. No visit is complete without a trip to the Wedgwood Museum at Stoke. Josiah Wedgwood, potter and founder of the Wedgwood Company, was born in 1730. He greatly improved the inelegant and ordinary crockery of the day by introducing resilient wares. He was appointed the Queen's potter in 1762 after his cream-coloured earthenware was christened 'Queen's Ware' in honour of Queen Charlotte, the wife of King George III.
Wedgwood, who died in 1795, conducted experiments using barium sulphate, and from it produced jasper in 1773. Jasperware, which is used for a great multitude of ornaments, blends metallic oxides, often blue, with separately moulded reliefs, generally white. Incidentally, Wedgwood's daughter married his friend, Erasmus Darwin's son, and they later became the parents of noted naturalist Charles Darwin. Charles Darwin would himself marry a Wedgwood.
The museum itself has a fascinating array of exhibits and one of the items that is absolutely unique and breath-taking is a lobster salad bowl. Wedgwood introduced numerous items of novelty tableware towards the end of the 19th century. The lobster salad bowl was manufactured in 1888 and it was quirky because it was kept balanced on lobster claws. The entry for the bowl in the factory book where the cost of manufacture was recorded estimated that it cost the grand sum of two shillings and seven pence to make the bowl!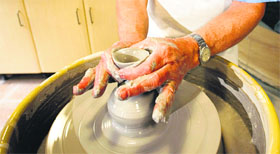 A pottery maker at work
A vase decorated with applied reliefs of acanthus leaves, swags and a figurative scene and Josiah Wedgwood's copy of the Portland vase are also striking exhibits. The Barberini or Portland vase was originally made by Alexandrian craftsmen around 50 AD. The Roman cameo glass vase was brought back to England in the 18th century and sold to the Duchess of Portland, from whom it takes its modern name. Wedgwood borrowed the original vase and it took him four years to copy the vase in a jasper form.
Another incredible item is the 'fairyland lustre leap-frogging elves chalice cup'. On the chalice cup, made by Susannah Makeig-Jones in 1916, there are elves against a sunset sky enjoying a game of leapfrog. With fairies and elves around, one could have easily been transported to the magical Mr Magorium's Wonder Emporium!
At the Moorcroft Heritage Visitors Centre, in-depth information is available about William Moorcroft (1872-1945), potter and founder of the Moorcroft pottery business. Moorcroft studied art at Burslem, London and Paris and produced Aurelian Ware, which was partly decorated with transfers and partly painted by hand. He developed highly-lustred glazes and used oriental shapes and decorations. Later, he developed his famous Florian Ware, which is noted for its brilliant colours.
Moorcroft's wares were displayed at Liberty, the renowned department store noted for stocking luxury goods on Regent Street, London. Like Josiah Wedgwood, Moorcroft was made potter to the queen by Queen Mary, the wife of King George V.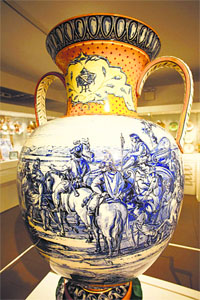 A giant decorative pot on display
Emma Bridgewater's outlet at Stoke is a la mode. Her designs are quirky and unusual. Sample some of the expressions printed on her mugs: 'Happiness is a cup of coffee and a really good book', 'Happiness is a cup of tea and a new magazine', 'Mum is queen', 'Dad is king' and 'Happiness for mum is a cup of tea in bed'. That truly sounds like what mums would want every day and not just on Mother's Day!
The items on display are mindboggling. Half pint mugs, cocoa and one pint mugs, mugs for babies, teapots, jugs, plates, bowls, cups, saucers, egg cups, comports, serving dishes, cookware, butter dishes, sugar pots, pet bowls, vases, lamps, storage jars, lids... the list is endless. Bridgewater's patterns are extremely popular with children. Pink hearts, polka dots, ponies, dancing mice, blue hens, bunny rabbits, dogs, flowers and starry skies... how could any child say no to that.


Apart from the potteries, Stoke-on-Trent is situated right next to the spectacular Peak District. The Peak District is one of the most beautiful and inspiring places in England. A trip to Stoke followed by a stroll in Dovedale, perhaps one of the most scenic spots in the Peak District, and some retail therapy in Ashbourne, a historic market town not too far off from Dovedale, would make for a superb and entertaining weekend for all age groups.
FACT FILE
How to go: Take a National Express coach from Victoria station, London.
Where to stay: Premier Inn on Stone Road, Stoke-on-Trent. Double rooms, without breakfast, cost from £60 onwards.
What to buy: Of course, pottery