Entertainment
Twinkle, twinkle, the lost star

Many a child was tempted to enter the film world after actors like Baby Naaz, Baby Guddu and Jugal Hansraj made it big on the cinemascope. However, many of these popular child stars have not been able make the transition to stardom as adults
Shoma A. Chatterji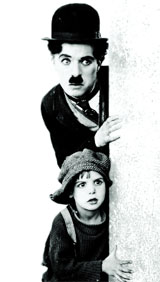 What happened to Jackie Coogan the little boy who broke glass windows by pelting stones at them in Charlie Chaplin's The Kid (1921)? Or to Enzo Staiola who featured in The Bicycle Thieves (1948)? No one knows what happened to Henry J. Thomas, the protagonist in E.T. (1982) or Macaulay Culkin of The Sixth Sense. They remain milestones by virtue of the classics they featured in. But they have gone missing from the film industry forever.
Coogan grew up to discover that his parents had squandered away all his money. Staiola taught Maths in school when he grew up. Thomas grew up to be a musician and occasional actor.
Indian parallels are not far to seek. Master Rattan Kumar of Raj Kapoor's Boot Polish and Bimal Roy's Do Bigha Zamin was never heard of because he reportedly migrated to Pakistan. Baby Naaz, who played his kid sister in Boot Polish became a raging child star. But as she grew into an adult, she was forced to step into character roles.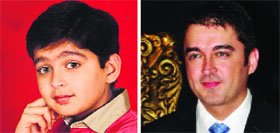 Jugal Hansraj won many accolades for his role in Masoom but failed to recreate the magic in his youth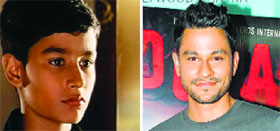 Adult Kunal Khemu has been struggling to get a foothold in Bollywood
In Dilip Ghosh's Adhi Haqeeqat Adha Fasana (1990), a documentary on child actors in Bollywood, Naaz broke down while talking of being abused and exploited by her own parents. "I would come home late, hungry and tired. But my parents were busy fighting and did not bother about my dinner. I had no one to turn to," she said.
Daisy Irani said the director and crew would bribe her with chocolates but her mother would pinch her to make her cry in sad scenes.
"My mother was a control freak and tried to get vicarious satisfaction by putting her two little girls in films. But she denied us a normal childhood, something I will never forget," she laments.
Daisy Irani often portrayed boy's roles. Once, she happened to meet Pandit Jawaharlal Nehru. When she used a word wrongly while greeting him, he insisted that she be admitted to school. She was 13.
"But I remained in the same class for three years because I hardly went to school and had to drop out," she says. Her sister Honey Irani married Javed Akhtar. Though the marriage did not last, her life changed its direction. Her kids are now famous.
Junior Mehmood, who charmed everyone in Mother India faded into oblivion. Nandini Chandra in Merit and Opportunity in the Childcentric Nationalist Film of the 1950s charts how the child was the centre of many films in the 1950s and 1960s when filmmakers tried to bring out nationalist themes through child characters. It is a different scenario now. No one who has seen Deewar will forget Master Alankar who played the younger Amitabh Bachchan. He went away to the US as he could not get films as an adult. His sister Pallavi Joshi has been relatively fortunate but is no hotshot.
Apur Panchali by Kaushik Ganguly fetched the Best Director Award at the 44th International Film Festival in Goa. It is based on the real life story of Subir Bandopadhyay who played the little Apu in Satyajit Ray's Pather Panchali. Bandopadhyay never acted in another film ever again. Even Satyajit Ray forgot all about him. Apur Panchali is narrated from this now-ageing man's point of view that voices his pain of becoming famous for a little while and then getting lost forever.


| | | | | |
| --- | --- | --- | --- | --- |
| Subir Bandopadhyay | Baby Naaz | Baby Guddu | Baby Farida | Baby Daisy Irani |
Master Romi of Munna was not able to make it in films. Jugal Hansraj, who stole hearts in Masoom, got a reasonably good break as hero but the film flopped. Kunal Khemu is still struggling to get a foothold in Bollywood. Master Raju, a much-in-demand child actor has done more than 200 films as Raju Shreshta but continues to struggle in the margins. Baby Farida, however, is doing well as mother/grandmother in films and television.
Baby Guddu, a reigning child star, disappeared. Hansika Motwani of Koi Mil Gaya was reportedly given hormone treatment to fasten her physical growth. But nothing happened in Bollywood. She migrated to Tamil and Telugu films and is doing very well. But Ayesha Goiulia Kapoor, the child version of the deaf-blind-dumb Michelle in Sanjay Leela Bhansali's Black turned to jewellery designing. The lucky ones are few and far between. The little Aamir Khan played a small role in Hum Kissie Kum Nahin but never again. Nargis played a little girl in Tamanna but that was her only baby role. Sridevi, besides Meena Kumari, is among the very few who made her debut at four in a Tamil film and grew up to become one of the most successful divas in Bollywood. Even the adult Sarika's National Award is no consolation for lack of space in Bollywood. Do we even remember Darsheel Safary, who played the dyslexic child in Taare Zameen Par (2007) so brilliantly?


the lucky ones