Entertainment
'I am a happily married man'

Farhan Akhtar is grinning from ear-to-ear after sweeping Best Actor trophies for Bhaag Milkha Bhaag at leading award functions. The actor chats up about his new film Shaadi Ke Side Effects
Sreya Basu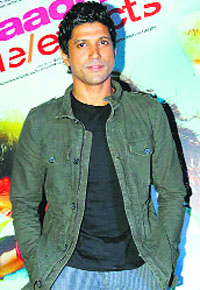 Farhan Akhtar
Why is Shaadi Ke Side Effects a special film for you?
Shaadi Ke Side Effects has a classic format of a romcom. It is the only film I have done so far where there was so much humour. Besides, most films on marriage made, so far, are serious ones, while most romcoms are about an individual, who is single, and at the end of the film, gets hitched. So it is quite different in that aspect.
Was it tough for you to do comedy?
There is a saying that comedy is serious business. For comedy, you need to have a sense of timing. Your rapport with your co-star is also very important. But I was lucky. I had my share of fun while shooting the film. It has Vidya (Balan), who is an amazing actress, Vir (Das) and Ram Kapoor; all of them are very, very good at what they do. Most of my scenes were with them, so it was all good.
After the hard work that went to the making of Bhaag Milkha Bhaag, was this a holiday film for you?
Every film needs equal amount of hard work. It may be that some films need you to work little harder physically. But the emotional involvement remains at the same level. But yes, definitely Shaadi Ke Side Effects was easier than Bhaag Milkha Bhaag preparation-wise.
What are the side-effects of marriage?
Side-effects of marriage can be anything. It's not a medicine that you are taking that certain properties that are consistent in everyone's relationship. It's an individual experience. The side-effects depend of people's personalities and how they are. They can focus on good things; and there are people who like to focus on negative things.
What about your side-effect?
I have been very happily married (to Adhuna) since the last 14 years of my life. I have no complaints. You can take that as my side-effect in marriage.
Do you still get butterflies in stomach before release of a film?
It's a combination of feelings … there are too many emotions that come together before the release of a film. There is a feeling of celebration as we have made the film with so much love, there is excitement of sharing the film with the people, there is also nervousness and anxiety that whether people will like the film or not.
We mostly see you in multi-starrers. Do you ever feel getting overshadowed?
Not at all. I don't have problem working with anyone. Honestly, apart from Karthik Calling Karthik (2010) and Bhaag Milkha Bhaag (2013), all my films had an ensemble cast, they were all multi-starrers. Even Zoya's film I am doing now has Ranveer, Priyanka and Anushka. I just want to be a part of good movies and as long as the script is good and I have something to contribute in it, I will be glad to be a part of it.