M A I N N E W S
Congress, not BJP, playing divisive politics, says Modi
Tribune News Service


Modi's love for Himachal
Over 1 lakh persons attended the rally
Modi said Himachal was his weakness as he had stayed in the state for a long time as party in charge
He said In case he became the PM he would do something special for Himachal
People did not leave the venue till the helicopter of Modi took off from the spot
Sujanpur (Hamirpur), Feb 16
The Congress was pursuing the policy of divide and rule over the creation of a separate Telangana state. BJP's prime ministerial candidate Narendra Modi said this while addressing a rally at Sujanpur in Hamirpur district today.
He said Congress president Sonia Gandhi had accused him of spreading poison (doing 'zehar ki kheti') in the country, but it was the Congress that had been doing so for the past 60 years. The NDA government led by Atal Bihari Vajpayee created Uttarakhand out of Uttar Pradesh, Chhattisgarh out of Madhya Pradesh and Jharkhand out of Bihar. However, there was no violence or opposition.
On the other hand, the Congress' move to create Telangana state witnessed violence from its own party men. That was because the party had been pursuing the policy of "divide and rule" in Andhra Pradesh for electoral gains, Modi alleged.
He said the BJP was committed to bring back black money stashed in foreign banks in case it was voted to power. The Congress did not do anything on that front because most of it (the black money stashed in foreign banks) belonged to its own men. In case the NDA was voted to power, black money would be brought back to the country and its benefit given to the salaried class that had been paying its taxes honestly, he said. He said in case the NDA was voted to power a separate policy would be developed for hill states.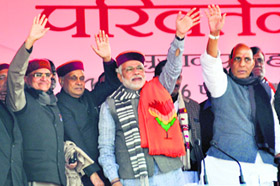 BJP prime ministerial candidate Narendra Modi flanked by party president Rajnath Singh (R), former HP Chief Minister Prem Kumar Dhumal (2L) and party leader Balbir Punj at a rally in Hamirpur district on Sunday. photo: Kamaljeet

Taking a dig at Himachal Chief Minister Virbhadra Singh, he said the Prime Minister had repeatedly said that money did not grow on trees.
However, the income of Virbhadra Singh, as per his election affidavit, had gone up 14 times. As Virbhadra Singh had been claiming that he was getting income from apple orchards, it seemed money was virtually growing on trees for him, he said. Expansion of the railway network was a must to boost tourism in the state, Modi said. BJP national president Rajnath Singh appealed to the people to vote for Narendra Modi.
In case Modi became the Prime Minister, development of the arms industry would be undertaken on priority so that the country did not have to spend a fortune on importing arms. He said India should not have released the 90,000 soldiers of Pakistan taken prisoner during the 1971 war till POK was handed over to India.
Former Chief Minister Prem Kumar Dhumal dwelled on issues related to soldiers and ex-servicemen. He said even the Army felt demoralised under the weak leadership of the present government.
Shanta Kumar attacked the UPA government on corruption and said India had coal reserves that could last for 200 years. However, the Congress government arbitrarily allocated these to its own men. When the Supreme Court intervened and ordered a CBI inquiry, the files from the PM's office went missing. It was shameful, he said.
Party's national general secretary JP Nadda attacked Virbhadra Singh and said the Congress should have asked him to resign in view of the corruption allegations against him. Anurag Thakur also addressed the gathering on the occasion.
Lt Gen HS Kanwar (retd), Lt Gen Surinder Pratap Singh (retd), Brigadier Pawan Chaudhary (retd) and former Public Service Commission Chairman Dev Raj Sharma joined the BJP in the presence of Modi.