M A I N N E W S
One of the oldest Kashmir militants killed in Sopore firefight
Azhar Qadri
Tribune News Service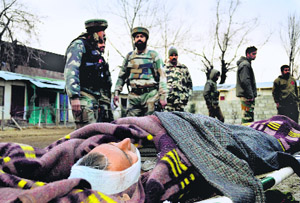 Soldiers near Hizb commander Mohd Shafi Sheikh's body after a gunfight in Sopore. Tribune photo

Srinagar, February 16
In the fast depleting ranks of home-grown militants in J&K, Mohammad Shafi Sheikh of Sopore today became one more number in the 'kill figure.' But Sheikh's addition to the 21,000-plus dead (according to the Home Ministry's estimate since militancy began in the 1990s) came with grimness of a lost count of the state's youth: he was one of the oldest, deadliest and committed men of a lost cause.
Categorized as an 'A plus' commander of the Hizb-ul-Mujahideen in police records, Sheikh was today killed when he tried to escape a security cordon in Seelu village of Sopore – around 10km from Zaloora village where he belonged, police sources said.
The official described the operation as a "big setback" to the militant outfit.
"He was in a house and tried to escape through an orchard. In the exchange of fire, he was killed," said a police officer.
Security forces describe Sheikh, aged around 45-50 years, as an expert bomb maker and a chief motivator for new entrants. He was HM's divisional commander for north Kashmir, who operated under aliases Shafi Peer and Rashid. A pistol, several rounds of ammunition and a grenade were recovered from him.
Sheikh was a first year college student when he joined the militant ranks in 1995, his elder brother Bashir Ahmad told The Tribune. He was arrested twice in 2003 and 2006, sources said. Each time after his release, Sheikh rejoined the militants and continued to carry out attacks against security forces.
A senior police officer said Sheikh had joined militancy in the early 1990s and had crossed the Line of Control in 1995 where he spent three years in HM camps handling the outfit's communication setup before returning in 1998. The militant was involved in several shootings that killed at least five police and paramilitary personnel. One of his most audacious attacks was the 2011 Sopore police station IED blast in which a constable was killed.