The tribune yearender 2013 : year of corrosion

Lahore Log

The tribune guide to best colleges

Budget
2013-14

INDIA CHINA WAR 50 YEAR LATER

EARLIER FEATURES
EC issues guidelines on poll promises
New Delhi, February 21
The Election Commission of India (ECI) today issued guidelines to political parties, asking them to stick to rational promises in their manifestos and not to add anything that is repugnant to the ideals and principles enshrined in the Constitution. The new rules shall apply to both Parliamentary and Assembly elections. The directive stems from a Supreme Court judgment of July last year.
Farmer dies in Amritsar lathi charge
Amritsar, February 21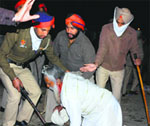 A farmer was killed when the police lathi-charged activists of the Kisan Sangharsh Committee (KSC) this evening. The farmers were protesting outside the office of the Chief Engineer, PSPCL, virtually holding Executive Engineer SN Mahi and several other officials hostage.
A farmer falls to the ground during a police lathi charge in Amritsar. photo: Vishal Kumar
India tells Italy to provide security to its diplomats
New Delhi, February 21
India today asked Italy to ensure the safety and security of its diplomats in the European nation after the Indian embassy in Rome received a live bullet and several hate mails this week. This comes amid diplomatic tension between the two nations over the trial of two Italian marines.
Don�t free Rajiv Gandhi killers, SC tells Jaya govt
February 21, 2014
TN Govt to free all Rajiv killers
February 20, 2014
High drama as LS clears Telangana
February 19, 2014
No populist giveaways in UPA-II pre-poll Budget
February 18, 2014
At Mohali agri-summit, Third Front woos Badal with PM post
February 17, 2014
Union Cabinet gives nod to President�s Rule in Delhi
February 16, 2014
Kejriwal quits as Jan Lokpal hits House wall
February 15, 2014
Fisticuffs & pepper spray: House hits new low
February 14, 2014
UPA-II spares fares, offers 72 new trains
February 13, 2014
Free-for-all in J&K House; MLA hurt
February 12, 2014
SC panel indicts BCCI chief�s son-in-law over IPL betting
February 11, 2014