New-age wedding tales
Wedding photography has undergone many changes, and not just in terms of equipment. Many couples are opting for various pre-wedding and post-wedding photo shoots
Jasmine Singh
it used to be a Herculean task to pull out that huge tome of a wedding album lying in the closest, rotating it around, with two family members, one holding it delicately and the other peeping into it while the bride and the groom, family members, relatives and friends stared straight at you from glossy prints. Pre-photoshop days the pictures were edited, courtesy the wedding photographer, who would, at time, unknowingly cut out the main members of the wedding party or the bride would be complain about how dark she looked.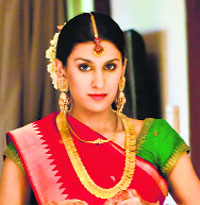 Candid shots is a new concept where the photographer clicks many casual moments
Cut to the present day, the wedding photography has come of age — and a digital one. It has become professional with state-of-the art instruments, techniques and touches. Wielding latest cameras, lenses and many other gadgets, the wedding photographers are no longer those photo wallas clicking pictures in a corner.
Prateek Sharma, a wedding photographer based in Gurgaon, looks more like a good-looking guest, till he pulls out his stylish Canon 5d and 6d Mac camera. Says Prateek, "More than the equipment, it is the way wedding photographers shoot the pictures that has changed."
Prateek doesn't just stand at one strategic point and takes pictures. "I gel with the family and the guests, this helps me to understand them and observe them closely. This also gives me a lot of scope for the candid shots, a new inclusion in wedding photography," he adds.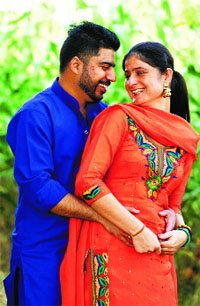 A couple at a pre-wedding shoot
Photo courtesy: Prateek Sharma
The pictures are of not just the main ceremony but include many different aspects now — engagement, sangeet, mehendi, pre-wedding couple shots. A new interesting concept that has emerged is of candid shots. The lensman/woman clicks many casual moments like the bride getting ready, or the groom's friends helping him to dress, bride's teary-eyed mother …..and much more.
Besides these various elements, camera equipment has also gone for a major change with everything going digital and more hi tech. Photographers are also taking risks in terms of taking shots. They don't settle for a limited number of shots, instead they go in for multiple exposures, which allows the family to choose the best picture out of the whole lot.
Chandigarh-based Amit Sood, managing director Roshan Studios, is a fourth generation photographer and has recently won the award for the best wedding photographer in Delhi. After clicking almost 50,000 weddings, Amit is of the view that equipment doesn't have much to do with good photography. "I have been doing candid shots for almost 15 years now, though it is only recently it has caught the fancy of people through social networking sites ," he says.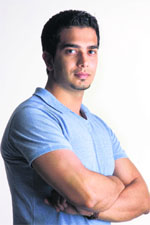 Prateek Sharma is a Gurgaon-based photographer
Wedding videography has also changed. Amit says, "People prefer short five to seven minutes videos these days. Videographers charge from Rs 30,000 to Rs 1 lakh depending on the client and the work."
Wedding albums from Germany and Italy are the latest entrants to the field of wedding photography. From the usual 5X 5 or an 8X8, the sizes have gone up. Amit, along with his wife, will be introducing wedding albums that will have a video playing alongside pretty soon.
Pre-wedding photography is another new aspect as are the location shoots. "Clients want to capture their love and are willing to wake up really early, dress up and be at a location for those special pre-wedding pictures," shares Prateek.
Simran Jagdev who runs Simran Jagdev photography is a Chandigarh-based wedding photographer. In addition to the wedding photography, the pretty lensgirl is known for her location shoots, something that has caught the fancy of many couples. "Last year, I did many NRI couple shoots who wanted to be clicked at farms. Delhiites have a fascination for mountains," she shares. Apart from pre-wedding shoots, post-wedding shoots have also become popular. Couples want to immortalise their initial moments together.
From candid shots to kiss-and-tell-the-world pictures, the traditional shaadi photos have got such a drastic makeover in all aspects that one wonders — what next.

Making of the bride
From rejuvenating spas and exquisite hairdos to sparkling jewellery and gorgeous lehengas, the Indian bride never had so many choices. Here's a peep at the bridal fashion trends for the season
Gunjeet Kaur
AN Indian wedding is a treat in itself. Full of customs, rituals and traditions, this once simple affair has witnessed a makeover over the recent years. The spellbinding decorations, amazing themes, destination marriage concepts and delicious food today define the big fat Indian wedding. Even in the present times when the economy is in a state of flux, the Indian wedding industry is said to be growing at an explosive annual rate of 20 to 25 per cent. In fact, the lavish celebrations are said to ring up more than $20 billion for the Indian wedding industry every year. An average middle class family spends about 15-20 lakh on a wedding while budget for the upper class can exceed to a few crores depending on the expenditure on various ceremonies and rituals.
Considering the fact that more than one crore weddings are held in India every year, this industry is easily one of the most profitable and hardworking in the country. The wedding industry also supports more than 10 different industries in India like the jewellery market, durable goods market, hotel and wedding industry, pandal and venue decoration industry, apparel industry, etc. generating an income of more than Rs 5,000 crore per annum. With each passing year, Indian weddings get bigger and better as the per capita income of the average Indian family improves. Changing trends have included dance floors, personal DJs, pre-wedding dance classes for both families, buffets of more than 50 dishes and at least three different cuisines.
Shoppers delight
Jewellery shopping is the most essential part of the wedding. This is one of the most anticipated moments for every family. Jewellery is an integral part of the wedding outfit that graces one with finesse when chosen correctly. From extravagent necklaces, nose rings, foot rings to maang tikka, armlets and passa, a huge range is available in the market. Contemporary designs with a blend of ethnicity and traditional patterns embellished with uncut diamonds are a popular trend. Kundan, jadau, polki jewellery are a rage these days. With plenty of options, many new-age brides prefer going in for customised designs embedded with pearls, rubies and emeralds according to their outfit.
Online shopping
In times such as these when you are short on time, a number of online websites are offering the option of e-shopping. Many wedding boutiques and online stores showcase a range of options for the net-savvy customers. They have tie ups with various retailers who give you the benefit of concentrating on ceremonies rather than spend your time on shopping. And it doesn't end there! Apart from "open to all" websites there are "members-only" private sale websites which offer lehengas, sherwanis, wedding jewellery sets, etc. from designers like Ritu Kumar, Satya Paul, Art Karat and Shyamal & Bhumika, Ritu Beri. One can explore the option of shopping online for the trousseau from a number of websites which provide heavily discounted items to fit every budget.
Online shopping also provides the benefits of comparison across multiple portals besides product reviews from various customers.
There are available services like cash on delivery or EMI modes of payments. From jewellery to watches to clothes to footwear, online websites offer an easy access to the latest in wedding apparel and jewellery. With plenty to choose from, make a style statement this wedding season with panache.
With an improving economy and rapid expansion, the wedding industry is expected to see a serious boost in the coming decade.
Tips for the perfect look
Make up: With your shopping done and pre-bridal almost over, it's finally time to give your attention to make-up. The newest technique in make-up is airbrushed make-up. Sprayed on your skin, it gives you a thin layer of make-up on your skin instantly. The technique provides a waterproof matte finish that will not move through an entire day/night of festivities in the hot Indian summer. Eye make-up is particularly important. Red and golden eye shadows or smokey with colour-sheened lids give a trendy yet sophisticated look. Eyeliners in neon colours make the bride look bright and glamorous. Lips are usually nude or dark-coloured to match the wedding lehenga.
Hair style: Hairstyle can be as important as your jewellery and make-up. It is an important part of the pre-bridal makeover to change your total persona. If you have long hair, you can go for a braided back bun, a classic Indian hairstyle. A side bun with loose curls on other side has also become a favourite bridal hairdo giving a semi-formal image suitable for the occasion. With arrival of all traditional fashion trends, retro look for the hair is also back in vofue. A middle parting in front, puffed hair at the centre of head with curls hanging down the back is a great look too. A low bun at the nape with knotting in the French braid-style looks beautiful. Accessorise your hair with eye-catching Swarovski hairpins or brooches to give a glamorous look or use fresh flowers like roses, orchids or peonies.
Nail art: Long nails are one of the best ornaments for a bride and the art of nail extension can fulfil that dream of yours. In a matter of few hours, you can get strong and beautiful nails fused with your natural ones. Their beauty can further be enhanced by nail art which will give your hand an appealing look with extravagant glamour. Ornamental nail art is the best way to draw attention to the nails and be flattered with compliments. Swarovski crystals, glitter, dry flower petals and stickers are used as accessories in nail art to further glam up your nail. Use floral motifs for a more casual look.
Footwear: The last task left to complete your bridal outfit is selecting the right shoes for your wedding. Comfortable to wear yet trendy, the shoes should always complement your bridal wear. Opt for flats or wedge heels for a comfortable walk for farm house wedding. You may go for stilettos for an indoor wedding. Gold is a colour that works well for your footwear with the bridal attire. Go for comfortable heels with trendy motifs and stone on the upper.
Nail art
The moment of your life, which you will cherish forever, is approaching. Don't let your short nails dishearten you. Visit your nearest nail salon, and choose from a wide range of nail extensions and nail art options. For nail extensions, O.P.I. is the best product to go in for. You can also go for the cheaper Chinese version. Nail art is not to be missed: it can be done on your original nails or on the extensions you just got. Customise the nail art according to your outfit. Go for small studs, colourful bows, dry flower petals or keep it natural with the famous French manicure.
Price: Nail art: Rs 500- Rs 2000 & Nail extension: Rs 1500 - Rs 4000
Armlet
Worn by queens, the traditional idea behind wearing an armlet or the baaju bandh is that it is believed to keep the evil away. The armlets come in many options — gold, kundan, polki, diamonds and rubies. An elegant silk chord ties it up around the arm.
Price: Starts from Rs 5000

Passa
Be bold! Experiment by adding an element of that royal Mughal look with a carefully chosen passa or the side maang tikka, also known as jhumar. Certainly an eye-catcher, it is one of the most gorgeous adornments.
Price: Starts from Rs 5000

Maang tikka
Don't forget the classic maang tikka that is matched to your necklace or invest in a separate kundan maang tikka with trousseau matching touches. From gold to kundan, diamonds, maang tikkas come in a range of options.
Price: Starts from Rs 3000
Henna art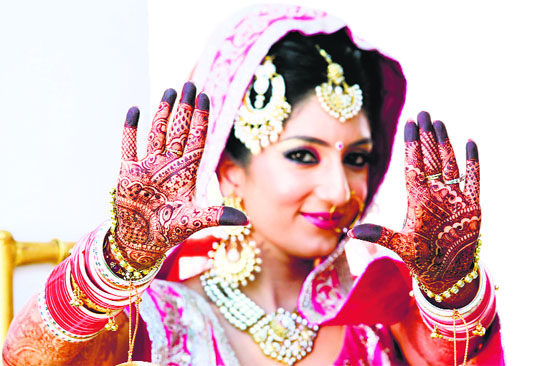 From the traditional mehendi to the fashionable Arabian designs and arm tattoos, you have a number of options to go for your wedding. Mehendi with exact portraits of the couple have become the latest trend. But, if you want to kill the hassle, you can to go for henna tattoos. These have the specialty of being customised according to the colour of your lehengas.
Price: Starts from Rs 3000
Make up
The art of make-up can work as a magic and take your beauty to a new level. It is very important to choose the best make-up artist in town or, at least, a trial before the final day. Choose from the latest colour palettes of MAC or Bobbi Brown. Flashy eye make-up with kohl is in this season. Combine kohled eyes with golden glittery eye make-up to match any outfit, or use signature smoky eye make-up in jewel-tones to match your outfit. Studded eyelashes are a growing trend but not many are comfortable with it. Going in for bold eye make-up will make your eyes look bigger.
Price: Rs 15,000 to Rs 25,000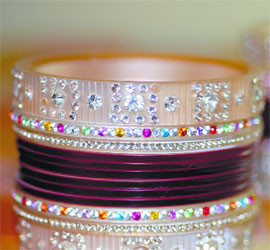 Ivory bangles
If you are a Punjabi, you cannot miss the chuda, a combination of red and white ivory bangles. From colourful stonework to plain and simple bangles, these bangles are available in many designs. This season go for combinations that are eye-catching but not too gaudy. Broad bangles with silver stonework on each side of the colourful single line further beautify the set. If you don't like it too gaudy, choose single multi-coloured bangles on each side.
Price: Rs 5000 onwards
Necklace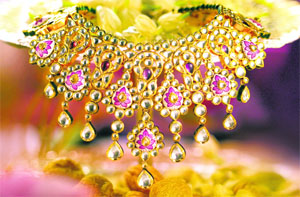 From traditional ethnic polki to pure gold, diamonds, kundan or jadau jewellery designs, the Indian bride can make a style statement with a plethora of choices. Besides the original ones, a range of gold-plated silver jewellery is available for you to choose from. Traditionally, long and short necklaces are combined to create a stunning visual appearance and these are available at an affordable price range.
Price: Range Rs 1,00,000 to Rs 50,00,000.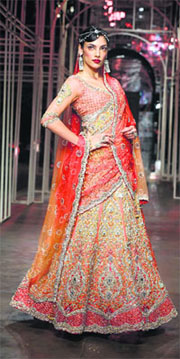 Bridal outfit
For the wedding day, a saree or lehenga still remains the favourite. For the ring ceremony or receptions, brides go for all traditional lehenga cholis, sarees, to gorgeous gowns. The new-age brides prefer modern cuts with bold backless blouses and halters. Modern brides are also willing to experiment with unconventional colours, cuts and embroidery. Elegant embroidery is always popular and several styles like zardozi, chikankari, mirrorwork, appliqué, bagh, arri, salma or nakshi, badla, etc. are all popular on wedding lehengas. In the recent years, this traditional fashion has changed considerably and Indo-western styles with variable colours like green and blues, orange and saffron and maroons have become quite popular.
Price: Starts from Rs 1 lakh
Bride's day out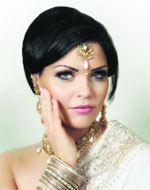 If you are a bride-to-be, look around for a plethora of options. From a rejuvenating spa and exquisite hairdos to sparkling jewellery and gorgeous lehengas, the bride-to-be can pamper herself with the best and the latest in the market. The day marks a new beginning in a girl's life as she sets out to begin a brand new chapter of her life. For this special day, everything should be unique and glorious so as capture the essence of this day. If you are looking at the latest bridal trends in the market, here's a sneek-peek.
The lehenga: From the wedding dress to other outfits, it's the day to glam up with poise. When it comes to the most important outfit of your wedding, the lehenga, there is so much to choose from. The right fabric, matching laces and a perfect colour all fuse together to make your perfect wedding dress.
Colour: Besides the ever-favourite red, you can go in for colours like deeper tones of vintage shades such as maroon, brown, bronze, crimson and rust.
Fabric: Silks, georgettes, net, velvet, Chanderi, brocades with intricate embroidery remain a favourite.
Cuts: Several lehenga cuts like fish cut, A-line or straight are there to suit your figure.
For the wedding day, red sari with golden work or lehenga still remains a favourite. For the ring ceremony or reception, the bride can choose from the traditional lehenga cholis to gorgeous gowns and showing off their well-toned body with various cuts of clothing, along with bold backless blouses and halters. Elegant brocade with delicate work in shades of deep red and golden is in. A shift from Indo-western, it indicates the revival of classic Indian fashion trend when embellished with floral pattern. The combination of maroon and green with intricate silver or golden work is evergreen fashion for the bridal attire.