Musical journey
Reviewed by Suresh Kohli
Naushadnama: The Life and Music of Naushad
by Raju Bharatan
Hay House India. Pages 356. Rs 599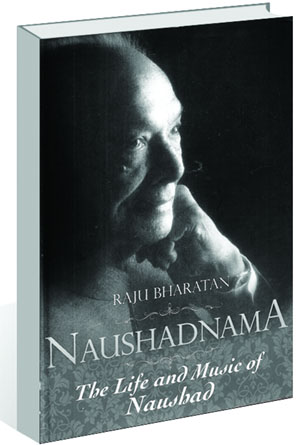 Whatever comes out of the author's stable can be nothing but a mine full of authentic redeemed nostalgia: Carefully catalogued, nurtured and memorised. This work is no exception but, albeit, not without standard blemishes: full of self-aggrandizement and penned in a painfully tired, laboured style coupled with repetitiveness, though forgiven after the last page for the extent of informationcompiled, facts and events revealed "entirely from memory". Therefore, huge quotes ascribed by the author to various music maestros make many other purveyors of the subject question the authenticity. It can also be said at the outset that it is neither for a film writer/historian nor for a lay reader, only for those who live by the immortality of Hindustani cine music. It also gives a comprehensive account of latent rivalries and politicking.
There are times one feels the author has reproduced chunks of his old clippings on the subject and juxtaposed them with a two-sentence fresh lead. For instance, reference to Naushad's fee of Rs 1,10,000 per film features on not only every page but every paragraph from page 50 onwards; as also accounts of showdowns with bęte noire Maratha composer, C Ramachandra ("instrumental in keeping Naushad on his orchestrating toes") who competed with him for every rupee charged until the latter's downfall. Amongst the startling facts revealed comes the shocking information that several composers worked on monthly remuneration of Rs 350 ( CR) to Rs 500 (N) a month during the 1940s.
One chapter is all about the author and his family's familiarity with that of the composer family that exposes his bias in more ways than one, which is evident when he inadvertently he quotes composer Anil Biswas having bluntly told him: "I'm deeply disappointed that you should have been influenced by a personalised gesture on his part having nothing really to do with creating music." In the same breath, he also observes that Naushad was a hardcore communalist to the extent of having "religiously disapproved of Suraiya, as the darling of the Muslim community, marrying the Hindu Dev Anand in 1948."
Chapter 7 has Suraiya written all over while the next shows how after latching onto the Shamshad Begum singing for 45 years, Naushad overnight abandoned her in favour of Lata (who had until then been arch-rival C Ramachandra's muse) ostensibly at his wife's behest.
Bharatan sets out the tone for what's to feature, in the 350-odd pages, in the first paragraph of his Preface itself by suggesting "Urdu was the leitmotif of his music" and Naushad had the kind of poetic control over his music that no other composer did. "The book is as much about the aura of his universal music as it is about the texture of poetry going with it."
Despite claims to contrary, Lata Mangeshkar has rendered only 6,000 songs, compared to sister Asha Bhosle's 13,000, "from those 6,000 songs, look at the sheer longevity of 167 numbers for Naushad that Lata eternalised in the two some's 47 years together." Naushad arrived 'big time' with the release of Dastan in 1950…" he always took a ready bandish…always played his cardskeeping them close to his tune chest…" That Bharatan has no respect for anyone who does not accept Naushad as the greatest thing happening to Hindi cinema, as also who questions his own biases. He calls Javed Akhtar a "copyrighteous" poet, his bias against Lata being another blister. Other gems of information include: Naushad's favourite lyricist, Shakeel Badayuni wrote 316 songs for him; "tapped the limitless lilt in the vocal cords" of Lata, Rafi, Mukesh, Shamshad Begum, Suraiya in recording 167, 49, 26, 62, 54 songs, respectively; did 15 films with Dilip Kumar in 20 years; "Rajendra Kumar's ego trip of recreating Dilip Kumar via Mukesh in that superhero's fixated notion of an Andaz remake"; his shock replacing of ghazal wizard Talat Mahmood with Mohammed Rafi that brought an abrupt end to the former's career. Despite the encyclopaedic content, considerable pruning was needed to make the book more reader-friendly.