Food talk
English veggie delight
Pushpesh Pant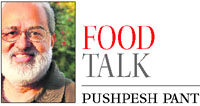 WE have never understood why some vegetables are called English vegetables: Brussels sprouts, baby corn, bell pepper, broccoli and, not to forget, artichokes and asparagus fall, unmistakably in this category. But then are tomatoes, and potatoes also not vilayati "imports"? But we are getting distracted. What set us thinking in this direction was an interesting creation with zucchini that we recently tasted at a friend's house. Hara masala is commonly associated with saag meat or murgh tikka hariyali— at a pinch with machchi but zucchini in green sauce isn't that overdoing the emerald theme?
The proof of the pudding they say is in eating and we must confess that we stood corrected and wonderfully satisfied. One is advised not to let anything interfere with the delicate taste of zucchini or to overcook it. Sauté lightly or steam it gently and enjoy it with a touch of butter is the standard prescription. Indians born and brought up in a stronger climate aren't always happy with it. This friend of ours played around with refreshing mint, fresh coriander, green chillies and ginger and the result was stunning. Zucchini was not overpowered at all; on the contrary seemed to literally blossom. The trick remains not to overcook. The recipe takes no time to cook and adds a touch of understated exotica to the spread on the table. Needless to add, it is healthy as healthy can be. Go ahead.
Zucchini Hara Masala
Ingredients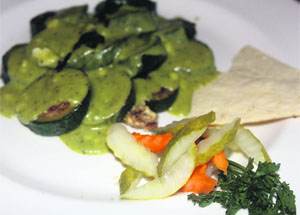 Green zucchini 500g
Fresh coriander leaves(cleaned and washed) A large sprig
Fresh mint leaves(cleaned and washed) A small sprig
Green chillies (slit and deseeded) Two to three
Fresh ginger (scraped and chopped) One-inch piece
Lemon juice 1 tsp
Salt To taste
Olive oil 1 tbsp
Method
Wash the zucchini and cut in thin round slices about ˝-inch thick. Grind the coriander, mint, ginger and green chillies into paste. Heat oil in a non-stick pan and lightly sauté the zucchini on low medium heat sprinkle salt and pour the paste over the vegetable. Mix carefully and sprinkle the lemon juice. Serve with hot phulka or steamed rice. Daal is optional!