ENTERTAINMENT

FOOD TALK

CONSUMERS BEWARE!

FITNESS MANTRA

GOOD MOTORING

LIFE'S LESSONS

MUSIC ZONE

FRUIT FACTS

WEBSIDE HUMOUR

CROSSWORD

WEEKLY HOROSCOPE
EARLIER FEATURE

CHANNEL SURFER

ULTA-PULTA

TELEVISION

GLOBOSCOPE

GARDEN LIFE

NATURE

FASHION

BRIDGE

A brush with destiny
Gaitonde's record is exoneration for artists who grew
with the national movement, telling their story
in their own painterly language
Nirupama Dutt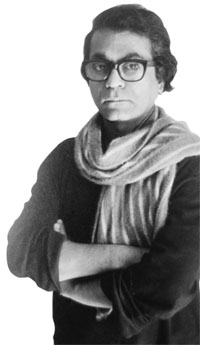 A line from a near-forgotten poem by Mary Elizabeth Coleridge comes to the mind, in a gloss over the month-long and more appraisal of the as the stupendous response to Christie's first auction in India, "We were young, we were merry, we were very very wiseÖ" More so because one of the Bombay boys who were part of the Progressive Artists' Group, the reticent Vasudeo S. Gaitonde (1924- 2001), set a world record for modern Indian art when his gilded ochre abstract landscape fetched Rs 23.7 crore at Christie's first auction in India. A vindication once again for these talented young men who got together create a fresh visual language for a country on the threshold of freedom. Indeed these half a dozen painters set out to start a parallel art movement, making their presence felt in a group and yet working consciously at their own respective individual identity. Yes, indeed, they were young, they were merry and if not very wise certainly very passionate and time has valued their creations even though their own lives were full of trials and tribulations. Take for instance the ironic exile of their most vocal protagonists Maqbool Fida Husain (1915-2011) who nevertheless painted as one would say unto the last stroke. It was he who had described best the aim of these young men with paint brushes in their hands. Amusingly, Husain carried a brush in his hand always perhaps it was his way of symbolising a brush with destiny.
---
Arts
Being human
Photographer and installation artist Leena Kejriwal has been using her art to highlight issues she feels strongly about
Nonika Singh
Art and activism are not necessarily enjoined, nor is advocacy for a cause, a natural corollary of artistic practice. And photographer and installation artist Leena Kejriwal, whose latest work of public art M.I.S.S.I.N.G, deals with the burning issue of missing girls insists she is no activist either. She quips, "I am only being human."
---
Parenting
Parentsí role during exams
Exam time is marked with high-stress levels, anxiety, pressure and tension for both the students and the parents. They should make sure that they do not add to their childrenís stress and convey their own anxiety to them
Dr Samir Parikh
That time of the year is here, dreaded equally by students and parents alike. The examination season is marked with sky-high stress levels, anxiety, pressure and tension on part of both the students as well as the parents. Parents often feel like it is them who are giving the examination instead of the child. Lives begin to revolve around a flurry of tuitions and tuition teachers, strict time-tables and academics. We as parents believe examinations to be the most important aspect of a child's life to the exclusion of everything else and pass this message along with the tension to the child as well.
Dual-role stress affects womenís heart
Dr Ashok Seth
Managing demands at work and home stresses a woman's heart. This stress affects more urban women every year, resulting in spurt in cardiovascular diseases at a much younger age
---
Society
Weaving the fabric of stories to educate kids
Geeta Ramanujam has set up Kathalaya, an organisation to integrate learning through story telling in schools
Vibha Sharma
Once upon a time, Geeta Ramanujam, a teacher, pondered over the questions: How to bridge gaps in learning, how to make concepts more interesting for children, how to cultivate reading habits in children, how does one feel proud and rooted to one's own culture?
---
Travel
A little France in Canada
Quebec in Canada exudes an aura of French lifestyle harking back to its past history
Ranjita Biswas
The ambience is French but the city is in Canada. Thatís Quebec for you. With its unwinding roads, stone buildings reminiscent of Europe a few centuries back, and somewhat laid-back ambience, the city seems removed from the hustle and bustle of modern North America.

Globetrotting
---
Entertainment
The reclusive stars
After years of stardom, some celebrities choose social seclusion and disappear from public space
Shoma A. Chatterji
Suchitra Sen, the prima donna of Bengali cinema who passed away recently, has raised questions about why some celebrities live in social seclusion. Suchitra Sen disappeared from public space after her last film Pronoy Pasha (1978). She came out of this seclusion twice; once, when Uttam Kumar passed away and once when she came out to get photographed for her voterís identity card, the paparazzi suffocated her for a mugshot of the charismatic star who had avoided them for many years.
Raima unplugged
Raima Sen on her latest film Children of War, which is based on the Bangladesh war
Surekha Kadapa Bose
Raima Sen depicts the face of Bengal and intelligent films. Her films acclaimed highly by critics, namely Chokher Bali, Antar Mahal, Parineeta, Manorama Six Feet Under, The Japanese Wife and several others. Added to this is her pedigree. She is the granddaughter of late Bengali actor Suchitra Sen and grand niece of Gayatri Devi, the Maharani of Jaipur. Her latest film, based on the independence war of Bangladesh, named Children of War was earlier titled as The Bastard Child once again has got good reviews. Excerpts from an interview:
---