A brush with destiny
Gaitonde's record is exoneration for artists who grew with the national movement, telling their story in their own painterly language
Nirupama Dutt
A line from a near-forgotten poem by Mary Elizabeth Coleridge comes to the mind, in a gloss over the month-long and more appraisal of the as the stupendous response to Christie's first auction in India, "We were young, we were merry, we were very very wise…" More so because one of the Bombay boys who were part of the Progressive Artists' Group, the reticent Vasudeo S. Gaitonde (1924- 2001), set a world record for modern Indian art when his gilded ochre abstract landscape fetched Rs 23.7 crore at Christie's first auction in India. A vindication once again for these talented young men who got together create a fresh visual language for a country on the threshold of freedom. Indeed these half a dozen painters set out to start a parallel art movement, making their presence felt in a group and yet working consciously at their own respective individual identity. Yes, indeed, they were young, they were merry and if not very wise certainly very passionate and time has valued their creations even though their own lives were full of trials and tribulations. Take for instance the ironic exile of their most vocal protagonists Maqbool Fida Husain (1915-2011) who nevertheless painted as one would say unto the last stroke. It was he who had described best the aim of these young men with paint brushes in their hands. Amusingly, Husain carried a brush in his hand always perhaps it was his way of symbolising a brush with destiny.

From left: A portrait of Gaitonde; the untitled abstract work, oil on canvas, portraying Zen Buddhism, that was auctioned by Christie's in Mumbai for a whopping 23.7 crore; Abstract Form (1962) and Two Faces (1956) by Gaitonde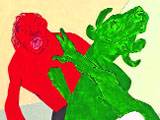 From the Mahishasura series by Tyeb Mehta. In 2002, it triggered an art boom when it sold for Rs 8 cr
A brush with destiny it certainly was and this motley group was determined to have their way which in the words of Husain was: "We came out to fight against two prevalent schools of thought in those days, the Royal Academy, which was British-oriented, and the revivalist school in Mumbai, which was not a progressive movement. Any great change in a nation's civilisation begins in the field of culture". The 200 years of British colonial rule left its indelible imprint on modern Indian art which had a 'hybrid legacy, as art historian Yashodhara Dalmia puts it. Having researched and written extensively on the Progressive Art Group, Dalmia sums up thus its emergence in the year of the country's Independence: "The growing awareness of the individual - which was the result of the struggle for independence, a higher level of education, and the post-war sense of disillusionment with the West — created a need for greater self-expression, culturally and historically. The Progressive Artists' Group was formed in 1947, the very year India gained Independence and made a forceful bid for modernism. The Group declared a break from the effete efforts of the Bengal School and the anaesthetic art taught at the colleges".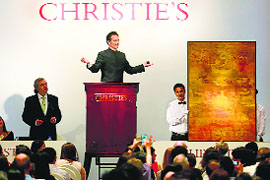 Gaitonde's untitled work being auctioned by Christies at Mumbai and the painter in his younger days
The two founders of the group were Francis Newton Souza and Syed Haider Raza, who were to soon move to Western shores but the group held on with Husain there always and the best of the avant garde of the times joining it including Tyeb Mehta, S.K. Bakre, H.A. Gade, Ram Kumar, Akbar Padamsee, and Krishen Khanna. The group later scattered but not without making a sure impact. Husain invited Gaitonde to join the group but although he remained best of friends with them and exhibited with them, he always remained individualistic and that was his greatest strength. Art critic late Dnyaneshwar Nadkarni held: "Gaitonde has stood like a rock in the sea of fashion. His achievement is as real as it is historical." The response to Gaitonde's untitled painting setting a world record has been jubilant from all quarters. Steven Murphy, the international CEO of Christie's, described the stupendous event as "auction at its best where the art spoke for itself" and the auction house is waiting eagerly to do a repeat performance in Mumbai even before December for it is felt that the wealthy in India are turning from jewellery and real estate to invest in art. Younger artists who have memories of Gaitonde are joyous. Recalling the man and the painter, Delhi-based Gogi Saroj Pal says: "He was an abstractionist and also a minimalist who painted very little and was content with what he did. It is a happy event that his work has sold for a record price." She adds that besides other reasons of investment, it is the sheer visual quality of Gaitonde's paintings that is so striking. Painter Viren Tanwar holds, "My favourites among the artists who emerged with the freedom struggle in the country were Gaitonde and Souza, while others were more popular. It is also a rare honour that a Gaitonde retrospective is to be held in New York's Guggenheim Museum". Chandigarh-based photographer Diwan Manna has two contrary opinions. He says: "It is wonderful that Indian art is getting recognition also in monetary terms and the benefit is going to trickle down to earnest young artists. However, I feel that artists have always lived on the margins of society with little or no money and that's why they have been so sharp and sensitive in creations. That should not change". The razzmatazz of the millions that come to modern Indian art in auctions, the economics of the art mart or the jubilant cries of the auctioneers who are now here to stay apart, what makes the Gaitonde story and that of many others like him is the complete faith in their own art, a vision to leave a footprint in the sands of time and to walk alone if need be and contribute in conditions far from ideal be it personally or economically for that matter.
Abstract vs the Figurative

Artists Take: (From left)Painter Gogi Saroj Pal admires the visual quality of Gaitonde's work, while Viren Tanwar and Diwan Manna appreciate the recognition
In 1956, an exhibition held in the Indian and Eastern Newspaper Society building, Gaitonde showed with seven other artists including Husain, Satish Gujral, Ram Kumar and others. Interestingly, he insisted on doing an abstract self-portrait for inclusion in the catalogue, while the other seven did portrait drawings of someone other than themselves. Abstraction was his forte and he was a minimalist too, letting the colours and mild forms of his paintings speak for themselves without trying to build a story around it in words. Gaitonde painted intensely, with classical music playing in the background, and is remembered as a man of few words. The immense respect and recognition that he gained in his lifetime and the phenomenal prices his work has been selling at post his death spells hope for those who do not do representational work. The East, with its long tradition of iconography, has been associated more with figurative art. The trend seems to be changing and it is the powerful visual quality of a work and the emotions it stirs that seems to be attracting the artistic eye. The sources of such abstraction are being seen just among those of the Western abstractionists. Foremost among the abstract painters of India, he had several solo exhibitions in India and abroad. He participated in group shows like the Indian art exhibition, which toured East European countries in 1956 and other group exhibitions at Graham Gallery in New York in 1959 and Gallery 63 in New York in 1963. His works are represented in several Indian and foreign collections, including the Museum of Modern Art, New York. He received the first prize at the Young Asian Artists Exhibition, Tokyo, in 1957 and the Rockefeller Fellowship in 1964. He was awarded the Padma Shri (the highest award for creative excellence given by the Government of India) in 1971. Gaitonde passed away in 2001 and was unable to paint much due to an accident. But soon after his death, he started selling at phenomenal prices.


Amrita Sher-gil


SH Raza
Most expensive Indian art
The contemporaries of Gaitonde are among the most expensive artists of India whose works fetch record prices at international auctions. Raza who is known for his abstract works with vivid hues. His painting Saurashtra fetched a record price in 2010 of Rs 16.42 crore at an international Christie's auction.
Earlier, in 2002 a painting from the Mahishasura series had created an art boom in the country when it sold for Rs 8 crore, which was the highest for any Indian painting at that time and closely following Gaitonde was Tyeb Mehta and one of his paintings went for Rs 19.78 crore at Christie's in Mumbai.
The first lady of the modern Indian canvas Amrita Sher-gil has the privilege of her work being national treasure like that of Rabindranath Tagore. At Christie's in Mumbai her painting of a Hungarian church went for Rs 3.62 crore and her painting Village Scene had fetched 6.9 crore at The Osian's auction in 2006. Contemporary painter Arpita Singh's mural was sold for Rs 9.6. crore in 2010 at the Saffronart auction.