Travel
A little France in Canada
Quebec in Canada exudes an aura of French lifestyle harking back to its past history
Ranjita Biswas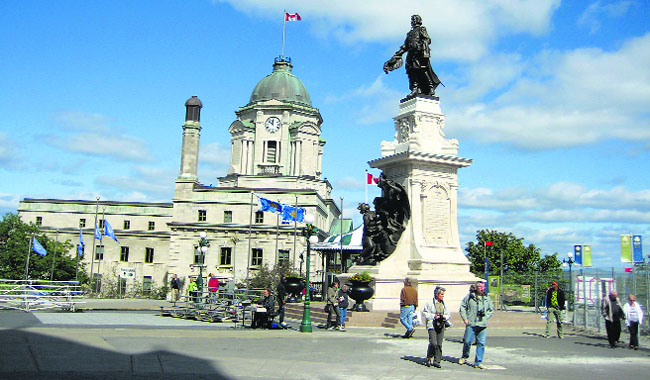 A town square at heritage boardwalk, old Quebec
The ambience is French but the city is in Canada. That's Quebec for you. With its unwinding roads, stone buildings reminiscent of Europe a few centuries back, and somewhat laid-back ambience, the city seems removed from the hustle and bustle of modern North America.
Three hours by road from Montreal, a look at the quaint city and you fall in love with it. The old grey buildings standing as if sentinels to the past, geranium baskets on the window-sills of houses, pavements with restaurants of varying sizes with their cheerful awnings and people relaxing with food and wine harks back to past times. Quebec's citizens are zealous about their heritage and make sure that it retains its unique aura.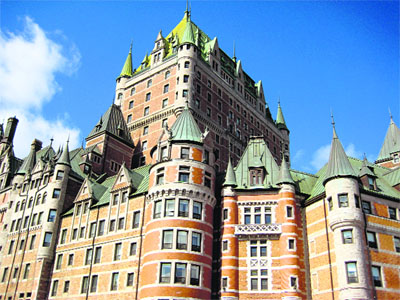 Le Château Frontenac is a hotel built between 1893 and 1924 and named after Louis de Baude, Comte de Frontenac, a 17th-century governor. It is major landmark of the city Photos by the writer
Quebec is the only province in Canada to have French as its official language. Most of the people, especially of the older generation, prefer it to English as their mother tongue. The region was a French colony for more than two centuries, between the arrival of Jacques Cartier in 1534 and to the surrender to the English in 1760.
Quebec flourished as a port city in the early 19th century. Boatmen transported timber down the St Lawrence river and St Charles river for loading ships bound for Britain. Today, the promenade along the St Lawrence river is a beautiful walkway. White cruise boats wait for tourists to board, the ushers sometimes dress in 18th century clothes to establish authenticity. After all, Quebec wants to showcase that an old-world aura can survive despite the invasion of modern age.
Quebec is a walled city and built on two levels, the Upper Town and the Lower Town. From the latter, Quebec City grew from the early days of French settlement. It is now a Unesco heritage site.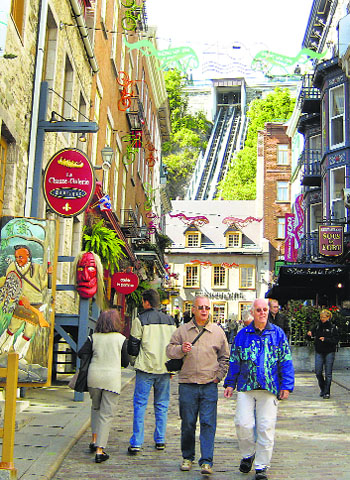 A cobbled lane in old town


Fact File
How to get there: Connected by air from major cities. Also, by train and bus/car from Montreal.
Where to stay: Hotels to suit all budgets from luxury to youth hostels. Day trips from Montreal are also popular.
What to do: Explore the old town, discover the charms of old France, take a cruise on river St Laurence.
What to eat: French cuisine, duck roast, poutine, accompanied by good wine.
What to buy: Wine, cheese, maple syrup, art objects.
You have a choice of taking the steep and winding street called Côte de la Montagne and Escalier Casse-Cou (Breakneck Stairs) to reach the upper layer, or the funicular from Terrasse Dufferin.
The promenade near the waterfront is a beautiful walk with shop fronts, restaurants, cobble-stoned lanes. The Musée de la Civilisation is the most popular museum in Quebec. The many sections within it give glimpses of the province's growth and displays ethnic artefacts as well as those from the French heritage.
Walking up the stone stairs from the St Laurence promenade — wear sensible shoes, leads to the most exciting part of the town. It is dominated by a huge castle-like building, very European in structure. Belying speculations that it is a palace, it turns out to be a hotel built between 1893 and 1924 and named Le Château Frontenac after Louis de Baude, Comte de Frontenac, a 17th-century governor of this New France, as it was called then, on the Atlantic Ocean. It is majestic nonetheless and is a landmark of the city.
A huge courtyard lies in front of it, obviously fashioned like a European town square. On one side of the courtyard is the Place Royale dominated by the church of Notre-Dame-des-Victoires built in 1688. It is a good idea to visit the Place-Royale Information Centre (closed between October and April) to get an idea of the layout and history of the place.
A walk on the boardwalk around the Le Château Frontenac is a must after alighting from the funicular. It gives a magnificent view of the St Laurence river.
From there come down to the Champlain Petit district. A walk down the narrow, winding street with cobble stones puts you back in another era. The ambience has been preserved to retain the character of the place. It's a shopper's paradise too (prices are marked without tax) with boutiques laden with handicrafts, knitted garments in local designs, toys, hand-made jewellery, etc. At some corners, a musician strums a guitar or plays a harmonica. Explore the lovely alley rue de Trésor for pretty paintings done by local artists and souvenirs to take back home as mementoes.
If all this walking makes you hungry, restaurants are aplenty. The culinary base here is obviously French with lots of cheese but it also shows influences of other communities as well. Some of the famous local dishes are: shepherd's pie, poutine (French fries topped with cheese curd and covered by brown gravy), sugar pie, pouding chômeur (a sponge cake with a maple syrup sauce), tourtière (a meat pie), cretons (a pork spread with onions and spices), etc.
Apparently there is also a tradition called ''sugar shack'' (cabane à sucre), a family culinary tradition of eating maple products to the rhythms of Québec folklore. But then you have to go in summer and also have a good local family as hosts. There is even a chocolate museum here with outlet full of designer chocolates.