Entertainment
The reclusive stars
After years of stardom, some celebrities choose social seclusion and disappear from public space
Shoma A. Chatterji



Shashikala
Suchitra Sen, the prima donna of Bengali cinema who passed away recently, has raised questions about why some celebrities live in social seclusion. Suchitra Sen disappeared from public space after her last film Pronoy Pasha (1978). She came out of this seclusion twice; once, when Uttam Kumar passed away and once when she came out to get photographed for her voter's identity card, the paparazzi suffocated her for a mugshot of the charismatic star who had avoided them for many years.
For 35 years, she refused to attend telephone calls, give interviews, attend public functions or meet friends. Some call it 'social anxiety disorder' while others call it 'agoraphobia.' But few have tried to diagnose the psychological causes that led to this shutting herself away.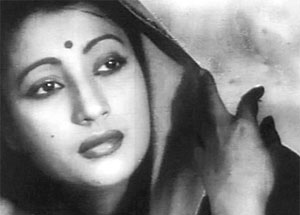 Suchitra Sen
Suchitra Sen finds herself in good company such as littérateur Emily Bronte, poet Emily Dickenson who wrote 1800 poems but less than a dozen were published during her lifetime, Canadian pianist Glen Gould, one-time millionaire, film director and producer Howard Hughes, and Greta Garbo who, after starring in 28 films, retired to New York in 1941 and died of natural causes at the age of 84. Like Sen, she refused to be interviewed, to attend award shows, or face the paparazzi.
How can someone whose job is to be in the media spotlight shy away from social interaction and visibility? It happens. No one is immune to anxiety disorder. Many celebrities feel extreme anxiety. Interestingly though, their remaining away from the limelight does not help their fans forget them. The public is always eager to find out why they are refusing to meet people, how they are leading lives in total seclusion, etc.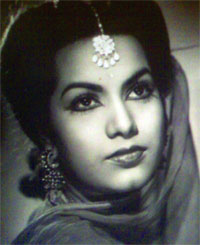 Shyama
Actress Shashikala disappeared from public view and surfaced after years of oblivion. She walked out of Bollywood twice, to embrace a life of abandonment the first time, and of selfless service as an active participant in Mother Theresa's Missionaries of Charity the second time. Would one call this a case of 'social phobia'? No one knows.
In an interview in 1996, she said, 'There was this deep frustration in spite of the fame, the money and the happiness. One morning, I just walked out of the house in search of peace. I wandered around like a mad woman and came back after two months. But this no-peace condition turned me into a mental case. I withdrew from films and family, donned saffron and went in search of peace from one ashram to another in Rameshwar, Dwarka, Bhuvaneshwar and Benares for five years searching for peace. Finally, I did a meditation course at Goenkaji's ashrama at Igatpuri and felt better. I was unable to cope with the reality that my fans were identifying me with the negative roles I played. It hurt. After the Igatpuri experience, I was cured and there was no confusion anymore. I came back to Bombay and to films."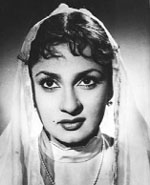 Nadira
But during this interview, she remained adamant about giving photographs of herself from films, from real life, old photographs, new photographs, family portraits, single pictures, nothing. She staunchly refused to even show her albums.
Hollywood star Kim Basinger, famous for the Bond girl role in Never Say Never Again and other noted films, is one rare star who talked in public about her social anxiety disorder. She confessed that her fears began over reading out loud in class. It was so extreme that teachers felt she was having a nervous breakdown. While accepting the Oscar for her role in LA Confidential, she was struggling with her speech though she had rehearsed it for days together.
"When I came to Hollywood, I could wear a bikini but I was in misery because people were looking at me. So I wore baggy clothes and watched other girls get the big parts and awards. I used to go home and play piano and scream at night to let out my frustration. This led to my agoraphobia," she said in an HBO film Panic: A film about coping.



Om Prakash
Om Prakash, Mehmood, Shyama and Nadira also disappeared from public view probably because they felt hurt when the industry forgot them and there was no work. But this reclusive life led to social anxiety disorder.
Noted poet Nissim Ezekiel developed social anxiety disorder in old age which gradually degenerated into Alzheimer's disease. After he relinquished office in May 2004 as the longest serving non-Congress Prime Minister at the Centre, Atal Behari Vajpayee (89) has become a recluse, away from the political corridors of power.
Without treatment, social anxiety disorder can negatively interfere with the person's normal daily routine, including school, work, social activities, and relationships. Celebrities live in pomp and show all the time. Some of them cannot cope. They are so alienated from their own self as well as their kith and kin that they find themselves alone at crucial stages of life and once trapped, cannot come out.