Entertainment
Raima unplugged
Raima Sen on her latest film Children of War, which is based on the Bangladesh war
Surekha Kadapa Bose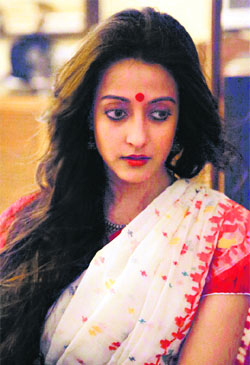 Raima Sen depicts the face of Bengal and intelligent films. Her films acclaimed highly by critics, namely Chokher Bali, Antar Mahal, Parineeta, Manorama Six Feet Under, The Japanese Wife and several others. Added to this is her pedigree. She is the granddaughter of late Bengali actor Suchitra Sen and grand niece of Gayatri Devi, the Maharani of Jaipur. Her latest film, based on the independence war of Bangladesh, named Children of War was earlier titled as The Bastard Child once again has got good reviews. Excerpts from an interview:
Which name would you have wanted the film to have ó The Bastard Child or Children of War?
I would want the title to be The Bastard Child for it was more appropriate for the movie. The director Mrityunjay Devvrat tried to convince everyone that the title wasnít a derogatory term and that there are many victims who were brutalised and raped by Pakistani army men during the Bangladesh war. So the children, in fact, didnít know who their father was ó the reason for the suggestion of the title in the first place. It is disappointing that we did not get the original name.
What attracted you to the film? Was it because it was set on the on the Bangladesh war or the directorís vision?
It was actually the approach of the director. Mrityunjay is a visionary and he is extremely passionate and sensitive towards this subject. I didnít have much idea about the genocide of Bangladesh but his detailed research on the subject made my work easier. More than the scripts, I am a directorís actor so the directorís vision matters a lot to me. I have had the privilege to work with some of the best directors in the country so the script automatically becomes a strong part for me.
Your films like Chokher Bali, Godmother, Manorama Six Feet Under have had strong themes. Usually new entrants prefer to go for safe subjects like romance and comedy. What attracts you to these disparate stories even though you donít get to play the lead?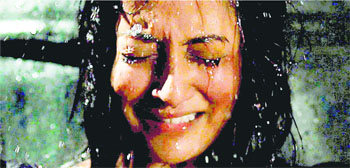 I have tried to do films of all genres but these films are highlighted because people have appreciated my performances in these. It was a conscious choice as I knew these were different. But I am open to doing all kind of genres and willing to prove my versatility as an actor.
Was it an advantage hailing from a film pedigree? The character you played in Chokher Bali had an uncanny resemblance with your grandmother. Was it due to the costume?
It was a boon to have had mentors like my grandmother and my mother Moon Moon Sen. But it has been a rocky road since I had to establish myself as an actor and an individual in the industry. My grandmother did help me a lot while working on Choker Bali but it was just a coincidence to have had the costume which gave that impression. When one belongs to a family with great actors, there is always a fear of being judged so I have to act with great responsibility.
Did you ever discuss your roles or approach your granny for advice?
She was extremely fond of the director, Rituparno Ghosh and she always read the scripts with me of the movies I was doing with him. We spoke time and again of my roles in other movies as well. She was an amazing mentor I had in my life.
What is your dream role? Any directors you would like to work with.
My dream role is that of Meena Kumari in Sahib Biwi aur Ghulam. I would love to do a film with Mani Ratnam sir as I think he is phenomenal. Since I always wanted to be an actor, I think this industry has always been beautiful and dynamic so any era would be as gorgeous and fun to be in.