Gujarat won't oust Sikh farmers: Modi
Minna Zutshi
Tribune News Service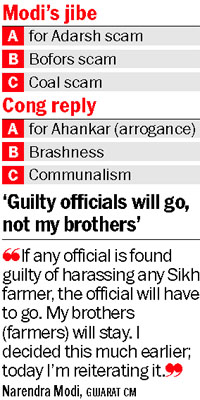 Jagraon (Ludhiana), February 23
BJP's prime ministerial candidate Narendra Modi today said no Sikh farmer settled in the Kutch region of Gujarat would have to leave his farms.
At his "Fateh Rally" at Jagraon in Ludhiana district of Punjab, he said a "misinformation" campaign was on. "No Sikh farmer was being uprooted from the Kutch area. I declare every Indian has as much right over Gujarat as Narendra Modi has," he said.
"If any official is found guilty of harassing any Sikh farmer, the official will have to go. My brothers (farmers) will stay. I decided this much earlier; today I'm reiterating it."
Reports of Kutch farmers being ousted came as a major embarrassment for the SAD-BJP coalition in Punjab.
The Congress had accused the state government of double standards and betraying the farmers.
Modi said Punjab Chief Minister Parkash Singh Badal during his Gujarat visit had spoken to Sikh farmers settled there. "The lies spread about the Sikh farmers being dispossessed of their land in Kutch stood exposed when Badal spoke to them," he said.
Modi expressed concern over infiltration and drug smuggling from across the border. Slamming the UPA government for "failing to protect the international borders", he said Army jawans should be made accountable for the security lapses at the border. Presenting his blueprint for a prosperous India, he said the three pillars of economy — agriculture, the services sector and the manufacturing sector — should be developed on a priority.
He said the Food Corporation of India (FCI) should be trifurcated. One segment should look after procurement, while the other two should deal with storage and distribution of foodgrains.
Attempting to strike a familiar chord with Punjabis, Modi said one of the Panj Piaras was from Dwarka in Gujarat. He said the Gujarat Government had rebuilt the historical Lakhpat Gurdwara that was damaged during the earthquake.
He lauded the contribution of Punjabi farmers in making the Kutch area a prosperous region. "The Gujaratis and the Sikhs are enterprising communities who have made themselves at home in foreign lands," he said.
Accusing the Congress of following a "divide and rule" policy, he said the policy failed in Punjab as the people voted for development under the Akali-BJP government.
"I'm surprised that the Congress is levelling allegations of corruption against leaders from other political parties when its own A, B, C starts with corruption. A is for Adarsh scam, B for Bofors scam, C for coal scam," he said.
Calling himself a "watchman", he said as the PM of the country he would not allow corruption to spread its tentacles. "The NDA, while governing the country, will be the National Development Alliance," he said.