PUNJAB

HARYANA

JAMMU & KASHMIR

HIMACHAL

REGIONAL BRIEFS

NATION

OPINIONS

LETTERS

BUSINESS

SPORTS

WORLD


M A I N N E W S
No new taxes in Haryana
Education, sports, power, social welfare get the maximum
Naveen S Garewal
Tribune News Service
Chandigarh, February 28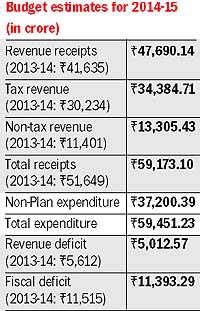 Haryana Finance Minister Harmohinder Singh Chattha today presented a Rs 73,301.08-crore state Budget for 2014-15. Chattha's third and the Hooda government's last Budget before the polls proposed no new taxes. Education, sports, power and social welfare sectors got the largest share.
The revenue deficit (Haryana was a revenue-surplus state till 2007-08) zoomed to Rs 5,612.92 crore in 2013-14. As against an estimate of Rs 2,443.23 crore for this fiscal, the deficit has increased by Rs 3,169.69 crore. The state is not expected to do any better in 2014-15. The projected revenue deficit for the year has been put at Rs 5,012.57 crore.
The Finance Minister, however, seemed to draw solace from the fact that the state's revenue had been on the upswing. "The state's economy is on a strong footing. As against 4.5 per cent growth of gross domestic product (GDP), the gross state domestic product (GSDP) grew at 6.5 per cent in 2012-13 and at 6.9 per cent in 2013-14," he said. He said the per capita income of Haryana was only next to that of Goa and Sikkim. But for a long halt in mining activity and non-receipt of Central sales tax compensation of around Rs 7,000 crore for 2013-14, Haryana would have been a revenue-surplus state, he claimed. The revenue deficit during 2014-15 is projected to be 1.2 per cent of the GSDP against 1.43 per cent of the GSDP in 2013-14.
Chattha said agriculture would get Rs 2,156.31 crore, power Rs 5,360.14 crore, road and transport Rs 4,987.80 crore, irrigation Rs 2,209.75 crore, public health Rs 2,427.99 crore, urban development Rs 3,006.71 crore, education and sports Rs 9,819.67 crore, industrial training Rs 880.81 crore, health and family welfare Rs 2,804.41 crore, social justice and welfare of SC/BC Rs 4,418.30 crore, pensions Rs 4,500 crore and rural development and panchayats Rs 2,310.37 crore.