Bags for boys
Bags, totes and purses are no longer a woman's prerogative. These are the latest buzzwords in the men's fashion essentials. What started as an experiment in shock appeal has become a style statement today
Shobita Shivshankar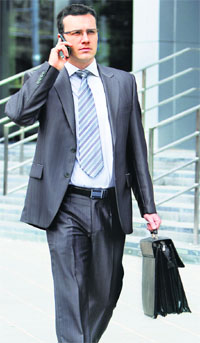 Back in the 1970s, global fashion houses like Prada and Bottega Veneta shocked the western world when they paraded men on the ramp with bags strung across their chests that looked suspiciously like women's totes, satchels, pouches, audieres, shoulder and handbags and cross-body bags, all in different sizes.
The enfant terrible of French couture Jean Paul Gaultier when asked why men were flaunting an accessory so closely associated with ladies, explained that in the modern world there was no clothing or accessory — with the sole exception of the bra — that was intrinsically male or female!
American designer Michael Drass went one up when he said that it gives men the opportunity to borrow from the wife's closet if their own bag is not matching their apparel!
But jokes apart, though designers and fashion houses, who pioneered the hand-held and shoulder-slung male bags received both accolades and brickbats, they aggressively went on to promote their use by men. The logic was simple — bags may be an accessory for women but these had also been used by men since time immemorial.
Stylish 'Murse'
Time was when the man-bag was far removed from its current star status and guys who carried these were considered effeminate. Today all top fashion names are promoting the use of the stylish 'murse' as a fashion essential. In 2013, British designer Marc Jacobs was himself seen with his signature Slice-and-Dice bag in a number of his public appearances and that in a way started a major trend.
Over the years, top names like Lanvin, Dolce & Gabbana, Burberry, Hermes, Gucci, Salvatore Ferragamo, Louis Vuitton and many more have followed the rising trend and have been putting the murse either in the hands of men or stringing it across their body.
The style, which initially jolted the sensibilities of male fashionistas, has today gone completely mainstream and the annual sale of men's handbags and other leather accessories has crossed the mind-boggling figure of $4 billion (Rs 18,500 crore).
Global trend
Thanks to these designers, the trend has now gone global. Even a conservative university like Oxford has allowed male students to carry man-bags — an amazing departure from the time when the strict dress code for men at this university was a dark suit with dark socks, black shoes, a white bow tie, a plain white shirt and a collar beneath their black gown.
Most designers justify their popularising the man bag by saying that historically men have carried bags and purses. The oldest-known purse dates back more than 5,000 years and was worn by a man named Otzi the Iceman whose skeletal remains were found in the Alps in 1991. Even Egyptian hieroglyphs show that ancient men wore pouches around the waist.
However, with the introduction of men's trousers, the trend faded away and gradually disappeared as trouser pockets did the job of the purse and — to some extent — the bag. The male handbag trend took more than two centuries to revive again and what started as an experiment in shock appeal is today a major
fashion statement.
Compact carry bags
One of the primary reasons for the popularity of the man bag is the modern man's dependence on laptops, tablets, ipads and smartphones that he needs to carry with him to office and back. The electronic devices can be neatly slipped into these compact carry bags and transported from place to place securely and fashionably.
Designers, however, say that the man-bag is not just something to carry your office essentials. According to American couturier Alejandro Ingelmo, it should transform from an office to a party bag. A bag that can go to work, go to the gym, go to a party — an all-rounder.
Time was when the briefcase was considered macho and separated men from the boys. It was used to carry files, papers and other paraphernalia to and from the workplace.
However, with technological advancements like emails and mobiles doing away with a large amount of paperwork, the briefcase is becoming increasingly redundant even as the man bag basks in its special moment on the fashion runways.
Choice of celebrities
One of the failsafe ways of telling that an accessory is turning into a trend is when it becomes a choice of celebrities. Stars like Amitabh Bachchan, Shah Rukh Khan, Hrithik Roshan, Salman Khan, Farhan Akhtar, Saif Ali Khan, Shahid Kapoor and many other top-of-the-line Bollywood men have been seen carrying a man bag. Akshay Kumar, Karan Johar, Sanjay Dutt, Neil Nitin Mukesh and Sonu Sood are known for their predilection for the Louis Vuitton bags.
Some sociologists, however, see the growing phenomenon in a different light. They say the popularity of these bags is a logical response to the adoption of assertive and aggressive male roles by women in modern society; it is the acceptance of this role, and a welcoming of equal opportunities for women and men that these bags have become unisex.
But that apart, no matter what sociologists say, the fact is that most men who carry satchels, weekenders, totes, duffels and carryalls tend to have an acute sense of fashion.
The male bag
Though there are bags and bags for men, according to designers, the celebrity list comprises four bags that are hot on the popularity list:
Messenger bag
Close to a haversack, the messenger bag is strapped over the shoulder and across the chest. The bag itself rests on the lower back and can accommodate a laptop, tablet, smartphone and other paraphernalia.
Tote bag
Though some men balk at the idea of flaunting a bag with top handles, the tote bag has gained immense popularity with fashionable men but with a caveat — it should be handheld and not be carried
over the shoulder.
Duffle bag
This is a multi-purpose bag that can be taken to office or on a journey or even to a gym. The trendier duffle bags are also party-ready. Most macho duffle bags are medium-sized and come in cotton and canvas.
Briefcase
Associated with the conventional man, the briefcase may be down in the fashion sweepstakes but it still has its ardent admirers. The difference is that new briefcases are in cotton or canvas and not the hard shell types.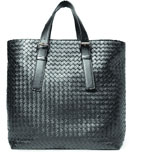 INTRECCIATO COLLAGE BAG
What better way to carry all your belongings than in this breathable leather tote bag by leading Italian luxury goodsmaker Bottega Veneta. It is a fresh take on the signature intrecciato print with its original Italian styling. Its perforated leather and gunmetal hardware is guaranteed to raise your style quotient.
price: Rs1.82 lakh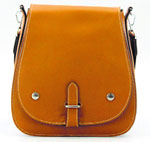 COWHIDE MEN'S BAG
One of the top 10 famous brands all over the world, Hermes is known for its elegant handbags and totes. This stunning Hermes cowhide men's bag in light coffee colour is made of genuine leather with a zipper closure pocket. It has an adjustable strap which facilitates it to be worn stylishly across the chest.
price: Rs 60,000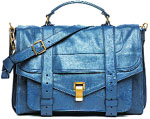 blue SATCHEL BAG
This large studiously designed Proenza Schouler Satchel Bag has a dramatic silhouette while making it easy to carry everything a guy needs. The vegetable-dyed calfskin bag with brass hardware will experience natural colour-wear over time, giving it a unique look. The leather strap sits over the pocket on front.
price: Rs 1.20 lakh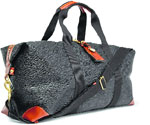 CLIPPER BAG
The masculine Mulberry Clipper Bag is a stylish modern accessory. The black scotch grain coated canvas is enhanced with sleek leather trimmings and brass hardware while a laptop pocket gives it both a business and leisure accessory. The detachable shoulder strap makes it a great option for quick urban breaks.
price: Rs 60,000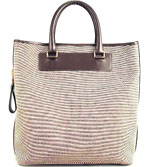 SUEDE SIDE-ZIP TOTE
This suede side-zip tote bag by American fashion designer Tom Ford is rafted to an exacting standard of elegance and discreet luxury. The canvas tote with leather trims has top handles with golden rings. The tote which has a twill lining and a large zip pocket is a unique men's accessory with enduring appeal.
price: Rs 1.56 lakh
LEATHER COUNTRY BAG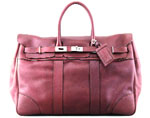 Whether you are going on weekend travel or for business, this Brunello Cucinelli country or duffle bag gets you to your destination with elegance and good looks with its modern minimalist construction. The oiled leather is further accentuated with silver hardware and adjustable turn-lock buckle strap closure.
price: Rs 2.2 lakh
BISON LEATHER BAG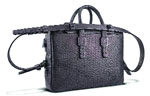 American premium leather goods label Parabellum is offering a stunning bag in its 2014 collection. As in all its products, the bag is crafted from deep textured American Bison leather with calf suede lining. Details include an adjustable shoulder strap with a ceramic buckle and an attached accessories case.
price: Rs 1.08 lakh
NÉO GREENWICH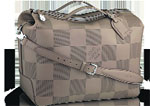 The Louis Vuitton Fall/Winter 2014 show marked the beginning of a new era for the brand's Damier signature checkerboard print. The design has resulted in a new timeless and masculine range of travel bags and handbags. This sophisticated Damier Neo Greenwich bag became an instant catwalk star.
price: Rs 4.47 lakh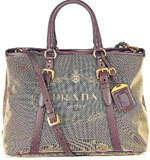 COTTON & LEATHER GRAB BAG
Emblazoned with Prada's name, the cotton grab bag is a must-have for storing a stylish man's essentials. Finished with a smart leather trim and a detachable shoulder strap, it has two leather grab handles and one removable shoulder strap, gold-tone hardware, leather trim and a buckle detail to the front and back
price: Rs 93,000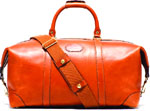 CHESTNUT DUFFEL BAG
The US-based leather bags and accessories company Ghurka offers great duffel bags for the adventurous travellers. This Cavalier chestnut leather duffel bag features fold-end design that opens to allow extra room and ease of packing. The sophisticated weekend carry-on bag comes with trendy brass hardware.
price: Rs 78,000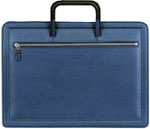 EVOLUTION SLANTED EDGE BRIEFCASE
If you are a corporate honcho, you can be in the market for the evolution slanted edge briefcase by Italian luxury brand Serapian. Made of grained and water-resistant leather, it is slick, hardy and durable. It also comes with a shoulder sling, allowing it to go from briefcase to a man bag in an instant.
price: Rs 46,500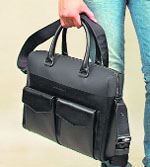 calfskin MESSENGER BAG
The Salvatore Ferragamo messenger bag in calfskin featuring contrast stitching has an adjustable shoulder strap, magnetic closure, inside zipper pocket and Ferragamo logo on the cotton canvas lining. The fabric-lined interiors feature a single zip compartment and padded slip pocket for carrying a tablet or laptop.
price: Rs 1.05 lakh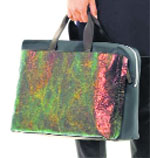 CANVAS BAG
The forest-green canvas travel bag from French fashion house Lanvin has two top handles, a front magnetic fastened slip pocket, two zipped side pockets and a chunky silver metal zip top closure. Sporting an iridescent leather front panel and multiple compartments, it is a modern accessory that will stand you out.
price: Rs 81,300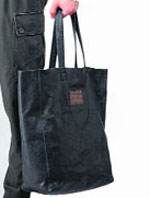 LEATHER TOTE BAG WITH DETACHABLE POUCH
This unlined and unstructured Dolce and Gabbana leather tote is made for the fuss-free gentleman. Clipped into the spacious interior is a matching pouch allowing you to zip your wallet and keys into it and locate them instantly. The robust exterior of this bag will make a handsome addition to any ensemble.


price: Rs 75,000
LEATHER SHOULDER BAG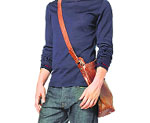 Crafted from the label's signature soft lambskin leather, this Balenciaga messenger bag makes a sophisticated statement as it can be strung across the pullover for understated weekend style. With easy-access pockets, a zip closure and a detachable strap, it is a fashion essential for busy man around town.
price: Rs 66,000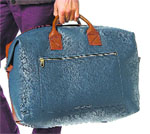 SLICE-AND-DICE BAG
Iconic American fashion designer Marc Jacob's 2014 take on men's bag is a slice-and-dice look. It is an over-sized leather bag with a squared silhouette. It features a spacious interior, two top handles and a removable cross-body webbed nylon strap. It has a contrasting leather back and single exterior pocket.
price: Rs 36,000