When Bansi Lal became Chief Minister
book excerpt
BK Chum

Behind Closed Doors
by BK Chum, Hay House.
Pages 364. Rs 289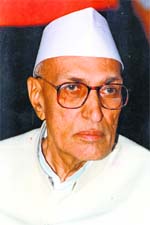 Bansi Lal faced the challenge of initiating political stability in a state facing a turbulent period
Haryana has been a region known for its contradictions. Within four decades of being carved out as a result of the linguistic reorganisation of the composite Punjab, it has been transformed from the one of the most backward states of the country into one of the front-ranking developed states. However, during the very first two years after its birth, before Bansi Lal took over as chief minister after the 1968 mid-term elections, the state earned the stigma of being the pioneer of defection politics in India. It was plagued by political instability. Frequent changing of parties by the MLAs led to the quick fall of governments and the imposition of President's rule (on November 2, 1967).
After he took over as chief minister on May 22, 1968, Bansi Lal faced one of the biggest challenges of his life: bringing about political stability in the state. It was truly a Herculean task. In the then 81-member Assembly, 44 per cent of the MLAs had defected — one five times, two four times, three thrice, four twice and 34 once within the politically turbulent 1966-68 period. Of them, particular mention must be made of Gaya Lal, who defected twice in a single day, taking the number of times he defected in two weeks to three. Haryana gave the country's political lexicon the term "Aya Ram Gaya Ram".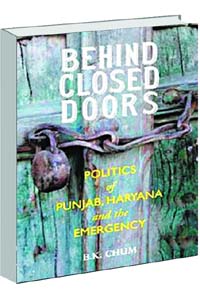 However, Bansi Lal's man-management skills were able to restore political stability within a year of his assuming chief ministership. His selection as chief minister in 1968 can be described as accidental. Once, in a reminiscent mood, he narrated to me how he was chosen to head the government:
"Bhagwat Dayal Sharma occupied the coveted office of chief minister from November 1, 1966 (when Haryana was formed) to March 23, 1967. Because of the frequent changes of political loyalties by the MLAs, the State Assembly was dissolved and president's rule imposed on November 2, 1967 (during the term of the second chief minister Rao Birender Singh, which had begun on March 24, 1967). Mid-term elections which were held in May 1968 brought the Congress back into power. Because of her dislike for Sharma, Indira Gandhi (the Prime Minister of India) did not want him to again take over as chief minister. She urged (Union) Home Minister Gulzari Lal Nanda to find Sharma's substitute to lead the Congress Legislative Party. As Nanda was against the change, Mrs Gandhi asked her minister of state for information and broadcasting, Inder Kumar Gujral, to talk to Nanda. But Nanda said there was no other suitable leader to replace Sharma. However, he later had second thoughts and asked Gujral to suggest some name.
"I had gone to (see) Nanda and was waiting to meet him in the courtyard of his house (in New Delhi). Gujral noticed me and told Nanda that I could be Sharma's replacement. Gujral knew me well but not so intimately. He just wanted that Indira Gandhi's wish should be fulfilled. Consequently, the party high command chose me to head the party's government in Haryana."
— Excerpted with permission from Behind Closed Doors by BK Chum, Hay House. Pages 364. Rs 289