INTERNATIONAL WOMEN'S DAY
Fairway to success
Work-life balance, multi-tasking, flexi work hours and mental and physical stress of juggling the many roles in the family, are some issues that a working woman comes across. It's no mean feat to tackle all this and handle work and life with panache. While each working woman grapples with these issues on day-to-day basis, the motivation levels do plummet at times and there is that temptation to leave it all and crossover to the 'other side'. But there are several inspirational examples around us of ordinary women who have not only courted professional success, but have also managed to balance their personal lives with it.
CareerCature
Sandeep Joshi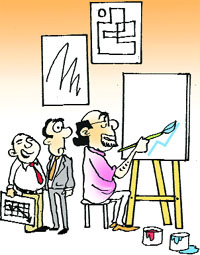 Maybe we can hire him to give a positive turn to our lines also.
Career Hotline
Pervin Malhotra email your queries to careers@tribunemail.com...
Check out work-from-home option
Taming the High Seas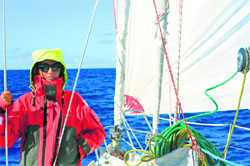 As a young officer of the Indian Navy, Lt. Cdr. Shweta Kapur has earned the distinction of being the first woman officer of the Indian Navy to sail on board INSV Mhadei, in a trans-oceanic voyage across the Indian and Atlantic Ocean, to participate in the Cape to Rio International sailing championship, clocking more than 8,000 nautical miles! She is the only officer in the Navy to lead the naval contingent thrice during the Republic Day Parade at Rajpath.
Walking the tight rope
The morning after Sneha gave birth to her first child - Anjali, she received a call from her office that her name was among the ones nominated for all those who had been handpicked for the H1 visa for a visit to the United States. She had to head the trainings division. She said yes and used her three-month maternity leave preparing for the trainings. Suddenly, at 25, she was a working mother with two big jobs, juggling between training sessions, business meetings, and baby nurturing and rearing. It was so overwhelming, like handling twin careers at the same time.
Advanced placement exams
High School students throughout India can now register for College Board's Advanced Placement Exams in 22 different subjects. The exams are scheduled for May 5-16, 2014, and the deadline for registration is March 26, 2014.
work station
Cost saving — a farce or fact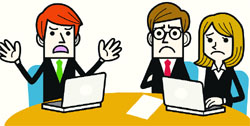 The powers that be have decreed that the company is bleeding money, and the time for cost cutting is here. There's mayhem in the cubicles and corridors, and though no layoffs are predicted, extreme measures are in store. The paper cups from the water cooler have disappeared and a new notice has gone up on the wall proclaiming "Please use your personal mugs for water. Due to wastage and overuse, paper cups will no longer be provided."
Firms to review benefits strategy
Around 60 per cent of Indian firms are planning to review their employee benefit strategy in the next 12 months amid economic slowdown and high inflation, says a survey. Rising benefit costs and the fact that employees do not sufficiently value the benefits provided to them is driving companies in India to review their benefit strategy, according to global professional services company Towers Watson.
Increase in demand for entry-level jobs in 2013
The demand for entry-level jobs increased by 6.7 per cent in 2013 as against the previous year, even as the jobs for middle and senior level positions declined by 5.1 per cent, according to an Assocham study.
Course chat
Data Science course for mid-career IT professionals
Edureka, a leading online IT, cloud and mobility education provider offering live web support 24X7 to students on subjects such as Big Data, Analytics, Cloud, Mobility, introduced an online Data Science course recently. The Data Science course covers topics on Hadoop, Analytics with R and Machine Learning techniques encompassing the complete Data Science study. This course is designed to provide knowledge and skills to become a successful Data Scientist for mid-career professionals.
Newsboard
ASSOCHAAM awards for varsities
Sikkim Manipal University, Directorate of Distance Education (SMU-DE), has won ASSOCHAM's 'Best University in Distance/Open Learning' award as part of the ASSOCHAM (The Associated Chambers of Commerce and Industry) Awards of Excellence in Education, 2014. Dr. Shivram Krishnan, Dean Academics, HoD of Arts, Humanities, Commerce and Vocational Science, SMU-DE received the award from Rajya Sabha MP, Dr. Karan Singh, at a ceremony held in New Delhi recently.
Happiness @ work
Gems of ancient wisdom
Dark future for eve-teasers