M A I N N E W S
special to the tribune

Ranjit Singh's sword up for auction in UK
shyam bhatia in london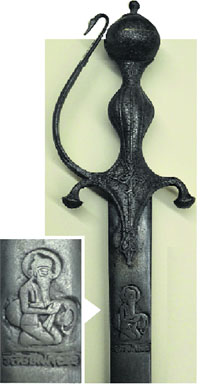 Maharaja Ranjit Singh's sword (R) bearing his image, name and year (inset)
One of Maharaja Ranjit Singh's most significant heirlooms will be sold to the highest bidder when it is auctioned later this month in the English county of Shropshire.
The inscription in Gurmukhi on the blade of early19th century sword is dated and says. 'Ranjit Singh Lahore.' Mullock's Auctioneers, who are organising the sale, says the sword has until now been in the possession of an English family of military descent.
"The sword was brought for inclusion in our regular sales of important Indian documents and artefacts and it was originally thought to be an Islamic sword belonging to a Moghul Prince," said Richard Westwood-Brookes of Mullock's who will sell the sword on March 18. "However, once we had researched the design it became obvious to us that it was a potentially unique piece, with historic connections to the most famous of all the rulers of the Punjab."
Mullock's have been told that the sword or 'talwar' could possibly have been a gift to the Maharaja or presented by him to a fellow noble at his court in Lahore. It is expected to fetch a minimum of £10,000-£15,000 (Rs 10 lakh to 15 lakh)
"The fine craftsmanship on the sword indicates that it was certainly of a very high status, and there are also indications that when it was first made, the hilt was covered in gold and as such at the time of the Maharaja it must have been a most spectacular piece," added Richard Westwood-Brookes. "Items which date from the time of the Maharaja and bear indications of a direct link to him are obviously of the greatest rarity, and we are expecting great interest from around the world."
Other features of the forthcoming auction include a military bugle with a letter from the bandmaster of the Kashmir State, saying that it was used in the army of Maharaja Ranjit Singh. Also in the sale is a rare copy of the Chronicles of the Lahore Durbar, the Travel Memoir of Godfrey Vigne to the Court of Ranjit Singh and a two volume set of 'A Year on the Punjab Frontier' by Herbert Edwardes which belonged to Sir John Lawrence, Viceroy of India from 1864-69, and containing handwritten notes by the author's wife.
Other items include photographs and documents of the Punjab States, and important documents, including a memorandum on the widow and son of Maharaja Sher Singh and a rare first-hand account of the Indian freedom fighter Bhagat Singh written by his colleague.
Maharaja's rare heirloom
The sword could possibly have been a gift to the Maharaja or presented by him to a fellow noble at his court in Lahore
The inscription in Gurmukhi on the blade of early 19th century sword says: 'Ranjit Singh Lahore'
The organisers, Mullock's Auctioneers, say the sword has until now been in the possession of an English family of military descent
It is expected to fetch at least £10,000-£15,000 (Rs 10 lakh to 15 lakh)