Brick-and-mortar women
Heavy-duty construction equipment, the heat and dust of sand, bricks and gravel and the rigmarole of approvals, government officials, contractors and workmen, the real estate sector is no joy ride for the fair sex. Yet there are some who are not only shattering traditional mindsets and glass ceiling in this field but are also coming up trumps against their male counterparts. Directors, MDs, legal experts, marketing heads or brokers, the realty sector now has women at almost every level of hierarchy. On International Women's Day let's raise a toast to the tenacity of these women. Geetu Vaid profiles women leaders who have not only carved a niche for themselves but also laid the foundation for other women to build a career in this male-dominated sector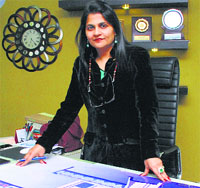 Ritu Singal
CMD, Raglan group
From being a housewife who took up the challenge of establishing a tottering business after a personal tragedy to being a successful builder, Ritu Singal's journey has been a test of strength and fortitude. She is a known face in the tricity realty scene as her group, which is among the most professionally managed ones in the region, has developed several affordable housing projects in Zirakpur and Dera Bassi.
Coping with challenges
"Challenges are there in all professions and these go hand in hand with opportunities. My close relatives and friends discouraged me as they thought it was a tricky business and I should get out by selling everything. But I decided to continue and am happy that I could instill confidence and a sense of security in my team.
Due to hardening of interest-rates, high inflationary pressures, increased construction cost, service tax on construction activities, multiple taxation system which are not known to the buyers it has become very challenging to provide affordable housing and provide total customer satisfaction."
What keeps her going
"The source of my strength is my Buddhist faith and practice. In most difficult times I remind myself to Persevere, persevere and more persevere".
Woman's touch
As a woman I feel rather it was easy to change perceptions a little because of patient, genuine dialogue and approach. Being a woman I valued the emotions of our clients and gave most modern and practical houses in most affordable prices. Women have power to multitask which helped me accomplish a lot in a single day. Creating a family like environment full of mutual respect and trust inspite of total professional set up has been my biggest asset.
Gender discrimination
I believe gender discrimination is generally felt when one is not competent and confident in one's profession. She started my journey by taking steps to learn about technical, financial and admin aspects of business and learnt from each and every person and situation.
Is the Indian real estate scene ready for more women at the top level
Yes , because women are more stable minded, patient workers, thorough and multitasking. I have a women project coordinator. The office jobs (behind the scene) which are the backbone of real estate like the architectural drawings, costing heads of the project, billing heads., quality controls in charges, purchase heads or even store heads on real estate projects can best be managed by women leaders. Women engineers will be the best managers to monitor the execution and controls as women generally are thorough with their work.
A word of advice
My advice to other women is to gain first-hand experience in the field whether by way of job or working on the site. It's very important to plan in detail after studying all aspects like market, type of apartments, costing, and quality parameters for construction if one is in this field. Supervision and knowledge are most important as the precious lives of people are involved so one cannot take chances with quality of materials and construction.
Ananta Singh Raghuvanshi
Executive Director-Sales & Mktg, DLF Universal Ltd.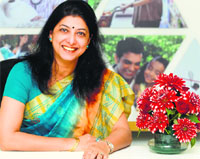 With 23 years of experience in the real estate sector and a host of awards in her kitty, Ananta Singh Raghuvanshi is undoubtedly among the 'stars' of the industry. Real estate sales and marketing was her first assignment, after topping the PG programme in Marketing Advertising & PR from YMCA, New Delhi. Ananta has been instrumental in the Sales, Marketing, Advertising, PR, Dealer Relations and new product launches of Gurgaon's landmark residential, retail and commercial projects from 1991 to 2002. Presently she is focusing on expanding DLF's presence PAN India through townships in the cities of Delhi, Lucknow, New Chandigarh, Panchkula, Ludhiana, Jalandhar, Goa, Hyderabad, Bangalore, Chennai, Kochi, Indore, Bhubaneshwar, Kolkata, Shimla and Kasauli. Her last assignment was as the Chief Executive-Retail (India) & Corporate Residential Sales, Emaar MGF Land Ltd. Emaar has established operations in 16 countries. The creators of the World's tallest building-"Burj Khalifa" and the World's Largest mall-"Dubai Mall", Emaar MGF Sales Portfolio included the Common Wealth Games Village at Delhi, Emerald Hills and Palm Square at Gurgaon, and Views at Mohali.
Coping with challenges
Initially, balancing work and home may seem slightly difficult, however, with time we all become good at it. What we see as challenges is nothing but learning processes that help you grow in life. Handling a portfolio of 16 top Indian cities with varying demographics and customer preferences requires a unique approach of 'thinking global but acting local'. This year as we focus on delivery and possession, our endeavor is to live to our customer's expectation.
What keeps her going
A burning desire to excel, with hard work and integrity and enjoying every bit of the work I do.
Woman's touch
Women are intuitive by nature and probably understand people, customers, brokers and colleagues better. Being able to guide my team in helping achieve organizational goals in a work environment that is friendly, democratic and energetic is what we aspire for. Providing support to team members during a personal trauma is something that we have done often.
Is the Indian real estate scene ready for more women at the top-level positions?
The Indian real estate sector is indeed ready for women at the top level positions now, more than ever before with more qualified professionals entering the sector now.
A word of advice
If you are willing to put in your 100 per cent in any field of your choice, you will embrace success sooner or later. Be willing to learn and let your efforts and integrity drive you to achieve your goals.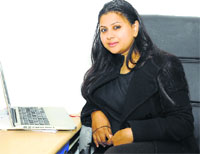 Nazia Izuddin
President, SN Group
With a law degree from Harvard University, USA, a Fulbright Scholarship, and a gold medal from Aligarh Muslim University under her belt, Nazia Izuddin is a real estate developer in a league of her own. She had worked as a corporate lawyer and an academic for several years in New York, London and Dubai before settling in Delhi-Dehradun. With literature, poetry, arts, philosophy and law as her key interests, her entry into the world of concrete and buildings was a coincidence or destiny according to her. "I moved to Dehradun, and wanted to live in a community and in a home similar to what I had lived in, in other parts of the world. But soon I realised that developers did not care much about the detailing, aesthetics or the landscaping, or even something as basic as the flow of movement in a flat or designing a kitchen to meet basic functions and needs. In the process of buying a farm for myself, I ended up being a developer".
Coping with challenges
"I was all of 25 years when I first moved to Dehradun and started a hospitality venture and entered the real estate business two years later. In a Tier 2 city such as Dehradun, people found it strange to have a boss as young as I was, and on top of that, I was a first generation woman entrepreneur. Initially, people did not take me seriously and they would look around to see whether there was a male boss in the backdrop. But eventually, they started taking me seriously and understood that I meant business. The key challenge is to keep your sails up no matter how stormy the weather. The real estate market goes through heavy speculation, rise and fall and sometimes a cash flow crisis. Elections, political situations and a fluctuating job market affect this sector heavily. The key challenge is to create a business model that is insulated from these fluctuations, and to also insulate the client against these changing market conditions."
What keeps her going
"There is a large degree of appreciation I receive now for my unconventional thinking and initiatives. But there have been moments when I have wondered whether I really belonged here — in this space, in this field and particularly in this place. I am sure such moments will come again. There is a large gap in my own mindset and educational background and that of those around me, particularly developers, real estate agents, contractors, and even government officials. It is frustrating a lot of times. But I have learnt to relax and learn along the way and to not take personally. The motivations were always spiritual and personal. Everytime I felt alone and not sure where to head, and what decisions to make, I would listen to my inner voice. I had to prove to myself that my dream was worth dreaming, my ambitions were worth bearing, and the challenges were only a step towards the aspirations. I also felt that any step backwards would be a disappointment for all those who trusted me, and all those who aspired to break free from the reigns of conventional life.
Winning trust
Clients most often bring up the question of trust. I realised the need to build trust at a very early phase in my career and my core goal was to deliver all promises. This has resulted in bringing together a core group of people — clients, relatives, friends, colleagues and employees who have unfettering trust and who stand by as your seal of trust. I believe in this business model.
Woman's touch
Care and responsibility are two values that I have been able to inculcate in my organisation through example. In our projects, aesthetics play a very important role and this is again something that I have been able to inculcate in my organisation.
Gender discrimination
I deal with many male clients and male employees, and most of them usually are more experienced or much older in age. Men, feel challenged when new ideas are introduced, and when they are asked to follow a new system. Their way of fighting authority is to get sarcastic or make rude and sexist remarks. The way I countered it is by making sure work is done the way I want it done, no matter how old or how experienced the other person is. One just has to stick to one's conviction.
Is the Indian real estate scene ready for more women at the top level?
Yes, it is. Absolutely. I think it is time that women headed more real estate consultancies as well as infrastructure development companies. I for one, feel ready to take on a larger and a bigger role, and feel that I can do a lot more if I had the finances and the brand value of a bigger company to back me based on my grass root hands on experience.
A word of advice
One should have a sound and clear idea of what one is entering into. Like all businesses, nothing is always romantic and always rosy. Delivery in this field takes patience, and encounter with the judicial system, police, law, government, people and press. One does not have an option to turn back saying I only want the rewards without putting in the hardwork. Nobody will come and do this hardwork for you.