Curtain call
Trendy and stylish, drapes are easy to maintain and a smart choice for contemporary décor
Divisha Saran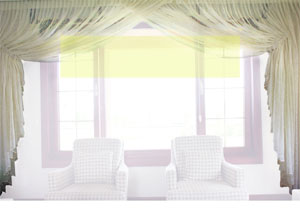 It may not have high profile names attached to it but designing curtains and drapes is as creative an art as designing clothes. Any interior decorator will tell you that a properly dressed up window or door can give your house a complete makeover.
Drapes are no longer a drab affair to keep out the sunlight and accord some privacy to a room. Today, these are trendy and stylish and come in all shapes, colours and designs. Never before has there been so much variety in home decoration as far as curtains go. These are easy to maintain and a smart choice for contemporary décor.
A peek into the wide variety of styles available in different fabrics, textures, patterns and hues dismisses the myth that curtains are a costly indulgence or a decoration idea that is at best optional. Contrary to that, curtains make a room feel intimate and more inviting besides closing off the world.
There are many interesting ways of using modern curtains. You can use the roller variety, which is no fuss, neat and looks smart. Or you can use the conventional drapes to block out the din and dust. For those who want a classy alternative, there are curtains which, when pulled, will rest in elegant folds. For those with a creative bent of mind an innovative interplay between curtains and blinds can lead to interesting results.
Full-length curtains not just have a more elegant appeal but also offer opportunities to greatly improve a room's appearance. If, for example, a window or a door is off centre, a curtain can help create artificial symmetry. The fabric can be used to direct the eye to a new centre. If the window or door is small, the curtain can be extended out from both sides to make it appear larger than it actually is.
The range of curtains available today gives one an option to coordinate the right colour with the décor of a room or completely change the look of a room by matching the décor to the design of the curtains.
Curtains in shades of green reflect freshness and rejuvenation. These combine well with natural surfaces such as wood and cane. Yellows depict sunshine and red is a natural stimulant. Shades of any of these hues can be used in large alienating spaces to create an intimate and inviting atmosphere.
Overall décor
But, says interior designer Anshu Batra, you must select curtain colours that go with the overall décor and those you are comfortable with. "If you are a black and white personality, you won't be happy with pastels and vice-versa. What must be kept in mind is that besides colours, much depends on the natural light that comes into the room. Of course, the local weather of the area you live in is important too. Finally, always keep in mind the taste of people who will be living with those colours. Everyone must feel at home."
With most homes having curtains, it is hard to imagine a time when these did not exist. And that is not too far back in history. The French invented the drapes around 1775 and changed the way rooms would be decorated. Before this, the windows and doors were left bare.
According to American author Gail Caskey Winkler, who wrote Capricious Fancy: Draping and Curtaining the Historic Interior, if it had not been for the French designers, for privacy people would be hanging rags in their windows.
Today there has been a considerable amount of advancement in drapery design and a number of options are available to suit your requirements. The most common is the rod pocket heading where drapery is gathered on the rod as it is inserted into a channel. This is a very casual and contemporary style. The tab top heading on the other hand makes the curtain hang from an exposed rod by loops. However, both these are very basic styles.
Uncluttered lines
The backtab heading offers clean uncluttered lines in modern, contemporary and transitional decors. The rod is slotted into loops at the back of the panel. With the hardware hidden, you can focus on decorative ends of the rod.
The slouched heading is also popular as the panel is slouched between medallions or rings on pole. The grommet heading too is trendy with decorative eyelets. The attractive hardware gives the fabric a sophisticated and classy look. However, the most stylish is the pleated drapery custom-fabricated for the door or window. The finish is neater and eye-catching, giving the entire décor a classy look.
Consider the plus points of choosing your curtain style from the higher end of the spectrum. For one, your home will always look cheerful, welcoming and yet soothing. Moreover, trendy curtains give the home a sophisticated aura. These also create an illusion of space and warmth.
Curtains and drapes are making a statement of their own. These are essentially simple yet modern. These remain uncluttered, can adjust light and are remarkably versatile. Get trendy and put classy curtains on your windows and doors and see how your room comes alive.
TIPS TO DRAPE YOUR ROOM
Before installing curtains, consider these pointers on how to dress up a window or a door:
1. Analyse the proportion of the window to that of the room.
2.Make an elevation sketch of your room, doors and windows.
3.Be clear about the desired effect to be achieved in the room.
4.Always consider direction of sunlight flowing in the room.
5.Problem windows may require camouflaging for eye sores.
6.See how drapes can highlight positive aspects of the room.
7.Match the colour of the curtains with colour of the walls.
8.Right placement of curtains is crucial for the visual appeal.
9.Get top quality curtains that enhance the look of the room.
10.Try combining curtains and blinds for that standout effect.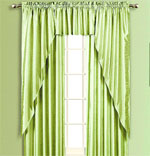 FAUX-SILK ASCOT VALANCE
This faux silk ascot valance available in a variety of colours gives the look and feel of luxury. Made of polyester with rod pockets, these designs are sold by a number of leading furnishing stores. The curtain comes with a three-piece decorative swag and a choice of valances like waterfall, pleated or scalloped.
price: Between Rs 4,000 and Rs 5,000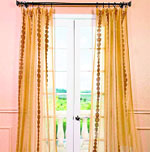 GOLD-EMBROIDERED SHEER CURTAIN
Raise a toast to these fabulous curtains. The embroidered design on these sheer drapes is reminiscent of golden bubbles floating upward in a glass of champagne. Measuring 96 inches by 50 inches these graceful panels made of lace come in a variety of colours and are guaranteed to complement any decor.
price: Rs 3,500 onwards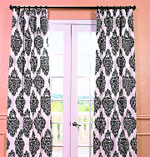 IKAT PRINTED COTTON CURTAIN
The Ikat printed cotton curtains lend a casual feel to any window. A great amount of attention is needed in the production process of these curtain panels which are finished with weighted hem and shade-enhancing lining. The curtains are fully lined and can effectively shut out the world of bright lights and noises.
price: Rs 10,500 onwards
KALAMKARI PANEL
The art of kalamkari is a combination of hand painting and block printing and is usually done on cotton fabric. This authentic hand block printed kalamkari curtain panel measures approximately 46 inches in width and 88 inches in length. Its intricate design and elaborate borders can be the pride of any room.
price: Rs 2,000 onwards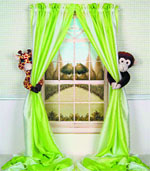 JUNGLE-TIME WINDOW PANELS
A pair of perfect curtains for the children's room, these cute monkey and giraffe tiebacks have elastic loops on the back of their heads so that these can be hung on the wall. These jungle time window panels will instantly change the look and feel of the kids' room adding an element of fun and frolic.
price: Rs 3,000 onwards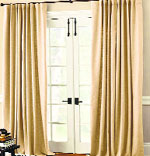 PEYTON LINEN CURTAIN DRAPES
Combining linen's distinctive texture and drape with cotton's naturally soft feel, this peyton drape has an easy elegance. Detailed with hidden seams, a blind-stitched hem and cotton lining, it hangs from the pole pocket or converts to ring-top style with the drapery hooks giving the room a rich and warm feel.
price: Between Rs 7,200 and Rs 10,500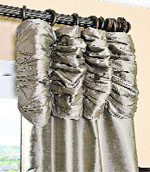 SILVER GREY THAI SILK CURTAIN
These Thai silk panels have been matched with a ruched header valance creating the most luxurious, over-the-top style in window and door treatments. These stunning drapes have a decorative appeal and have been deliberately designed as ornamental panels to frame out the window or the door.



price: Rs 15,000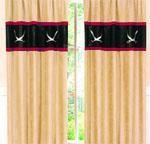 PIRATEs on your window sill
This pirate treasure cove window curtain panel set has been inspired by the ancient theme of pirates on the high seas. The panel on the upper side of each panel has two pairs of cutlasses, the kind used by the sea brigands. These drapes measuring 84 inches by 42 inches would be ideal in a children's room.
price: Rs 3,500 onwards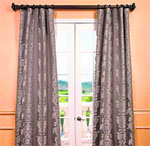 SURREY-SMOKE JACQUARD CURTAIN
Texturally rich, the Surrey-smoke jacquard curtains will give your room a mini-makeover. Crafted in fine polyester, these measure 96 inches in length and 50 inches in width. Toss in a few accessories like a multi-colour rug and finish with a few accent pillows for a quick, inexpensive makeover to any room.
price: Rs 10,800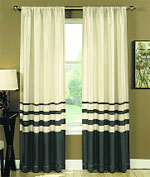 SALON FAUX SILK STRIPED PANEL
These faux silk striped curtain panels give the look and feel of real silk. Interestingly, there are rod pockets at both the bottom and top of the panel and you can decide how you want to hang the curtains. But whichever way they are displayed these faux silk drapes give the room the look and feel of luxury


price: From Rs 1,800 to Rs 2,500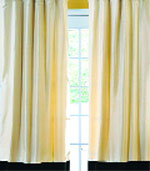 THAI SILK WITH KONA BROWN VELVET CURTAIN
These drapes made of Thai silk and espresso brown velvet are a great blend of sophistication and style. The combination of cotton and velvet can easily transition into any décor whether your home is classic and traditional or modern and contemporary. These can also add visual appeal to a corporate office.

price: Rs 10,200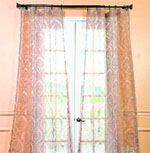 LORETTA TAUPE DAMASK SHEER CURTAIN PANEL
This Loretta Taupe panel creates a beautiful diffusion of light in the living space. Measuring 108 inches in length and 50 inches in width, it is made of polyester and it filters sunlight creating an enchanting glow. Its sheer, elegant damask pattern lends a sophisticated touch to your interior décor.

price: Rs 6,000 onward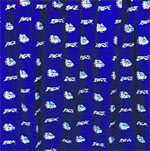 DRAPERY PANELS WITH ANIMAL PRINTS
This pair of animal-patterned long window panels with matching tie-backs can grace any room without overwhelming the interiors. The window drapes with 1.5-inch diameter rod pockets, which are made of cotton-satin measure 84 inches in width with an 84 inch drop. The matching valance is sold separately.
Price: Rs 3,500 onwards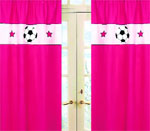 SOCCER-PINK WINDOW PANELS
The soccer pink window curtain set of two panels will instantly change the look and feel of any room adding layers of warmth and style. Each of the two panels measures 84 inches in length and 42 inches in width. To get the best results from these drapes, it is very important to match them with the decor of the room.
price: Rs 3,000 onwards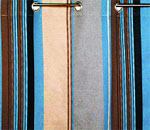 EYELETS CURTAIN — ACAPULCO
Your room will blossom with this colourful curtain. Fully lined and available in various colour combinations, this eyelet curtain can embellish a bedroom, drawing room, or even a bathroom. Made of cotton with polyester, the jacquard drape is a combination of quality and modernity with an elegant finish.
price: Rs 15,000 onwards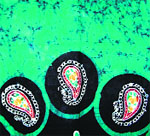 HAND-PRINTED BATIK PANEL
Batik is the art of creating design using the application of wax and dyes. This authentic hand-printed batik curtain measures approximately 46 inches in width and 88 inches in length and will add sparkle to your decor. It has a two inch rod pocket and is made of power-loom cotton, offering a smooth tight weave.
price: Rs 2,000 onwards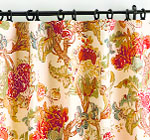 PALAMPORE DRAPES
The pattern on these Palampore drapes will be perfect for a porch or a covered veranda. It will also do very well in the children's room or the nursery. These curtains have so many colours to work that these will add to the grace of any room. And despite being oversize, the florals don't feel stuffy.
price: From Rs 5,500 to Rs 8,500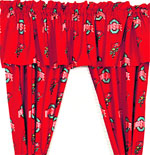 COLLEGIATE WINDOW CURTAINS
The collegiate window curtains come in a variety of colours and designs, though with the same basic style. Measuring 84 inches in length and 42 inches in width with a 12-inch drop, these drapes made of fine but sturdy cotton, come with matching tie-backs and two rod pocket curtain panels for a perfect drop.
price: Rs 2,400 onwards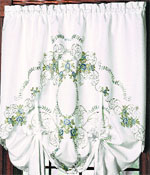 BELLA ROSE EMBROIDERED CURTAIN
This Bella Rose tie-up shade will tastefully embellish your window or door with its intricate floral motif of golden scrolls and green laurel leaves that grace the complete curtain. The polyester window accents have a rod pocket and the curtain comes with a floral-embroidered tie-up shade for that stunning effect.


price: Rs 2,100 onwards