A tribute to an art guru, in a myriad hues
Reviewed by Rajnish Wattas
Indian Painting: Essays In Honour Of BN Goswamy
Ed Mahesh Sharma & Padma Kaimal Mapin Publishing & Osianama.com Pages 492 Price not mentioned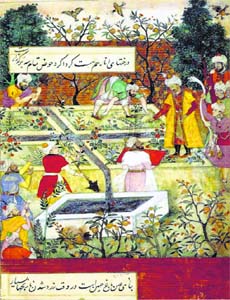 Babur supervising the layout of Bagh-i-Wafa, south of Kabul in 1509.
After reading Indian Painting, how one wishes that school students were taught history books that used traditional Indian paintings to illustrate them, instead of the dull images that they usually have. This would bring to life authentically not only the inert pages of history texts, but also enable our art heritage to enter young minds.
Indian Painting is a touching tribute to a scholar-teacher extraordinaire on his landmark 80th birthday — a festschrift — published by his large family of loving students, co-scholars, admirers and friends from all across the world. Inspired by 'BNG' or 'Brijen,' as he is affectionately called, 40 major scholars who have soaked in the radiance of his knowledge, bring attention to a number of previously unpublished visual materials, enabling new insights.
The section on "Impressions" carries fond remembrances by his former student Padma Kaimal and by a friend and self-confessed "student" of Dr Goswami —F S Aijazuddin from Pakistan.
Padma's essay titled "The Inverted gaze" is a straight-from-the-heart tribute to the guru, and recalls Dr Goswami's perceptive eye which while scrutinising, a portrait of Raj Balwant Singh at Sans Francisco, conveys in a subtle demonstration the art of looking at the paintings. "Looking was a journey, the picture a landscape ...everything and everyone rests in suspended animation to enable this deep, full, meditative indulgent looking."
The tribute by Aijazuddin, titled "Brijen Goswamy: The Man, Mad about Research," is a fascinating account of the arduous task of documenting and classifying the huge collection of Indian paintings that fell into the share of the Lahore Musuem after Partition. Recalling his difficulty in correctly classifying a particular series of paintings of Raja Balwant Singh, he had to take help of Dr Goswami's trail-blazing essay (1968) on Pahari paintings based on meticulous research into land records and the entries in bahis at Hardwar, trailing the migrations of key artist of Nainsukh and his family.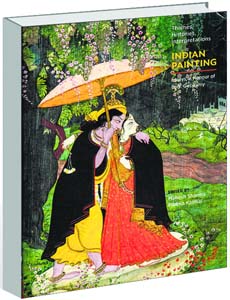 The section: "Themes, Histories, Interpretations" covers a vast range of topics: from redecoration of Ajanta caves, to European and Persian connections with Mughal Painting.... transformations in Rajput and Pahari paintings as well as exchanges with the Deccan, among many other. Reviewing religious themes, there are explorations of the Jain manuscript tradition and Ramayana leaves of the Pichvais of Nathdwar and of scrolls from Odisha. They also decipher mythological tones associated with Krishnaites, Sufis, cults of Yoginis, Nath Saivite traditions, besides many other sources of rich material.
The book, like a typical Festschrift, does not follow any formal structure in the sequencing of its essays, that rather flow like various tributaries to merge into a confluence with the main theme of Indian Painting. The essay "A Taste for Green Space" reveals the introduction of the famous Mughal Gardens, a grand landscape heritage of the country beginning with efforts by Babur, carried on by his sons, and later spreading to various parts of the country — culminating as late as the 18th-century Pinjore Gardens, near Chandigarh.
A unique work by Bhawani Das, "In the light of Moon and fireworks," Kishangarh C 1740 depicts the scene of an effete Mughal ruler surrounded by seducing courtesans in erotic postures, trying to arouse the ageing ruler; probably done as a satirical depiction of the fading might of the Mughals. Another brilliant essay, "Pinning Butterflies," by Darielle Mason ponders over the shared experience with 'Brijen' at the Indian Painting gallery in the Museum of Fine Arts at Boston.
"Miniatures in museums may be thought to resemble pinned butterflies in a host of ways; their fragility; their immobilised state; their mounting encapsulation and display..." And thus Mason gently brings out the essential differences in the very nature, size and the viewing technique required for miniature paintings, distinguishing them so much from the traditional Western art and its display.
Dr Goswami, besides being a colossus of knowledge, also has the unique gift of delivering mesmerising lectures with his magical voice undulations, pauses, musical trill of lowering the pitch or raising it to a symphonic crescendo when required. His lyrical flow is laced with poetry, effortless scholarly quotes from scriptures in Sanskrit to texts in Urdu and Persian and Arabic. Perhaps, nothing more than Aijauddin's beautiful words capture the collective wish for Dr B N Goswami from all his fans. "The bibliography of Dr Goswami's publications is longer than a pandit's bahi. May you live as long. By God's grace you are still young enough, a young man mad about scholarship."