ENTERTAINMENT
The enigmatic Hooda
Easily one of the hottest actors around, Randeep Hooda sets the screen ablaze with his intense performances
Nonika Singh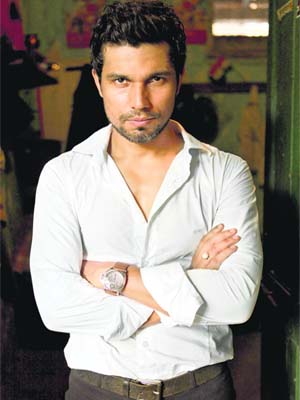 Like the simmering characters he gets under the skin of onscreen, itís hard to nail him down. Inscrutable, abrasive and a trifle impatient, Randeep Hooda is not an easy man to decode. Perhaps, part of his allure lies in his brusqueness. So even though he opens up to reveal some facets of his personality, there is nothing like Randeep unplugged or no holds barred.
A bit cagey, a bit reflective and a whole lot unpredictable, one canít help but wonder aloud what and who is the real Randeep? He chuckles, "I am not letting the cat out of the bag."
But since his co-star of Highway, Alia Bhatt has already spilled the beans, dubbing him a big child, Ďyoungerí than her, he admits, "I think child-like-state is a must for an artist to be creative. Creativity canít happen in a very mature sensible, balanced head."
On the intensity with which he blazes the screen, he is cryptic, "There is a difference between intensity and involvement. All I would say is I am involved with all my characters, play them with my heart and thatís why audiences perceive it as intense."
Post-Highway, viewers have been completely smitten by Mahabir Bhatti, his inbox is inundated with messages and his loyal female fan following is only too ready to be held captive by this charming abductor.
Overwhelmed by audiencesí reactions, he agrees that the film did open to mixed reviews. He argues, "Indeed we all have different points of views but remember a director has his own. A film canít be unconvincing and the characters credible. If mine and Aliaís roles have been lauded, the credit must go to Imtiaz."
Working with Imtiaz and earlier with Karan Johar in Bombay Talkies has him beaming. More so since not only are they top notch directors of the filmdom right now but more importantly for these are their breakthrough films.
The key difference between the two directors, according to Randeep, is, "Since Karan is a fantastic actor himself he knows exactly what he wants. Imtiaz on the other hand lets his cast be."
Randeep doesnít consciously choose laconic parts (Murder 3, Jism 2, Once Upon a Time in Mumbai or Saheb Biwi aur Gangster) that exploit his understated acting prowess to the hilt. Rather these are what come to him. As his journey is dotted with many a Ďthis is Randeep Hooda momentí he agrees that he has not been able to fully optimise those into career defining moves. He quips, "If I were an industry child, my story would have been different."
But he doesnít have a wish list of directors he is dying to work with. Nor actresses for that matter. In fact, the hunk who has figured in the list of most desirable men time and again quips "I donít think actresses are the only or the most attractive women in the country."
Actually he would not like to bring home one. Certainly there must be a woman the actor who makes the fair sex go weak in their knees is interested in. He shoots off, "But itís nobodyís business."
Prod him a little more and the actor whose affairs have earlier been in the public domain says, "I wonít reveal what and whom I like but yes I donít like skinny and drunk women`85rest all stand a chance with me."
You see a million girls rising`85well, he doesnít take female adulation seriously. Nor does he think the makers do, "else they would cast me in many more films." Sure days of struggle are way behind him`85. He says wistfully, "On hindsight, itís easy to romanticise struggle but when one is undergoing the same, itís searing."
He also sets the record straight and shares that he doesnít come from an affluent background. But poised as he is at a significant cusp in his career with movies like Kick and Main Aur Charles in his kitty, he does intend to make his family as affluent as possible. "I owe it to them."
He also owes a lot to theatre. Till last year, he was acting in George Bernard Shawís Arms And The Man directed by Naseeruddin Shah. Only Naseer who has been instrumental in bringing him to Bollywood told him to take his career in films more seriously. Theatre, Randeep not only finds stimulating but also a great leveller that also allows an actor opportunity to rehearse his part. But arenít there retakes in cinema too? He answers, "What will a retake do if the level of preparedness is missing?"
This actor, of course, is ever prepared to take on challenges and game for risqu`E9 parts. As a child, he dreamt of becoming an actor. Now he wants to better his craft. One day he is confident of conquering the world stage`85but wonít reveal if anything from Hollywood is in the offing till it is out there. Snapping at the heels he might be but a braggart he certainly isnít and would rather let his characters do the talking. Gruff or not they are evocative for sure.
The sporty Jat
Randeep Hooda isnít your average stardom smitten actor who lives, eats and breathes cinema alone. He regularly participates in professional equestrian sports, including polo and show jumping and is looking forward to another one in March. The answer to the obvious query-ó how does he pack so many things in his itinerary ó is simple, "I could do a lot more. Seriously, I think I take it too easy."