Food talk
Dish to light up your appetite
Pushpesh Pant

Iris, better known as Nargis in this land, is a flower that has captured the imagination of poets through ages. Well you may call us Philistines and worse but the only time our eyes light up is when we are served a plate of Nargisi kofte. Now as everyone knows a kofta is an Indian meatball. But to treat it at par with the 'Western' oversized marbles adorning spaghetti or to equate Nargisi kofte with devilled eggs is akin to sacrilege. Truth be told, even Gushtaba approaching sublime doesn't cast such a seductive spell.
The delicacy gets its name due to the resemblance of halved kofta with the white iris with a yellow centre. It's the egg that does the trick. The gravy is subtly aromatic and enhances the double delight of savouring the egg and keema in a single curry.
It's a pity that in recent years, for some inexplicable reason, many eateries have excluded it from their menu. Imagine our glee when recently we were treated to a dainty dish prepared with quail's eggs encased in chicken mince (you could lighten your guilty conscience by substituting vegetarian stuff — paneer and soya granules) garnished with what else, caviar!
It was presented brilliantly plated. Let your imagination run riot but just follow our advice about not using tomatoes and reducing the gravy to sauce consistency.
Nargisi kofte nayaab
Ingredients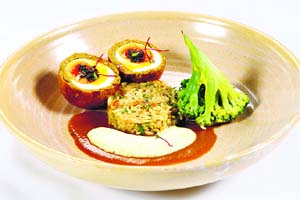 Mince 250g
Eggs (hard boiled, shelled) Four
Onions (peeled, very finely chopped) 150 g
Thick curds 1 cup
Cumin powder ½ tsp
Coriander powder ½ tsp
Red chilly powder ¼ tsp
Cloves of garlic (crushed) 2-3
Ginger (ground to paste) One-inch piece
Cinnamon One-inch piece
Cloves Two
Brown cardamom One
Green cardamom Two
Peppercorns ½ tsp
Salt to taste
Ghee ½ cup
Mint or fresh coriander One sprig
Method
Boil the mince with little water, red chilly, cumin and coriander powders, along with salt in an uncovered pan, don't pressure cook till moisture evaporates. Grind to a coarse paste. Cool, than encase the whole boiled eggs in a thick layer of mince. Refrigerate for a couple of hours. Heat ghee in a pan and add bay leaf and whole spices, when these change colour add the onions, garlic and ginger paste along with whole red chilly and salt. Stir-fry till onions are rich brown. Now stir in curds in a slow, steady stream stirring briskly to avoid curdling and cook till the raw dahi smell is gone. Gently lower the nargisi kofte and simmer on a low flame till gravy has thickened to taste. Serve with broccoli florets and garnish of choice.