SOCIETY
Colours of empowerment
Rami Ben and Laxmi Ben from the hinterland of Gujarat have used their entrepreneurial skills to train themselves as well as other women
Geetu Vaid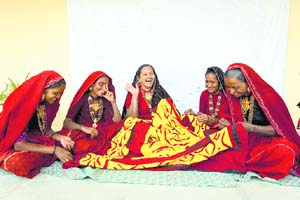 Business and bonhomie: Rami Ben (centre) shares a lighter moment with members of the Self-Help Group at the Okhai Centre in Mithapur.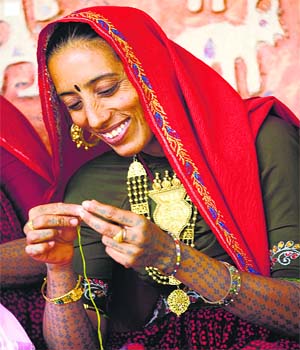 Laxmi Ben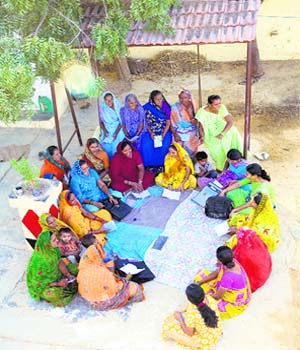 Empowerment, enterprise, entrepreneurship, profit and annual turnover may be common sounding words in an urban set up and coming from a B-school graduate, but one does sit up and take a note when the person using these is a simple tribal with not much education, and more so when the person happens to be a woman from one of the most backward areas in the country. But this is true in case of Rami Ben and Laxmi Ben from the hinterland of Gujarat.
At 32, Rami Ben from the Okhamandal taluka in Gujarat, has no fancy B-school degree, or even a modest degree for that matter, but she is an entrepreneur nonetheless. Her perseverance has not only changed her life but has also transformed the lives of hundreds of tribal women. She is instrumental in making the arid landscape of the region don the vibrant hues of prosperity and self-reliance and is the key force behind handicrafts' initiative Okhai.
The traditional skill of making exquisite handicrafts in mirror work, patchwork, appliqu`E9 and embroidery that each woman of the Okhamandal region inherits from her mother has been an important part of the lifestyle, rituals and ceremonial ensembles for centuries. The master craftsperson of the initiative, Rami Ben has been organising and motivating women from different tribes like Ahirs, Rabaris, Charan and other communities inhabiting the area, to use their craft to earn a livelihood and be financially independent.
She joined the Tata Chemicals Society for Rural Development (TCSRD) Self-Help Group (SHG) at Okhai in 2001 and was trained to make appliqué patterns. This was a turning point and marked the beginning of a journey towards self-reliance and financial emancipation not only for her but for several other women in a male-dominant social system. "Convincing these women, who had never tasted freedom outside of their homes, to work for the SHG and to sell their skill was a major challenge 12 years ago. How do you explain the benefits of financial independence to someone who has been completely dependent on a male figure all her life?" recounts Rami Ben while talking about her initial years in Okhai. She also had to battle male prejudices against women earning on their own. "It was a tough job to earn the trust of the men and to prove that we were offering good work to their women and that their family lives won't be disrupted by it. Going to different houses in villages and giving work, and then later on collecting the finished assignments, was a part of my duties along with the responsibility of keeping a close check on the quality of their work so that it was worth selling in the market", tells Rami Ben. Making a humble start by earning between Rs 200 and Rs 500 per month to Rs 5,000 now, Rami has realised the dream of having her own home. She took a loan of Rs 50,000 from her SHG, which she plans to repay from the income from Okhai. Understanding the market trends and customer preferences, Rami Ben has been actively contributing towards product development by introducing new designs. Now she has a team of 10 members who conceptualise and develop new designs and products, adding a modern angle to the traditional handicrafts that are marketed under the Okhai brand name in Ahmedabad, Kolkata, Chennai, Pune, Mumbai, Bangalore and other cities.
The story of 38-year-old Laxmi Ben from Arambda, is also the same. She is a master trainer at Okhai who trains other women members and also does most of the design cutting. While her deft fingers can cut any design flawlessly and without any stencil, she is fluent in Hindi and even travels to other parts of the country where Okhai holds exhibitions. A large part of her earning of Rs 5,000 per month is spent on the education of her four children and the repayment of the loan that she took from her SHG to build a pucca house. Spreading awareness about their traditional craft throughout the country and contributing to a better future for her children is what keeps her motivated to increase sales and profits at Okhai. "In spite of their humble backgrounds, both Rami Ben and Laxmi Ben have a keen business acumen and are ever ready to update their skills. This is what has made them Okhai's brand ambassadors. It is because of the entrepreneurial skills and hard work of members like them that Okhai — a brand created and promoted with an aim of generating rural employment for women, has crossed the coveted Rs 1-crore mark in sales during 2012-13. This includes the sale of Rs 91 lakh from Okhai garments and from other cluster products made predominantly at Mithapur (Gujarat) as well as Barbrala (Uttar Pradesh) and Haldia (West Bengal)", says Alka Talwar, head of the CSR wing at Tata Chemicals, who has been a part of Okhai since its inception.
Success trail
Besides generating employment, the Okhai initiative has also empowered women in the Okhamandal region. It was started in 2000 as a community development initiative to improve the economic status of the people in the region. TCSRD tied up with Gurjari to provide skill training to 100 women. The initial target was to help 200 women. At present, there are 450 rural women benefiting from this programme. Any one can become members of the SHG after paying an annual fee of Rs 25. Each member takes a skill-based test and is given training according to her competence level. Each member receives a card with a code number that records the details of all the work done by them, which helps in deciding each woman's share in the profits. With a focus on quality in the finished product, a group of 40 women have been trained at National Institute of Fashion Technology for better finishing and cuts.