M A I N N E W S
Malaysia looks into terror angle
* Missing plane: US sends FBI team to assist in probe
* Rescuers locate a 'floating door'


Missing, but how?
Is it possible for a passenger jet to go missing? Here are its vital stats.
Wing span: Nearly 200 feet

Length: Over 209 ft

State-of-the-art tech: It has extensive communication gear, including radios, automatic beacons and GPS. It also carries UHF and VHF radios
Self-assisted: Costing over $250 million, its communication and reporting system embedded in the plane's computers tells the pilots how it is performing -- speed, fuel, thrust.
Mid-flight horror?
Malaysia Airlines flight 370 vanished after climbing to a cruising altitude of 35,000 ft between Kuala Lumpur and Beijing in the early hours of Saturday
Investigators are narrowing their focus on the possibility that it disintegrated in mid-flight
Kuala Lumpur/Beijing, March 9
Vietnamese authorities on Sunday said they had spotted what looked like one of the doors of the missing Boeing 777 jetliner that crashed into the sea between Malaysia and Vietnam on Saturday.
Malaysia has launched a terror probe into the mysterious disappearance of the plane with 239 persons aboard after it emerged that two passengers boarded the flight with stolen passports.
Preliminary investigation indicated that the plane that went missing over the South China Sea en route to Beijing from Kuala Lumpur may have turned back. The plane had 227 passengers aboard, including five Indians and one Indian- origin Canadian, and 12 crew members.
Planes and ships from six countries today resumed hunt for the flight that suddenly disappeared from the radar one hour after taking off from Kuala Lumpur. "We are not ruling out anything," the chief executive of Malaysia Airlines Ahmad Jauhari Yahya said in Kuala Lumpur on being asked whether terror angle was being probed. On two impostors boarded the flight using passports lost by an Italian and an Austrian. Malaysian Defence Minister and acting Transport Minister Hishammuddin Hussein said authorities would screen "the entire manifest" of the flight. The minister confirmed the FBI has dispatched its officers to Malaysia. "At the same time our own intelligence has been activated, and of course, the counter-terrorism units... from all the relevant countries have been informed," he said.
Hussein also did not rule out the possibility of a hijack. Meanwhile, Interpol today said at least two passports recorded as lost or stolen in its database were used by the passengers. International police agency said it was "examining additional suspect passports".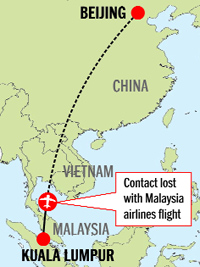 Officials from Malaysia's Department of Civil Aviation today said they have dispatched three jets to join the massive search and were working with a US company that specialises in disaster recovery to locate the aircraft.
They said the search effort continued overnight to locate the missing plane. But the mission made little progress as they have not traced any wreckage or debris afloat.
"The search and rescue teams are still unable to detect the whereabouts of the missing aircraft" en route to Beijing from Kuala Lumpur, Malaysia Airlines said in a statement.
"The airline is continuously working with the authorities in providing assistance. In fearing for the worst, a disaster recovery management specialist from Atlanta, United States, will be assisting Malaysia Airlines in this crucial time.
Malaysian authorities are also looking into the possibility of an air turn back that could have been undertaken by the missing plane, a senior minister said today. In an air turn back, a plane returns to its airport of origin as a result of a malfunction or suspected malfunction of any item on the aircraft. — PTI