M A I N N E W S
Walk on, Cong tells front-line campaigners
Aditi Tandon
Tribune News Service
New Delhi, March 10
The Congress has decided to get state leaders to walk across the length and breadth of Lok Sabha segments to connect better with voters in an attempt to counter the BJP's Narendra Modi-centric tea parties.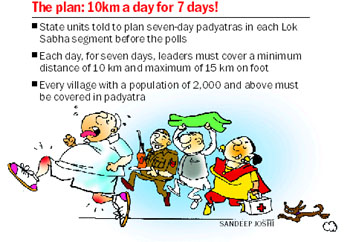 All state units have been instructed to not just plan "walkathons" of sorts as campaign strategy, but also see to it that each local Congress leader in a given Lok Sabha segment covers at least 10 km a day on foot when taking part in such an event.

Detailed instructions to this effect have gone out to all AICC general secretaries and secretaries; Chief Ministers of Congress-ruled states, ministers, MPs and MLAs besides all district and block Congress presidents. The most interesting feature of the circular, issued by state Congress presidents, is the high command's directions: "Every day, such a padyatra must cover a minimum of 10 km and a maximum of 15 km in each block of the Lok Sabha segment.

Each block must have a minimum week-long padyatra and a detailed list of state leaders who will accompany the yatra at its start. Later, the list must be submitted to the respective party state presidents."

The circular, a copy of which has been accessed by The Tribune, contains details of how each state unit must plan the seven-day padyatra in each block of every parliamentary constituency. It says every village with a population of 2,000 and above must be covered on foot. "Along with each village, the leaders must also target chaupals in villages and market places.

In every block, state leaders must pinpoint at least five places where they will stop during the padyatra to engage with voters to discuss issues of national policy and importance and matters concerning voters," the circular states. Instructions have also been issued to hold meetings at village corners to counter the

aggressive 'Chai pe Charcha' campaign of BJP's Prime Ministerial candidate Narendra Modi.

While the concept was finalised in the first meeting of the Congress Election Committee a week ago, state leaders are wary of how they will honour such a regimented and strict AICC instruction.