Spring at our doorstep
Holi, the festival of colours, comes at a time when the winter chill is receding and the torments of summer are still some distance away. This is the ideal time to tickle the palate and take delight in a myriad foods — sweet and savoury
Pushpesh Pant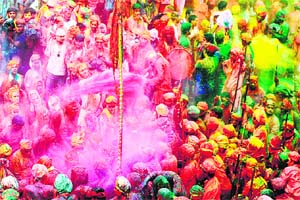 Revellers gather during Huranga at the Dauji temple near Mathura. Huranga is a game played between men and women a day after Holi, the festival of colours, during which men drench women with liquid colours and women tear off the clothes of the men. Reuters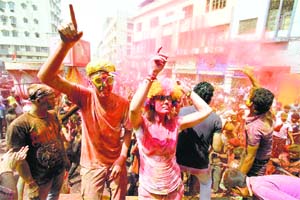 Foreign tourists daubed in colours dance as they celebrate Holi in Guwahati. The Festival of Colours, heralds the beginning of spring and is celebrated all over India. Reuters/Utpal Baruah.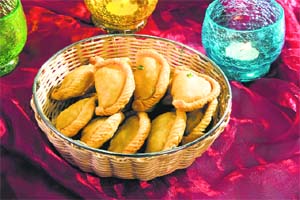 origins of Holi are traced to millennia-old Madanotsva — a popular celebration heralding the advent of spring. This was the season when the mango trees sprouted blossoms and desire stirred in young hearts. It was a time to get rid of shackles of inhibition, indulge in fun and frolic with gay abandon. Miniature paintings in the Rajput-Mughal style or in Pahari kalam depict enchanting scenes of Radha-Krishna indulging in Holi sports with their respective entourage. There is no dearth of musical compositions inspired by the pulsating drumbeats and clouds of colourful dust raised by revellers.
Holi is a great leveller. Anyone can lampoon anyone else and get away with – "Bura na mano Holi hai!" The sting of the satirical words or the shamelessness of the risqu`E9 song or joke is softened by specialty sweets and savouries. Music is in the air and with the evaporation of frost and splashes of colour greet the eye — like the brilliant yellow of mustard in the fields. It's not surprising that like the abir-gulal powders to paint faces in different tints, the festive food too seeks to "colour the mind".
Traditionally, the revellers are treated to gujhiya — the crescent-shaped deep-fried pastries packed with mawa, raisins and chironji. At times glazed with sugar syrup, the gujhiya is encountered in different sized. Gourmet in Banaras fancy the dainty confection resembling a half of balushahi, while in Agra the "jumbo" has a loyal following. Till a few years back many households prepared gujhiya at home — each family following its own recipe. Some "lightened" the stuffing by reducing the quantity of mawa and blending it with suji and grated, dried nariyal, others enriched it with pine-nuts and made it redolent with cardamom and saffron strands. The contrasting textures — the crisp, flakey casing and the soft, milky filling — make the gujiya, a two-in-one delight. The test of a well-made gujhiya is three-fold —the envelope has to be as thin as it can be and the deep-fried sweetmeat must not have a trace of excess fat even if the purest desi ghee is used; and finally the stuffing shouldn't be cloyingly sweet. The edges are adorned.
Other colourful delights one recalls from distant childhood and adolescence are the dark, emerald-hued piste ki launj and the bright orange santare ki barfi. Savoury snacks served at Holi are never substantial but considered essential to break the monotony of sugar. Chura matar — pounded rice flakes paired with stir-fried spicy sweet peas with a hint of tang — is popular in Purvanchala stretching from the Eastern extremity of Awadh to borders of Bengal. Connoisseurs make contending recommendations regarding the best variety of rice to be used or the geographical indicator to ensure the sweetest, most succulent peas but there is general agreement that the spicing should be subtle and the balance of sweet and sour in fresh orange juice is most seductive.
What a pity that most of us have succumbed to the temptation of "plating" factory-produced, packaged namkin, assorted mixtures, mini matthis and potli samosa with a long shelf life. How one misses the lingering taste of ajwain that was integral to home-made stuff!
Hosts with budgetary constraints make do with shakkar pare, gulgule, namak pare. The accent has always been on euphoric ingredients, mildly intoxicating. This is the reason that thandai is at times laced with bhang. But we should not forget that the original idea was mazaa (carefree enjoyment) not nashaa (getting intoxicated silly). Bhang (cannabis) or (Shivji ki buti) rhymed easily with Holi ke rang (colours of the festival) and Umang ki tarang (tidal waves of enthusiasm) but more than half the joy in this case was in the journey than the arrival. Preparation of thandai took hours, grinding the almonds to a paste, procuring all the prescribed ingredients from chaar magaz seeds to rose petals and "filtering" the potion through fine muslin. Believe you us, it was more an exercise in mood manipulation than getting a kick. A generation ago, preparations for Holi celebrations began months in advance. A favourite was the Holi baithak, where talented singers, mostly amateurs, regaled friends with popular compositions. Sessions were interspersed with refreshments comprising pakori, samosa and jalebi. In Uttarakhand, alu ke gutake tempered with aromatic jambu grass from Tibet and suji ka halwa with masala chai were a must. Those who stayed back shared potluck of puri-sabzi-khir. In villages and small towns — and gali-mohalla in bigger cities — khari Holi appealed more to the young who roamed around in singing bands. In past, this ritual was performed for a fortnight, not in a day.
The idea of non-stop merry making is to sing and dance, spraying or smearing colour on friends and foe, "nibble n move on!" traditional delicacies were designed to keep the energy levels high and to ensure that the hyper excited were "tranquilised". Snacking at each doorstep leaves little appetite for lunch even when it is served late after the ritual bath. More often than not, it's a light meal of karhi-chaawal. In recent years, alcohol and readymade, bought-from-the-shop finger foods have emerged as spoilers rendering the festival unbearably boisterous and leading us astray — away from euphoric polychromatic foods — with a quick-fix "high" that ends, more often than not, with a painful hangover and well-deserved guilty conscience!
Many flavours & tastes of Holi
Holi is celebrated with gusto in the Hindi heartland but feasting on festive foods from adjacent areas is common. In Bihar, the kitchen is bustling from the preceding evening. Pakori are prepared with a wide range of seasonal vegetables and the batter for pua and malpua is got ready for along with the melt-in-the-mouth dahi bara. These lend themselves to colourful adornments — green mint and coriander chutney mingling with dark brown sweet-and-sour sonth and an assortment of powdered sprinklers, scarlet chillies with a few specs of yellow turmeric. Brunch comprises puri with alu tamatar ki tarkari. The non-vegetarians treat themselves to "mutton curry" — never fish or chicken — and enjoy it with steamed rice.
It has become a cliché to remind us of tricolor sweets like tirangi burfi on the Independence and Republic Days. For us, these belong to the Holi repertoire. We have a friend who brightens her Holi sweets' platter with the Bengali darvesh — the oversized bundi ka laddu studded with kishmish and these days also with bits of cheery and candied peel of fruit. Another has established the ritual of serving colourful savoury snacks — green Banarasi mewon ki dal moth, yellow ganthia and murukku, and light chiwda with tempting dried fruits and nuts.
What took our breath away last year was the sisranga pulao served as a Vibgyor — a one-dish meal by an innovative hostess. This Awadhi classic seems to be made to order for the Festival of Colours. Beetroots, spinach, carrots and tomatoes led it their natural hues and flavours. Complemented with salad and fruity raita, it was an elegant, satisfying meal. Those who shirk hard work can easily replicate the rainbow, splurge on the dining table with naturally tinted pasta. This is the time to enjoy verdant saag of choice, a forgotten tangy red tomato sauce from Hyderabad —the kut-and baghare baingan from the same city or beguni from Bengal, contributing an irresistible violet glow. Many are the edible colours of Holi.