ENTERTAINMENT
Power actors
Marking a clear shift in gender dynamics, Bollywood embraces films spearheaded by female protagonists
Saibal Chatterjee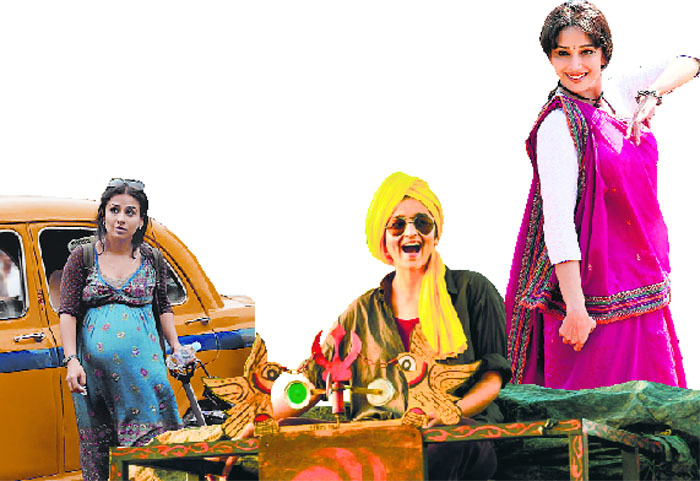 From left: Films like Kahaani, Highway and Gulaab Gang have created a sustainable space for cinema where women do not merely sing, dance and look pretty
Sometime last year, Kangana Ranaut was seen in a film titled Rajjo. It had the underrated actress in the role of a fragile nautch girl from a Mumbai kotha who seeks to break free and give herself a better life.
Unfortunately, neither the film nor the performance is likely to be remembered. The reason: Rajjo, weighed down by a poor script and ineffective direction, tanked at the boxoffice.
Yet, there was no denying that it was a rare Hindi film dominated by a woman protagonist. It turned out to be a sign of things to come for Kangana Ranaut.
Kangana's newest release, Queen, in which she plays a simple-minded West Delhi girl who takes off on a solo honeymoon after being dumped by her boyfriend hours before their wedding, has catapulted her career to an altogether new high.
She, along with first mover Vidya Balan, has emerged as the poster girl of Hindi films that do not need a well-known male star in order to be commercially viable.
Up ahead is another film, Revolver Rani, which clearly has the potential of providing another huge boost to Kangana's growing stature as an actress of substance who can do without a hero to prop up a film.
In Revolver Rani, Kangana is cast as the feisty head of a political party in the Hindi heartland, where life is less than ideal and needs the intervention of a no-nonsense Dabangg-style crusader.
Like Queen, Revolver Rani has no male lead in the conventional sense of the term although stand-up comedian and actor Vir Das is paired opposite the leading lady.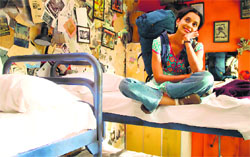 For Kangana, the end-April release of Revolver Rani will mark a hat-trick of films titled after the heroine, as unusual a feat as any in the annals of popular Hindi cinema.
Women suddenly seem to be flying high in Bollywood with an increasing number of films moving beyond established narrative norms and focusing on stories that view the world entirely through the female gaze. Needless to say, Hindi cinema has never been so exciting.
Imtiaz Ali, a writer-director who is known to conjure up strong fictional women even when he makes films that revolve around the hero, has broken fresh ground with the highly evocative Highway.
Not only does the film break the routine cause-and-effect storytelling format favoured by the Mumbai movie industry, it gives Hindi cinema one of its more atypical onscreen pairings — 37-year-old Randeep Hooda opposite a barely out of her teens Alia Bhatt.
Most importantly, Highway gives us a female character that has the inner strength and the will power to forge her own path despite the grievous nature of the blows that she receives in life.
The external catalyst — a sudden abduction by a gruff gangster who, too, has a sad back story of his own — helps her discover freedom on the road. The voyage changes her for good.
Gulaab Gang goes several steps ahead and does away with plot-propelling male characters altogether. In the kind of landscape in which superheroes usually take on the might of reprehensible bad guys, the film pits two strong women against each other.
In Gulaab Gang, Madhuri Dixit is an action 'hero' while Juhi Chawla is the villain, an evil politician who exploits the rural poor without any qualms. What's more, the women fight their own battles while the men can only stand by and look on. Rarely have men found themselves reduced to mere spectators to such an extent.
In Dedh Ishqiya, the two principal male characters — Babban and Khalujaan, played by Arshad Warsi and Naseeruddin Shah — are by no means as unimportant as the ones in Gulaab Gang are. However, the two heroines of the film, Madhuri Dixit as an old-world begum and Huma Qureshi as her lady-in-waiting, hold the upper hand all through. They eventually turn their backs on the men who are trying to woo them.
The off-with-the-men trend was kicked off in right earnest by Vidya Balan with her 2011 film, The Dirty Picture. She then pushed it forward a bit with 2012's Kahaani. In the wake of the runaway critical and commercial success of the two films, stories woven around women have become all the rage even as male superstars continue to rule the roost.
While it is unlikely that Aamir, Shah Rukh, Salman, Akshay and Hrithik will pack up and leave the scene in a hurry, it is becoming increasingly clear that a new breed of Bollywood actresses have significantly changed the rules of the game and created a sustainable space for cinema where women do not merely sing, dance and look pretty.
Vidya Balan and Kangana Ranaut have shown the way. Today, even Kareena Kapoor can insist that she would only be interested in good scripts, read scripts with a well-defined role for the heroine. The gender dynamics of Bollywood are clearly in welcome flux.

This Queen of Hearts can take a big bow
With Queen, Hindi cinema gets a heroine who has the chutzpah to walk into the sunset alone and be happy with her life
Aruti Nayar
WOW", is the spontaneous response when you come out of the theatre after watching Queen. Here's a protagonist who makes you smile, laugh and get all moist-eyed as you journey from innocence to experience with her. Viewers bat, and cheer for her as she evolves from being a gauche and diffident Rani from Rajouri who is content to wait for marriage to a self-confident woman of the world very much her own person. She is without the need to seek others' approval or justify her choices and actions. Thankfully out of the mould, there is no rona dhona or over-the-top rhetoric about khandaan ki izzat. Our Rani has the grit and gumption to sally forth solo on a pre-planned honeymoon, even after being jilted at the altar.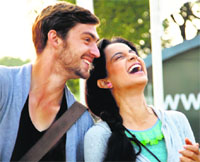 Rani's parents, neither overtly "liberated" nor too conservative, are simple middle class people who love her enough to let her find both her wings and voice. The endearing daadi too urges her to get a life and tells Rani that she had not travelled so far just to watch television. The rites-of-passage journey is fleshed out with the help of the Indo-French Vijaylakshmi — wild, free and uninhibited — a perfect foil to Rani. The girl with a shrinking self-consciousness has always tread the straight and narrow path, obeyed anyone and everyone who could be obeyed. When she finally decides to listen to her own voice, you cannot help but applaud. All her notions about marriage, kids and life are knocked down as her worldview expands.
Her fiancé, who dumps her on their wedding eve (that too in a coffee shop) because he thinks he is too good for her. He has the sense of entitlement of a typical Indian male who is so blinded by a sense of "superiority" to think he can take off from where he had left, never mind what has happened in-between.
Director Vikas Behl skilfully crafts a heroine who chooses life and happiness over passé, moth-eaten notions of morality.
So you cheer and cock a snook with her as she quietly tells the hero to go and tell "Mummyji", who in the best traditions of Indian motherhood, has refused to snap the umbilical cord. As Rani realises, love is neither control nor abuse and there is a big wide world out there where despite geographical and cultural variants, it is possible to find camaraderie. After the initial hiccups in an alien land, travel heals her heart and opens the windows of her mind. Whether it is fighting off a mugger, dancing or driving, Rani's joie de vivre and tenaciousness shine through. Flashbacks, at her 'aha moment', serve to sharp focus her evolution. It is a shared victory as she evolves from nervousness to poise and acquires a quiet confidence and (most important) attains an emotional empowerment that nothing or no one can change. We are at long last, moving beyond celebration of marriage as a passport to a better life (for a girl). Just as Rani is unapologetic for her actions, the director also treats sex as natural and normal, without much ado. Boko Mish as Oleander, Jeffery Ho as Taka and Joseph Guibot as Tim — co-travellers on Rani's exploration help her gain autonomy.
We know she has arrived when she prefers to attend a rock concert with her international friends to listening to the ramblings of the egotistic ex-fiance, who emerges a pompous buffoon.
Rani needs no man to validate herself. She can actively seek happiness rather than remain content at merely not being unhappy. The world is her oyster. Small wonder that she is grateful to the guy who dumped her. But for him, she would have led a cloistered existence. In English Vinglish, Sri Devi delivers a heart-warming portrayal as a housewife who learns English and gains confidence but still seeks validation as a mother and wife. DDLJ's Kajol was diffident about Hindustani ladki ki izzat. Full marks to Kangana for effortlessly becoming Queen of Hearts.